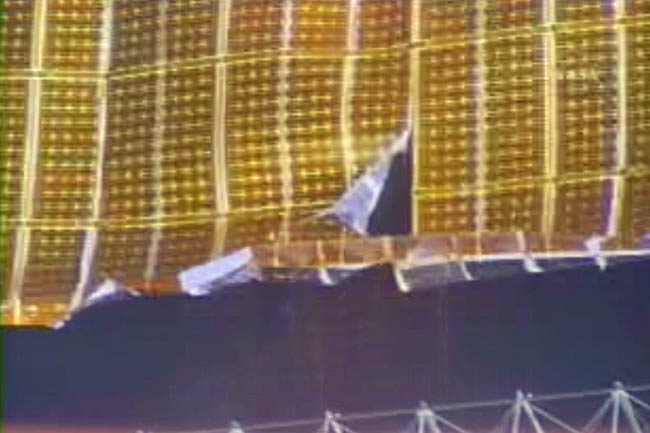 HOUSTON - There's trouble brewing in space, but NASA officials said today that they are confident astronaut crews aboard the International Space Station (ISS) will work through the difficulties ahead with mission control's help.
A worrisome joint on the space station first complicated space shuttle Discovery's STS-120 mission, which launched a week ago, but today a torn solar array has added to the headaches of NASA mission managers.
Although ISS program manager Mike Suffredini said the problems will be challenging to tackle, he thinks together they are not as serious as now-fixed computer failures that plagued space station this year.
"I have in my mind a path through the wilderness on both of these problems. It will take time, but I have a path through the wilderness," Suffredini said of the double trouble. "We'll prioritize the work and decide which is the right thing to work on first."
Ripped wing
Suffredini said engineers and mission managers are still heavily discussing a plan of action, but thinks repairing the solar wing will become priority number-one in the following days. He said the 2.5-foot (0.76-meter) rip in the 115-foot (35-meter) wing has not stopped the array's energy-gathering ability, as it is generating 97 percent of its fully deployed power.
"We're in a very good configuration in terms of being able to sort this problem out," Suffredini said of the situation. "It doesn't have to look good, it just have to give us power. We need it out, and need about as much power as it provides today."
He noted that mission managers' concerns regard the solar array's fragile state, which dockings and undockings of space shuttle and Soyuz spacecraft might aggravate.
"Everything we do has an effect on every other part of the space station," Suffredini said, noting that only a fully-deployed array is known to be stable. Because the array fabric is electrically sensitive and difficult to reach with either the space shuttle or space station robotic arms, a fix would be extremely challenging, Suffredini noted.
Astronauts aboard the orbital laboratory monitored the unfurling process following a seven-hour spacewalk today. The first pair of solar wings, known as 2B, deployed without incident from the freshly reattached Port 6 (P6) solar array truss. One of the 4B solar wings opposite of the 2B pair, however, ripped after unfurling 80 percent of the way along a mast-like post.
Worrisome joint
The ripped array came after spacewalker Dan Tani discovered metallic grit in starboard-side joint early Sunday morning. The mechanism, called the solar alpha rotary joint (SARJ), is used to gently orient the space station's solar panels toward the Sun.
Astronauts aboard the space station determined the metallic grit was iron-containing, which Suffredini thinks is coming from steel in the mechanism—a likely sign of damage.
"The steel components are the bearings ... and gears," Suffredini said of devices in the SARJ, a motor-driven gear that looks similar to a Ferris wheel. He said twelve sliding clamps used to hold the 10-foot (3-meter) diameter wheel into place, called trundle bearing assemblies (TBAs), are suspect and would like to see astronauts inspect them during Thursday's 6.5-hour spacewalk.
But Suffredini said the solar array rip will probably divert attention from such a focused inspection during the fourth of five STS-120 spacewalks.
"I don't want to do any more damage to the array than has already been done," Suffredini said, and preventing it might mean delaying the launch of space shuttle Atlantis in early December, known as the STS-122 or 1E assembly mission. "Right this instant ? I wouldn't want to plan a 1E flight until I know what's better going on."
NASA launched Discovery and its crew, commanded by Pamela Melroy, on Oct. 23. Astronauts delivered a new room to the space station and relocated a massive solar array truss during the now-extended mission, and expect to land at Kennedy Space Center in Cape Canaveral, Fla. on Nov. 7.
SPACE.com Video Interplayer: Delivering 'Harmony' with NASA's STS-120 Mission

Complete Space Shuttle Mission Coverage