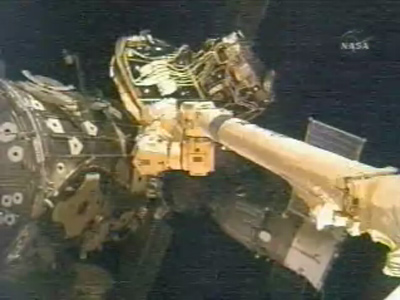 Despite some finicky bolts, astronauts aboard the International Space Station (ISS) moved an old docking port to a new parking spot Thursday, clearing a berth for the arrival of a brand new module later this year.
Working from inside the space station, Expedition 15 commander Fyodor Yurchikhin and flight engineers Oleg Kotov and Clayton Anderson successfully moved the docking port from its port-side perch on NASA's Unity module to an Earth-facing berth. The relocation frees up space for the new Harmony connecting node due at the ISS in October.
"Lucia, you and everyone else might want to go out and grab lunch while this is going on," Anderson told spacecraft communicator Lucia McCullough in Mission Control during the slow, delicate move of the docking port known as Pressurized Mating Adapter-3 (PMA-3).
A series of intermittent fault messages delayed PMA-3's relocation by about an hour when three of the 16 bolts securing the docking port in place returned errors. But Mission Control determined that the glitch would not impact the relocation or the Harmony node's installation later this year.
"There's some speculation that the length of time PMA-3 spent at that left side location may have played a role in those fault indications," NASA commentator John Ira Petty said of the docking port, which sat unmoved for more than six years before today.
The short trip for PMA-3 cleared a critical hurdle for the space station's construction.
NASA plans to launch the shuttle Discovery's STS-120 mission on Oct. 23 to deliver the new Harmony node, which will serve as the foundation for future international laboratories at the ISS. But Harmony must be temporarily installed at Unity's port side berth since the station's 57-foot (17-meter) robotic arm would not have enough reach to attach a docking port at the tip of new node if it were stationed at an Earth-facing location, NASA said.
The three Expedition 15 astronauts donned bright yellow hard hats emblazoned with their mission emblem for Thursday's orbital work. The gag construction helmets were delivered to the ISS earlier this month by the STS-118 astronaut crew of NASA's space shuttle Endeavour.
"We like the hats," McCullough told the Expedition 15 crew.
Anderson, assisted by Kotov, wielded the station's robotic arm during PMA-3's move and kept the massive docking port within a few feet of the ISS. Yurchikhin, meanwhile, oversaw the bolt latching systems to alternately free and secure the module during its relocation. The astronauts plucked PMA-3 free of Unity at 8:23 a.m. EDT (1223 GMT) and successfully reattached the port to its new berth at 9:07 a.m. EDT (1307 GMT).
Ready for Harmony
The space station's three conical Pressurized Mating Adapters serve as either connecting tunnels between ISS modules or docking ports for NASA shuttles and the agency's future Orion Crew Exploration Vehicles.
PMA-1 connects the Unity node with the Russian Federal Space Agency's Zarya control module, while PMA-2 sits at the front of the station's U.S. Destiny laboratory as a shuttle docking port. PMA-3 weighs 2,607 pounds (1,183 kilograms) with a diameter that tapers from 6.2 feet (1.9 meters) at its widest down to 4.5 feet (1.8 meters) at the narrow point.
The docking ports are attached to the ISS by way of a Common Berthing Mechanism equipped with 16 remote controlled bolts that Yurchikhin loosened in sequence to free PMA-3.
"It's a bit like changing the lug nuts on a tire," NASA's lead Expedition 15 flight director Bob Dempsey told SPACE.com of the ISS bolts. "You kind of do them in groups to make sure the forces are equal."
Thursday's PMA-3 relocation marked a return home of sorts for the seven-year-old docking port.
Astronauts first installed the module to Unity's Earth-facing berth in October 2000 during NASA's STS-92 mission, after which it served shuttle docking port. But in March 2001, astronauts moved PMA-3 to Unity's port side berth where it most recently served as a storage closet.
The module was also not completely empty during its short trip. Mission managers opted to leave a large spare part for the space station's robotic arm inside simply because there wasn't enough room inside the outpost to store it.
"We decided to leave it in there with straps, so we had to make sure that the item was secured very tightly," said Dempsey, adding that the astronauts would take extra care to avoid exposing PMA-3 to high temperatures that would loosen the glue on the straps and send the massive piece of hardware drifting out into space. "That would be very bad."
Dempsey praised the cooperation between Expedition 15's Russian and American astronauts. Their mission has marked the first time NASA-controlled components like the station's Canadian-built robotic arm have been wielded by Russian cosmonauts. In the past, only NASA astronauts oversaw operating the station's Common Berthing Mechanisms and Canadian-built robotic arm, Dempsey said.
"This is one of the first crews I've seen that's been truly integrated," Dempsey said. "There're really no boundaries here and it's great to see them meld together."
SPACE.com Video Interplayer: NASA's STS-118 Shuttle Mission

IMAGES: Endeavour's STS-118 Launch to the ISS

Complete Space Station Mission Coverage