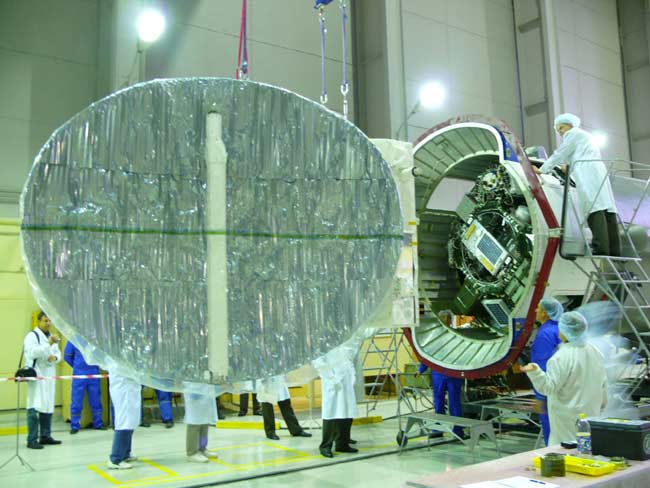 PARIS - The third of five planned German high-resolution SAR-Lupe radar reconnaissance satellites was successfully launched Nov. 1 by a Russian Cosmos-3M rocket and has begun what is expected to be four weeks of testing before it is transferred to the German armed forces, SAR-Lupe prime contractor OHB-System AG said.
The 1,587-pound (720-kilogram) satellite, capable of detecting ground objects of less than three feet (one meter) in diameter, will join its two identical predecessors in a near-polar, 310-mile (500-kilometer) orbit. The two remaining SAR-Lupe spacecraft are scheduled to launch at four- or five-month intervals, with the full five-satellite network to be operational by late 2008.
Bremen, Germany-based OHB-System supplied the satellites and the launchers under a contract with the German armed forces that calls for a certain level of SAR-Lupe capacity to be available without interruption for 10 years.
The first two SAR-Lupe spacecraft were launched in December 2006 and July 2007. German defense officials have said both are performing to specifications.
By late 2009, SAR-Lupe is expected to be available to French defense forces as part of a bilateral exchange that will give the German military access to France's Helios-2 high-resolution optical reconnaissance satellites.
The Cosmos-3M rocket launched from the Plesetsk Cosmodrome in northern Russia and placed the SAR-Lupe satellite into orbit about 30 minutes after liftoff. A French government-owned ground station at Kerguelen Island in the Indian Ocean picked up the first signals.
The German Aerospace Center, DLR, is responsible for controlling the satellite from DLR's Oberpfaffenhofen facility during the four-week test period.
GALLERY: Twenty Great Rocket Launches

All About Satellites