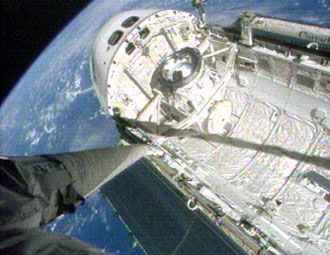 CAPE CANAVERAL, Fla. - NASA has found no reason to once-more delay tomorrow's landing for the space shuttle Atlantis and its six-astronaut crew after an initial review of imagery from last-minute inspections today, mission managers said Wednesday.
"We didn't see any evidence of any kind of damage," Atlantis' STS-115 entry flight director Steve Stich in a status briefing. "So far the inspections are going well."
Atlantis' STS-115 crew - commanded by veteran shuttle astronaut Brent Jett - performed two different inspections of their spacecraft late Tuesday and early today. The inspections, the crew's third of the STS-115 mission, were scheduled after flight controllers spotted a mystery object floating away from the orbiter early Tuesday, prompting a one-day landing delay.
The crew is now slated to land at 6:21 a.m. EDT (1021 GMT) Thursday after 186 orbits around Earth, followed by a backup landing window one orbit later at 7:57 a.m. EDT (1157 GMT).
"I fully expect that, if we find no problem with the [thermal protection system], that we'll land tomorrow," Stich said.
Atlantis astronauts began surveying their shuttle's heat shield using cameras on its robotic arm Wednesday night at 11:45 p.m. EDT (0345 Sept. 20 GMT) in a 4.5-hour scan that included the orbiter's wing leading edges, tile-covered undercarriage and nose cap. They then conducted a focused inspection of the orbiter's wing edges, nose cap, elevons and tail-mounted speed brake. The survey was complete by about 9:19 a.m. EDT (1319 GMT).
"They sound good, they sound rested, they sounded eager," Dye said of Atlantis' crew during today's briefing. "They're jumping into procedures that they've never done before, and I think they're doing great."
About the only things that jumped out at image analysts during today's heat shield inspection were the absence of a protruding gap-filler and an orange plastic spacer, known as shim stock, that were jutting from between the heat-resistant tiles on Atlantis' belly-mounted external tank umbilical doors, Stich said.
The harmless protrusions were seen in two earlier heat shield inspections - one on Sept. 10, a day after launch and another Monday following the Sept. 17 undocking from the International Space Station (ISS). Both inspections found Atlantis' heat shield in pristine shape for reentry.
"We know the team's working really hard," Jett told flight controllers this morning. "These last-minute days can be tough and we know that you're under some pressure."
Jett and his crewmates delivered a $372 million pair of trusses and new solar arrays to the ISS during their 12-day mission, marking the first major addition to the orbital laboratory since late 2002.
Tracking a mystery object
Jett and his crewmates had just put Atlantis through a rigorous, but standard, pre-landing test known as a flight control systems (FCS) checkout to test the elevons and other systems when the initial mystery object was sighted at 2:45 a.m. EDT (0645 GMT) Tuesday.
Atlantis astronauts later reported - and photographed - an object though to be a plastic bag later Tuesday, then again spotted what Jett described as a bit of reflective cloth early Wednesday.
It is not uncommon for small items to float out of shuttle payload bays once their doors are opened just after launch, though it is uncommon late in the flight, Stich said, adding that the flight control system checks to cause considerable vibrations and shudders aboard orbiters before landing.
"We are shaking the vehicle up and perhaps after FCS checkout we knocked a few things out of the payload bay," Stich said.
Stich added that NASA and the Atlantis crew lost nothing from today's inspection, since the poor weather expected to plague a Wednesday landing attempt arrived in force early today.
Rain showers would have prevented Atlantis' from landing during two opportunities today, prompting the shuttle's six-astronaut crew to spend one more day in orbit anyway, he added.
"Today would not have been a great day to land," Stich said.
NASA's STS-115 Mission Management Team is expected to convene later today, and brief the media at 12:00 p.m. EDT (1600 GMT). That briefing will be broadcast live on NASA TV, which is available by clicking here.
New Gallery: STS-115 Spacewalks
Gallery: STS-115: Atlantis's Launch Day
Complete Space Shuttle Mission Coverage
NASA's STS-115: Shuttle Atlantis to Jump Start ISS Construction
The Great Space Quiz: Space Shuttle Countdown