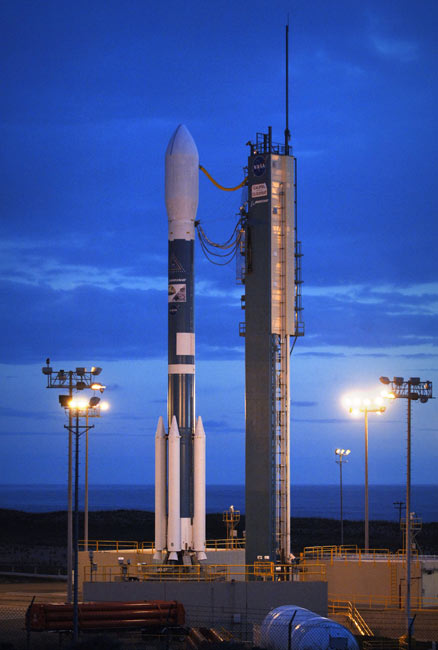 Two NASA satellites designed to make unprecedented measurements of Earth's clouds and atmosphere must wait yet another day to begin their mission after a high winds prevented their launch early Tuesday.
The high upper level winds were detected just four minutes before liftoff, forcing flight controllers to scrub the latest launch attempt for NASA's CloudSat and CALIPSO satellites and their Delta 2 booster. The two satellites were scheduled to rocket spaceward from California's Vandenberg Air Force Base precisely at 6:02 a.m. EDT (1002 GMT).
"We are in the process of preparing for a 24-hour recycle," NASA launch commentator Bruce Buckingham said after the scrub, which occurred after what had been a nearly flawless countdown before the high winds were detected.
Launch controllers are now preparing to launch NASA's CloudSat and CALIPSO satellites on April 26 at 6:02 a.m. EDT, Buckingham said. Because the space shot must launch exactly on time, there is little room to accommodate last minute issues such as high upper level winds, he added.
A similar last-minute glitch - a communications problem with the CALIPSO spacecraft - scrubbed an initial April 21 launch attempt just 48 seconds before liftoff. The unavailability of a refueling plane for a radar tracking aircraft required to monitor the launch also prevented Saturday and Sunday launch plans, NASA said.
CloudSat and CALIPSO are designed to study clouds and aerosols - fine particles suspended in Earth's atmosphere - in three dimensions.
The $185 million CloudSat mission will use a powerful, 90 gigahertz radar to penetrate clouds and identify individual cloud particles, water and snow. The $223 million CALIPSO - or Cloud-Aerosol Lidar and Infrared Pathfinder Satellite Observations - mission a cooperative effort between NASA and the French Space Agency (CNES), and features a laser-ranging lidar instrument and two other tools to study aerosol distribution in the Earth's atmosphere.
Once launched, CloudSat and CALIPSO are expected to reach an orbit of 438 miles (705 kilometers) and join France's PARASOL satellite and NASA's Aqua and Aura spacecraft to make up the "Afternoon Train" Earth-watching system, NASA said.
Countdown Coverage for NASA's CloudSat/CALIPSO Launch