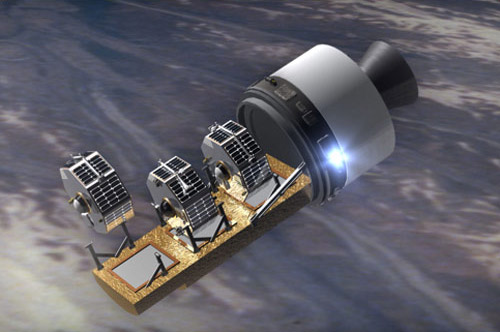 A last minute glitch forced flight controllers to scrub the Wednesday launch of three NASA microsatellites and their Pegasus rocket Wednesday.
The launch abort occurred less than two minutes before NASA's Space Technology 5 mission was set to rocket spaceward from its mothership, an L-1011 jet aircraft, 39,000 feet (11,887 meters) in sky. A locking pin designed to hold the mission's Pegasus booster to the parent jet's undercarriage failed to release before the rocket's fin batteries ran out, preventing its planned 9:25 a.m. EST (1425 GMT) launch, NASA officials said.
"That's going to be a 48-hour delay for us at least to change out the fin batteries," said Omar Baez, NASA's assistant launch director at the mission's Vandenberg Air Force Base takeoff point in California.
However, an official flight date remains to be determined while engineers determine why the locking pin stuck and an available launch date is selected, mission managers said.
"We don't know how long the postponement will be at this point," said NASA launch commentator George Diller after the scrubbed space shot.
NASA's Space Technology 5 mission is part of the agency's New Millenium program to develop and test new technologies for future spacecraft.
Each of the mission's three, cake-sized probes weighs 55 pounds (25 kilograms) and carry six technologies to be tested, ranging from a new microthruster for orientation to a skin-like radiator and software for autonomous ground operations.
The probes also each carry a boom-mounted instrument that will be deployed after launch to study the effect of space weather on the Earth's magnetosphere, mission scientists said. The $130 million mission is slated to last about 90 days, NASA said.
Launch Countdown Coverage of NASA's Space Technology 5 Mission