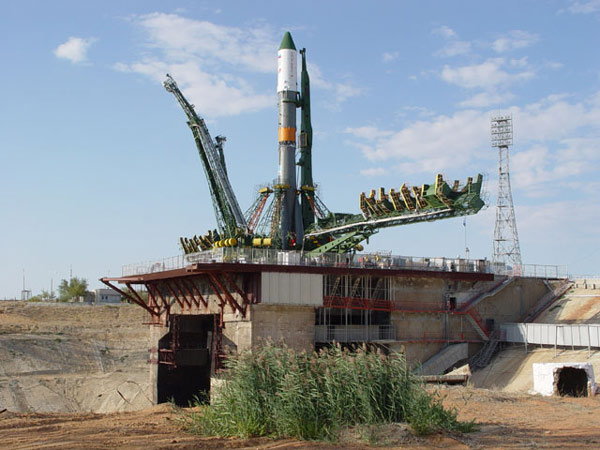 An unmanned spaceship crammed with food, water and other equipment is chasing down the International Space Station (ISS) on a resupply mission for the two astronauts living onboard.
The Russian-built Progress 19 spacecraft successfully launched atop a Soyuz rocket from Baikonur Cosmodrome in Kazakhstan at 9:08 a.m. EDT (1308 GMT), beginning a two-day trip to the ISS, NASA officials told SPACE.com.
ISS Expedition 11 commander Sergei Krikalev and flight engineer John Phillips, who have lived aboard the space station since April, are eagerly awaiting the Sept. 10 arrival of Progress 19. The spacecraft is set to dock at the aft end of the station's Zvezda module at about 10:50 a.m. EDT (1450 GMT) Saturday and deliver about 2.5 tons of new tools, spare parts and supplies.
Progress 19 will replace an older cargo ship, Progress 18, which undocked from the ISS Wednesday and burned up - for the most part - in the Earth's atmosphere, with some larger sections crashing into the Pacific Ocean. Before casting off the expendable supply ship, Krikalev and Phillips packed it full of waste, trash and other unneeded items.
Now flying toward the ISS, Progress 19 is loaded with more than 5,175 pounds (2,347 kilogram) of cargo. Among those supplies are 1,760 pounds (798 kilograms) of propellant, more than 52 gallons (196 liters) of water and about 2,700 pounds (1,224 kilograms) of dry cargo, such as experiment hardware, spare parts and tools.
Before launch, the spacecraft was fitted with 14 extra tanks to carry additional oxygen and air supplies, which totaled about 242 pounds (109 kilograms) at liftoff, NASA officials said, adding that the spacecraft is also delivering 16 new solid fuel oxygen generators (SFOGs), or "candles," which serve as an auxiliary oxygen supply.
One vital piece of hardware aboard Progress 19 is a new liquid unit for the space station's Russian-built Elektron device, which serves as the primary oxygen generator for the orbital platform. The station's Elektron failed earlier this year after numerous repair efforts, forcing ISS astronauts to rely on reserve oxygen supplies in storage tanks and the SFOG candles.
The new liquid unit will hopefully allow Krikalev and Phillips to repair the generator, NASA officials said.
"That's why they think it has failed," said NASA spokesperson Kylie Clem of the Elektron liquid unit. "So they've manufactured a few replacement units and soon after [Progress 19] arrives, the crew will replace it."
Krikalev and Phillips are in the homestretch of their six-month mission aboard the space station. The two astronauts will return to Earth on Oct. 10 after greeting their replacements, Expedition 12 commander Bill McArthur of NASA and flight engineer Valery Tokarev of the Russian Federal Space Agency, on Oct. 3. Space tourist and scientist Greg Olsen will ride up to the ISS with the Expedition 12 crew and return to Earth with Krikalev and Phillips.
NASA will broadcast Progress 19's ISS docking live on NASA TV beginning at 9:30 a.m. EDT (1330 GMT) on Sept. 10.