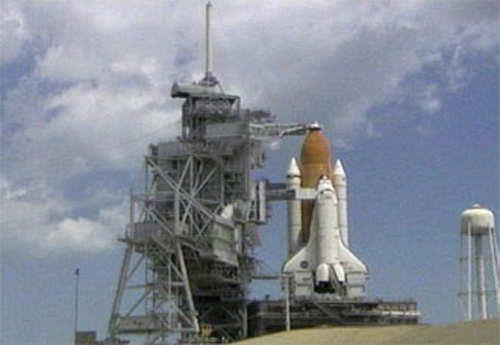 CAPE CANAVERAL - -- Shuttle Discovery will stay at the launch pad a few extra days so inspectors can check its landing gear for cracks.
Kennedy Space Center workers recently spotted tiny cracks in sistership Atlantis' landing gear, and NASA wants to make sure the flaw is not fleetwide before Discovery flies the first shuttle mission since the 2003 Columbia catastrophe, agency spokeswoman Jessica Rye said Sunday.
A crawler-transporter was to haul Discovery back to the Vehicle Assembly Building early Tuesday morning. Now, rollback is set for Friday.
Meanwhile, inspectors will use a borescope -- a rigid tube with a camera on its end -- to peer inside the wheel well looking for gear defects.
Engineering photographs of Discovery's gear, taken before the shuttle rolled to the launch pad, show no cracks. Engineers want another look. The reason: The gear is critical to the safety of the shuttle. The cracked part in Atlantis' gear is the uplock mechanism, a hook of sorts that keeps the landing gear in place during flight but must work so the wheels deploy properly as the orbiter glides to the runway.
After the inspection, NASA plans an auxiliary power unit test-firing Wednesday and rollback on Friday. Once back inside the VAB, shuttle workers will move Discovery from one set of tank and solid rocket boosters to another modified to resolve concerns about ice debris and a glitchy valve. Current plans call for Discovery to return to the pad in mid-June and launch sometime between July 13 and July 31.
Published under license from FLORIDA TODAY. Copyright ? 2005 FLORIDA TODAY. No portion of this material may be reproduced in any way without the written consent of FLORIDA TODAY.