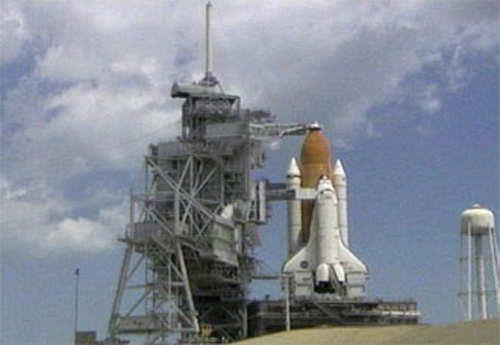 NASA once again fueled the space shuttle Discovery's external tank for Friday in a test to iron out sensor and valve glitches.
Over the course of 11 hours, shuttle workers pumped and drained more than 500,000 gallons (1.9 million liters) of supercold propellant into Discovery's external tank, which stands upright with the rest of the launch stack at Kennedy Space Center's Pad 39B in Cape Canaveral, Florida.
Unlike an April 14 test, engineers detected no fuel gauge sensor malfunctions during the fueling process, but did monitor an identical pressure valve anomaly from the earlier run.
"We had just a perfect test as far as I'm concerned," said William Parsons, NASA's shuttle program manager, during a post-test teleconference. "[But] we still have a lot of data to look at."
Ripe weather for launch
If Discovery's STS-114 crew - NASA's first shuttle astronauts to fly since the 2003 Columbia disaster - had been aboard the orbiter, conditions would have been ripe to launch them into space.
"It was a good day," said Sandy Coleman, NASA's external tank project manager, during the teleconference. "We could have launched today."
The humidity today allowed more ice to form on Discovery's tank today than in the previous test, but amounted to little more than frost, shuttle officials said.
Concerns over the potential fatal danger posed by ice debris shaking off the tank prompted shuttle engineers to devise a new heater to limit the hazard.
Discovery and the STS-114 crew are set to launch no earlier than July 13 on mission to test new hardware and procedures expected enhance space shuttle safety. Their spaceflight will also deliver vital consumables, science equipment and other cargo to the International Space Station, where the Discovery crew plans to perform no less than three space walks.
NASA's space shuttle fleet has been grounded since Feb. 1, 2003, when the Columbia broke apart during reentry, killing its crew. Investigators later found that launch debris, which struck Columbia's left wing during liftoff, caused the accident.
Potential delay
Despite today's test, Discovery will eventually fly with a completely different external tank, one which already stands ready to accept the orbiter at the massive 52-story Vehicle Assembly Building (VAB) just over four miles away from the launch pad. The tank was original slated for NASA's follow-up mission to STS-114, STS-121 aboard Atlantis.
But there are no current plans to check that replacement tank as well by pumping it full of the liquid oxygen and liquid hydrogen fuel Discovery consumes during liftoff. NASA officials, however, could call for that extra test after reviewing data from Friday's activity.
"Right now, I don't have a third tanking test in my plan," Parsons said, conceding that some shuttle officials believe such a test could be warranted, but have agreed to look over the data from today's test first. "But I wouldn't rule it out completely."
NASA launch director Michael Lienbach said the addition of a third tanking test could push Discovery up to a week into its current launch window, which runs from July 13 to July 31. If shuttle engineers push hard, however, they could accomplish the feat by the window's opening, he added.
Shuttle engineers will soon install the new heater to the expandable bellows portion of a liquid oxygen feed line on Discovery's replacement fuel tank to prevent ice buildup.
Another concern revolving adequate clearance between Discovery's new orbital boom - which astronauts will use to scan the orbiter for damage - and a vital communication antenna has been addressed, NASA officials said, adding that the separation between the two devices is slim during deployment.
"We've been aware of this and we have a way to ensure we deploy the [boom]," Parsons said. "I don't believe this is going to be a real big problem, this is just an operational workaround."
Getting the kinks out
Shuttle managers ordered Friday's test to reexamine a set of four sensors that monitor liquid hydrogen propellant levels inside Discovery's external tank to ensure main engine cutoff during launch. The sensors make sure Discovery's engine shut down before its fuel tank runs completely dry, NASA officials said.
Launch restrictions require that all four sensors function properly before liftoff, though two of the devices cut out in the April 14 test. Since then, pad engineers have swapped out wiring and rechecked the connections running between Discovery and its tank. The result, apparently, was a fully function sensor suite during the second test fueling.
"The main engine cutoff sensors worked perfectly," Parsons said. "It probably points to the fact that...some kind of connection wasn't exactly right."
More to unravel
One concern not solved in the May 20 test revolved around a pressurization valve at the very top of Discovery's external tank. The valve apparently cycled the exact number of times - 13- as it did during the April 14 tanking test, which is just shy of breaching launch restrictions for an actual space shot. In a normal launch, the valve cycles between eight and nine times.
"We've got to understand it," Coleman said of the glitch. "We don't like flying right on the edge."
Coleman said one potential culprit is a defuser, a sort of mesh screen that that sits at the very top of the hydrogen tank and disperses fuel in a manner that prevents hot spots from developing on the tanks aluminum skin. The defuser on Discovery's tank is different from those on all past external tanks and will eventually be swapped out with an older version, she added.
Lienbach said that Discovery will begin to make the 4.2-mile (6.7-kilometer) journey back to the VAB no earlier than May 24, after any remaining hydrogen has boiled out of its external tank.
There, the 171,000-pound (77,564-kilogram) orbiter will be demated from its launch stack and attached to its new one. The enter assembly should once again reach the launch pad by mid-June, shuttle officials said.
Fixing NASA: Complete Coverage of Space Shuttle Return to Flight