Transformers movies ranked, worst to best
Transformers are returning to the big screen this summer with Rise of the Beasts, so you might be looking to rewatch all the movies. This is our Transformers movies ranked list.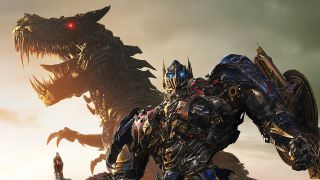 (Image credit: Paramount Pictures)
Despites it many difficulties, the Transformers movie franchise has accumulated over $4.8 billion at the global box office, so it makes sense that both Hasbro and Paramount are interested in keeping the Autobot-Decepticon war going on the big screen. This summer, Transformers: Rise of the Beasts arrives with a globe-trotting adventure inspired by the Beast Wars storyline, which focuses on the Maximals, the Predacons, and the Terrorcons.
The largely derided five-movie saga directed by Michael Bay, which ran from 2007 until 2017, has been embraced by pop culture regardless, and it definitely succeeded in bringing a new generation of fans and audiences into Hasbro's highly profitable toys, animation, and comics franchise – the only previous big-screen Transformers release was the 1986 animated G1 movie.
In 2018, Bumblebee effectively rebooted the movie continuity to accommodate cartoonier Transformer designs and a more light-hearted and retro sensibility. Despite being a critical success, the prequel-reboot struggled to dominate the box office. That didn't affect Hasbro and Paramount's plans for a new Transformers saga though; Rise of the Beasts is the next step.
So with seven movies behind us and another on the way, we decided now is the time to separate the Megatrons from the Starscreams as it were, with our list of the Transformers movies ranked, worst to best.
Transformers fans should check out our review of the LEGO Icons Optimus Prime set too. And if you're looking for our takes on other sci-fi movie series, we've got ranked lists for Star Wars, Star Trek, Predator, RoboCop, and much more!
7. Transformers: Revenge of the Fallen
Release date: June 24, 2009
Cast: Shia LaBeouf, Megan Fox, Josh Duhamel, Tyrese Gibson
Revenge of the Fallen committed one of the biggest sequel sins in cinema: almost completely rehashing the first movie's plot. While it's bigger and more ambitious, the second live-action Transformers instalment is uninspired and bloated despite Michael Bay's best efforts to keep us engaged. On top of everything, there's an overabundance of unfunny sex jokes – and even a "sexbot" scene – that feel totally out of place in this franchise.
On the bright side, Revenge of the Fallen still looks amazing and packs some stunning on-location action scenes which put those of many recent blockbusters to shame. Plus, Optimus Prime kicks some serious Decepticon ass.
---
6. Transformers: Age of Extinction
Release date: June 27, 2014
Cast: Mark Wahlberg, Stanley Tucci, Nicola Peltz, Jack Reynor
Michael Bay's fourth Transformers movie wasn't really locked in once he finished working on 2011's Dark of the Moon, but he ended up sticking with Hasbro's everlasting franchise for a while longer… and the results were mixed.
Age of Extinction successfully brings the fan-favourite Dinobots into the fold and paints a darker picture of an Earth struggling to co-exist with the Transformers, both good and bad. Sadly, its runtime feels excessive for the little plot there is, and the new trio of human leads isn't nearly as fun to watch as the original gang.
Perhaps more interesting are the little universe-building seeds planted here to expand the mythology behind the Transformers and their origins, but the actual story is largely unfocused and takes too long to take off.
---
5. Transformers: The Last Knight
Release date: June 21, 2017
Cast: Mark Wahlberg, Anthony Hopkins, Laura Haddock, Isabela Moner
After Age of Extinction's lackluster "refresh" of the saga, The Last Knight largely feels like more of the same, but we have to admit it's more effectively paced and swings for the fences with the franchise's most ridiculous screenplay so far. We get to see Arthurian Transformers and Bumblebee hunting Nazis, which is rad. The fifth live-action Transformers movie never slows down and is jam-packed with concepts and scenes that would get most screenwriters kicked out of a meeting. Instead, Paramount and Bay fully embraced the unhinged silliness of it all and even went a bit self-conscious.
Its weakest aspects are the still excessive runtime, a boatload of huge retcons, and a mostly uninteresting (though less bloated) roster of human characters. There wasn't a good enough reason to bring Josh Duhamel and John Turturro back either. But Sir Anthony Hopkins clearly had a blast with his scenes, which often feel like a fever dream.
---
4. Transformers: Dark of the Moon
Release date: June 29, 2011
Cast: Shia LaBeouf, Rosie Huntington-Whiteley, Josh Duhamel, Tyrese Gibson
Dark of the Moon is often overlooked in the conversation around these movies, and that's because it works for the most part in a non-offensive way. Yes, it's still very silly and often undercooked when it comes to the drama, plus the Autobots' politics are more uh-oh than ever in this entry, but its large-scale chaos and NASA-centric screenplay are restrained enough to provide effective entertainment that doesn't murder your brain cells.
Megan Fox wasn't around for the third movie – Rosie Huntington-Whiteley's character drops out of nowhere into Sam Witwicky's life – but most of the core cast of the two previous movies stuck around with decent enough parts to play. Moreover, Patrick Dempsey, John Malkovich, and Frances McDormand all had enough fun with their respective roles. Plus, Leonard Nimoy returned to the franchise!
---
3. Transformers
Release date: July 3, 2007
Cast: Shia LaBeouf, Megan Fox, Josh Duhamel, Tyrese Gibson
The first live-action Transformers remains a notable piece of Amblin-esque cinema even if you dislike Michael Bay's directing style, the flawed plotting, and cartoonish human characters. Steven Spielberg's (executive producer) touch can be felt all over the movie, and both the screenwriters and Bay himself clearly tried hard to make the titular Transformers and their powers work in live-action, which was no small feat back then.
More interestingly, Transformers works pretty well as a post-9/11 piece of American cinema, with the villainous Decepticons infiltrating the United States with targeted cover attacks before all hell breaks loose. Paranoia and intrusive security are a big part of the story, and the entire good/bad "aliens" angle feels like a perfect fit for the late 2000s.
---
2. Bumblebee
Release date: December 21, 2018
Cast: Hailee Steinfeld, John Cena, John Ortiz, Jorge Lendeborg Jr.
Bumblebee failed to convince most moviegoers into paying for a ticket due to franchise fatigue and a poor marketing campaign. "Is it a reboot or a prequel to Bay's movies? Why should we care?" But those who gave Travis Knight's take on Transformers a chance came out smiling at the very least.
For starters, the 1980s setting (overdone by 2018) felt sincere and just the right amount of nostalgic. The cast of characters is also thin but charming, with Hailee Steinfeld and John Cena leading opposite sides of a conflict that still hasn't become too big nor led by the Transformers. It's a movie that puts the characters over the spectacle, making the latter more meaningful as a result. And of course, those G1-inspired designs (that Cybertron prologue!) are gorgeous.
---
1. Transformers: The Movie
Release date: August 8, 1986
Cast: Peter Cullen, Frank Welker, Leonard Nimoy, Orson Welles
The original Transformers movie, a culmination of the G1 animated series, still has "the touch" and more than enough laser ammo to shatter hearts (including ours). Originally upsetting for die-hard aficionados for its plot and violent deaths, it eventually became a cult classic, and with good reason.
While this movie was clearly envisioned as a business-driven refresh for the toy franchise, its bold creative swings now seem more valuable and show that big IP holders once weren't afraid of letting the past die and jumping into the unknown.
Get the Space.com Newsletter
Breaking space news, the latest updates on rocket launches, skywatching events and more!
Fran Ruiz is our resident Star Wars guy. His hunger for movies and TV series is only matched by his love for video games. He got a BA of English Studies, focusing on English Literature, from the University of Malaga, in Spain, as well as a Master's Degree in English Studies, Multilingual and Intercultural Communication. On top of writing features and other longform articles for Space.com since 2021, he is a frequent collaborator of VG247 and other gaming sites. He also serves as associate editor over at Star Wars News Net and its sister site, Movie News Net.