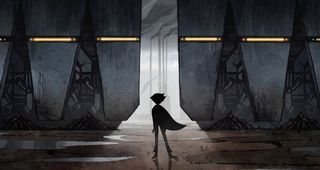 (Image credit: disney+)
After garnering an Emmy Award nomination for its breathtaking content, Lucasfilm and Disney+'s "Star Wars: Visions" triumphantly returns for a sophomore season of diverse animated sci-fi shorts spawned from a galaxy far, far away starting May 4, 2023, a.k.a. Star Wars Day.
"Star Wars: Visions" first emerged on Disney+ in 2021 as a revelation for anime fans produced by an honored assembly of Japanese masters. This follow up collection of freshly-crafted "Star Wars" films expands its horizons with works from nine acclaimed animation studios around the globe. Each animated episode is an eruption of creativity in various animation styles seen through the lens of different cultural perspectives and offering unique interpretations from the deep well of "Star Wars" myths.
Directed by Cartoon Saloon CEO and co-founder Paul Young, the second episode of "Star Wars: Visions Vol. 2" is "Screecher's Reach," which centers around workhouse friends who hope for something better. Space.com recently spoke with Young to discuss the short, its inspirations and what it was like casting Academy Award-winning actress Anjelica Huston for one of its voice acting roles.
Related: Star Wars: Visions Vol. 2 review: A braver and more consistent set of little stories
In "Screecher's Reach," a young girl named Daal seeks out a legendary cave at the urgings of a magical pendant, and what she discovers in the haunted spot will shape her destiny within the Sith Order. Themes of concealment, fate, and dormant powers are sprinkled throughout Young's "Star Wars"-inspired ghost story, injected with a rich soundscape and lyrical score by Leo Pearson.
It stars Eva Whittaker as Daal, Alex Connolly as Baython, Noah Rafferty as Quinn, Molly McCann as Keena, Anjelica Huston as Sith Mother and Niamh Moyles as Ghost.
After mainly handling the business end of the 5-time Academy Award nominated company in Kilkenny, Ireland, this will be Young's directorial debut. "Screecher's Reach" is a 13-minute jewel containing Cartoon Saloon's signature elements like flourishes of color and an old-fashioned style that lovers of their Celtic classics, "The Secret of Kells" and "Song of the Sea," will instantly recognize.
"When we started the company I always intended to direct," Young tells Space.com. "I was the one sitting beside the computer and phone so I naturally became the producer by answering the phone so much. Then I started to enjoy that because I liked the travel involved and I was learning about the film industry by jumping in at the deep end. In my work with Tomm [Moore] and Nora [Twomey] and all the directors here over the years in making the films, Nora thought it might be time for me to get into doing what I set out to do in the first place."
With Cartoon Saloon about to celebrate its 25th anniversary next year and fortified with enough permanent staff, Young began to look at developing his feature film.
"I've always wondered what it would be like if Cartoon Saloon did a science fiction film rather than a historical mythology," he recalls. "And I really love science fiction and wrote a lot about science fiction architecture and soundtracks in school and art college. It was round about that time that Jacqui Lopez rang up from Lucasfilm and asked if I'd like to a 'Star Wars' short. I may have played hard to get at first and hoped I'd get to go to Skywalker Ranch and do the mix there."
Writer Jason Tammemagi's twisty story pitch stood out for Young's "Visions" project.
"What if there was a cave like in 'The Empire Strikes Back,' but when a character goes in there it's not just themselves, there's actually somebody in there? And it's also a test, but it's a sly test and it turns on its head. So there's this woman, who our main character Daal would have loved to have wanted as a mother coming from a workhouse as an orphan. If she was lured and found a medal and kept it a secret from her friends that this person was talking to her through this medallion, telling her, 'Look, I can show you a better life if you just do this test for me.'
"In a way a big influence was the film 'Stand By Me,' and that group of kids right before they separate. Growing up in a small town it's like you get that ticket out to go to university and some of your friends have to wait a year and you don't want to gloat but you feel kind of special."
Young is grateful to Waugh and his entire production gang at Lucasfilm for allowing him to leave narrative interpretations open.
"Should the Sith Mother look like a Sith when she comes? We had a bit of carte blanche being at 'Visions' that this could be an alternate part of the galaxy. I wanted it to be like she was almost angelic, like a religious icon coming down to lead Daal away and offer this good life. The Sith have always been in disguise and she's disguising herself as a new person and creating this worship around her."
Academy Award-winning actress Anjelica Huston voices "Screecher's Reach's" duplicitous Sith Mother. Initially, Young struggled to find someone to play the character.
"She has a great connection to Ireland and it was the Lucasfilm team that reached out to her," adds Young. "I love the idea that this is a "Star Wars" film that has predominantly Irish voices and an Irish cast. Anjelica's father, John Huston, was a major player for the Irish film industry here. And she'd lived in Ireland for quite a long time. She was great because she could be this stern mother-like figure and seem very lovely but then be able to turn really nasty. That was fun."
"Star Wars: Visions Vol. 2" premieres exclusively on Disney+ on May 4.
Get the Space.com Newsletter
Breaking space news, the latest updates on rocket launches, skywatching events and more!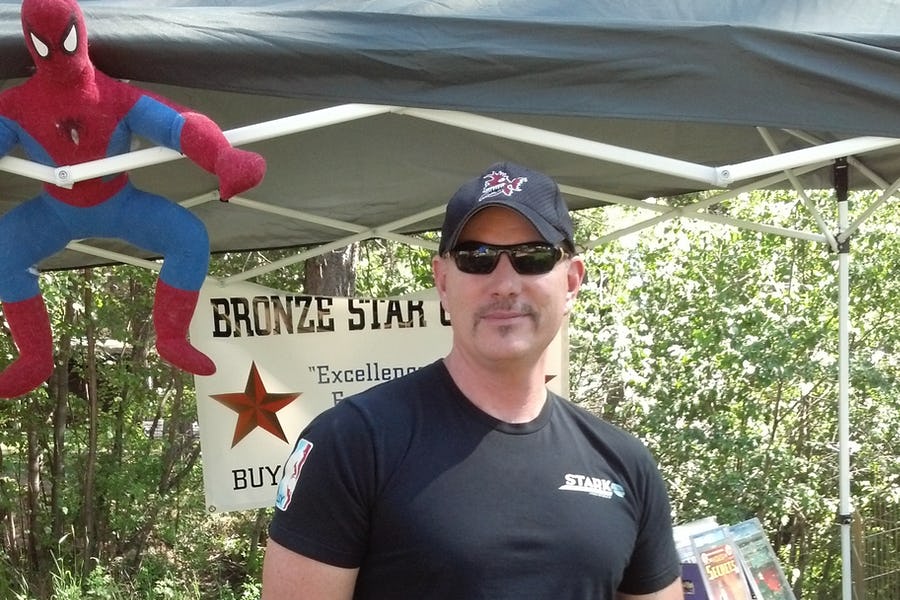 Jeff Spry is an award-winning screenwriter and veteran freelance journalist covering TV, movies, video games, books, and comics. His work has appeared at SYFY Wire, Inverse, Collider, Bleeding Cool and elsewhere. Jeff lives in beautiful Bend, Oregon amid the ponderosa pines, classic muscle cars, a crypt of collector horror comics, and two loyal English Setters.