It's hard to beat the combination of "Star Wars" and Halloween.
Thanks to veteran writer Cavan Scott ("Star Wars," "Doctor Who") it's the treat that keeps on giving, especially when it's an oversized Dark Horse book injected with sinister stories centered around the doomed armored space stations of the original trilogy.
Starting back in 2018 with IDW's "Star Wars Adventures: Tales From Vader's Castle," Scott and a revolving roster of artists have transported fans of the scariest month to the "Star Wars" universe with annual Halloweentime anthology series that present frightening yarns starring "Star Wars" favorites.
Now he's back writing a hair-raising collection of five short stories accompanied by artists Soo Lee, Juan Samu, Fico Ossio, Vincenzo Riccardi and Ingo Römling in "Star Wars: Tales From The Death Star," a deluxe new 96-page hardback available now.
Related: Star Wars movies in order: Chronological and release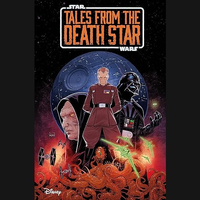 Star Wars: Tales from the Death Star: $22.49 from Amazon
This collection of short stories tells five new spooky tales all set in the Empire's most infamous battle station: the Death Star.
Here's the official synopsis:
"Even scattered and destroyed, the ruins of the Death Star are a sinister place.
"From the destruction of Alderaan to the shadow of the Forest Moon, alien creatures, phantom star ships, deadly artifacts, and vengeful spirits all stalk the halls of the infamous space station, as writer Cavan Scott and an all-star team of artists reveal the hidden evils that lurked within charred remains of the ultimate firepower in the universe."
"Ask anyone who has gone trick or treating as Darth Vader or Luke Skywalker!" Scott told StarWars.com. "'Star Wars' has been scary from the start. I mean, there's a werewolf in the cantina. And that's before you get to wampas, witches, and brain worms! Horror just works in a galaxy far, far away. Maybe because it's a universe built on hope, the two going hand in most-likely-dismembered hand.
"For this collection, I was keen to do something different. In past anthologies, the individual stories haven't had much to do with the location, other than maybe a few stories set in Vader's castle. For this, I wanted to tell only stories that related to the Death Star … or rather, Death Stars! The battle station became the most important character."
This seasonal special contains another similar framing device as found in previous Halloween releases, this time using a strange hooded figure mentoring a young boy on the ocean moon of Kef Bir. From here we're thrust into to a wide range of creepy confections including "Nightmares Long Remembered," "The Creature from the Trash Compactor," "The Wild Squadron," "We Shall Double Our Efforts," and "The Haunting of Grand Moff Tarkin."
"We often talk about these anthologies being a tribute to Hammer horror, but they're actually nearer the output of Amicus, Hammer's main rival that put out portmanteau features in the 1970s," Scott adds. "Each had a framing story containing a number of shorts told by the framing story's characters, films like 'Dr. Terror's House of Horrors,' 'The House that Dripped Blood,' and my personal favorites: 'Vault of Evil' and the wonderful 'From Beyond the Grave.'"
Dark Horse Books' "Star Wars: Tales From The Death Star" arrived Oct. 17, 2023