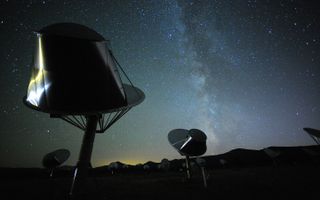 (Image credit: Seth Shostak/SETI Institute)
A new project aims to help prepare humanity for the day — should it ever come — that we make contact with intelligent aliens.
At 3 p.m. EDT (1900 GMT) on Wednesday (May 24), Europe's Trace Gas Orbiter (TGO) Mars probe will send a coded message that will be received by three big radio telescopes here on Earth.
Scientists around the world — and interested members of the public — will then attempt to decode the missive, as part of an ambitious, multiweek project called A Sign in Space.
"This experiment is an opportunity for the world to learn how the SETI [search for extraterrestrial intelligence] community, in all its diversity, will work together to receive, process, analyze and understand the meaning of a potential extraterrestrial signal," Wael Farah, project scientist for the Allen Telescope Array (ATA), a network of dishes in Northern California run by the nonprofit SETI Institute, said in a statement.
"More than astronomy, communicating with E.T. will require a breadth of knowledge," Farah said. "With A Sign in Space, we hope to make the initial steps towards bringing a community together to meet this challenge."
Related: The search for alien life (reference)
The ATA is one of the three facilities that will pick up the TGO message, which will take 16 minutes to reach Earth from Mars orbit. The other two are the Robert C. Byrd Green Bank Telescope at the Green Bank Observatory in West Virginia and the Medicina Radio Astronomical Station in northern Italy, which is managed by the Italian National Institute for Astrophysics.
Teams at each of the three observatories will process the coded signal and make it available to the public. So, if you're interested, you can try your hand at deciphering it — and submit your solution and other ideas via the project's website.
Indeed, public engagement is a key part of A Sign in Space, which is led by Daniela de Paulis, the current artist in residence at both the SETI Institute and the Green Bank Observatory.
For example, the project will host a webcast on Wednesday that features interviews with team members and live look-ins at the control rooms of the three radio telescope sites. The livestream will begin at 2:15 p.m. EDT (1815 GMT), 45 minutes before TGO beams out its message.
And, over the ensuing six to eight weeks, the project team will host a series of public Zoom meetings that will discuss the societal implications of spotting a signal from an alien civilization.
"Throughout history, humanity has searched for meaning in powerful and transformative phenomena," de Paulis said in the same statement.
"Receiving a message from an extraterrestrial civilization would be a profoundly transformational experience for all humankind," she added. "A Sign in Space offers the unprecedented opportunity to tangibly rehearse and prepare for this scenario through global collaboration, fostering an open-ended search for meaning across all cultures and disciplines."
Get the Space.com Newsletter
Breaking space news, the latest updates on rocket launches, skywatching events and more!

Michael Wall is a Senior Space Writer with Space.com and joined the team in 2010. He primarily covers exoplanets, spaceflight and military space, but has been known to dabble in the space art beat. His book about the search for alien life, "Out There," was published on Nov. 13, 2018. Before becoming a science writer, Michael worked as a herpetologist and wildlife biologist. He has a Ph.D. in evolutionary biology from the University of Sydney, Australia, a bachelor's degree from the University of Arizona, and a graduate certificate in science writing from the University of California, Santa Cruz. To find out what his latest project is, you can follow Michael on Twitter.