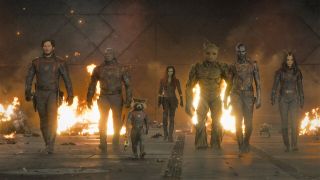 (Image credit: Disney)
James Gunn's professional journey in recent years has been nothing short of amazing. After being suddenly fired from his position at Marvel Studios because of some tweets of old, he quickly made the jump to the DC camp, where he developed a semi-reboot of the Suicide Squad and started work on the follow-up HBO Max series Peacemaker. But when he was accepted back into the Marvel fold well before those projects came out, Guardians of the Galaxy Vol. 3 had to wait for a while.
Some fans were worried about the writer-director's ability to juggle so many different projects at once across two different companies, yet every single one of them turned out great. He even put together a set of Groot-centric shorts and a Holiday Special ahead of Guardians of the Galaxy Vol. 3 to appease the Disney Plus content gods.
And now, it's time for the grand finale before fully focusing on his new gig: Taking over the DC universe of movies, shows, and more. But let's not get ahead of ourselves, because his final entry into the Marvel universe is well worth our attention.
The marketing for Guardians of the Galaxy Vol. 3 has had "bittersweet ending" written all over it, and the movie does indeed pack a punch, yet most fans should walk out of it with a big smile on their faces. It's hard to imagine a better finale for this specific set of characters; all troubled by their past and seeking comfort wherever they can find it.
As expected, Vol. 3 largely feels like one final test for the team and the bonds that unite them. With Thanos defeated, the known universe saved, and the original Gamora dead, the Guardians are trying to rebuild Knowhere into a respectable place that welcomes everyone who has lost something. However, pretty much all of them are still missing something, and an unexpected attack on the unorthodox space station promptly sends the crew once more into the unknown.
It's no secret that the narrative sights were set on Rocket (Bradley Cooper) ever since Vol. 2's poignant final scene, and James Gunn and the marketing confirmed as much. This is Rocket's story, and with good reason, but that doesn't mean he's the only one getting closure. Hearts will be broken and mended several times before the credits roll, and audiences should be taking home a handful of great memories.
While the CGI work on Rocket is stunning and reaches levels of human-like emotion – especially when combined with Cooper's performance – perhaps the biggest "raw acting" surprise comes from Chris Pratt, who plays Peter Quill aka Star-Lord in an almost entirely different way following Gamora's death. We already felt some of his pain in the Infinity Saga's two-part finale plus last Christmas' Holiday Special, but here he gets to exhibit genuine anger, sadness, and above all, the experience as a leader he's amassed over the years. It's one of the best leading performances we've had in the MCU so far, up there with Robert Downey Jr. and Chris Evans' best.
Nebula (Karen Gillan) and alternate timeline Gamora (Zoe Saldaña) also find themselves in unexpected places, each trying to get over their father's abuses and the many shocks that came with the war for the Infinity Stones. For Nebula, the path forward might be one of protecting those who have suffered like her, and that starts with her new comrades. Gillan once again delivers a nuanced performance that highlights how Nebula has had one of the wildest character arcs in the entire MCU and one we won't soon forget.
Meanwhile, Gamora is back (not really, as this variant is an entirely different one) to being rude and aggressive, basically swapping places with her sister. After the huge confusion of being told she died in the reality she's now stuck in, she's found refuge with the crew of Ravagers led by Sylvester Stallone's Stakar Ogord. The banter with Peter, the ex-boyfriend she's never met, is often hilarious, and thankfully, the solution to their unique problem avoids many pitfalls.
Drax (Dave Bautista) and Mantis (Pom Klementieff) are still the finest comedic duo of the Guardians, capable of derailing almost any serious conversation with child-like innocence, bad jokes, and unfiltered comments. It's a testament to the actors' talent (and James Gunn's excellent writing and direction) how many gags that could've landed flat or quickly become annoying totally work time and again. Everyone is on the same page and knows what to aim for with every little moment. And yes, both Drax and Mantis get powerful dramatic beats as well.
Groot (Vin Diesel), Kraglin (Sean Gunn), and Cosmo (Maria Bakalova) perhaps get the short end of the stick in this really packed third installment, yet all of them have plenty of moments to shine and big payoffs. The script puts them wherever they can make the biggest impact, but knows its focus should be elsewhere. In other movies that deal with sizable teams of heroes, it's easy to see characters that could be removed altogether from the equation, but James Gunn worked his magic once again here to make everyone feel irreplaceable.
The High Evolutionary (Chukwudi Iwuji) proves to be a memorable villain too. He's not scary because of his strength, but because of the horrific things he's done in the name of science and his impossible quest for perfection. In the absence of gods, he's trying to play one, and Iwuji makes the most of such a cruel character.
Gunn clearly went for the fences with Rocket's past and his relationship with the mad scientist, as well as his other animal friends, delivering the darkest, most twisted scenes Marvel Studios has put out yet. Animal abuse and cold violence are amped up here to sell the horror of his experiments, and it's hard to find a rawer, more uncomfortable push for animal rights in a big blockbuster. As an extra, Gunn also takes a strong jab at what we consider is a "perfect society" with little room for improvement.
On the other hand, Ayesha (Elizabeth Debicki) and Adam Warlock (Will Poulter) never truly find a comfortable spot in this movie. There's a solid twist early on regarding their role, but it never pays off in a meaningful way, and they could be easily written out for a more streamlined narrative. Warlock does get a couple of really cool moments, and Poulter clearly had a blast doing this, but he ultimately is just someone that had to be in Vol. 3 because the previous movie's post-credits scene set him up and Marvel Studios' future plans might require him.
While Vol. 2 already featured some impressive visuals and more ambitious action scenes than the original movie, Gunn leveled up once again for this last ride with Marvel, bringing in many of the tricks he learned filming The Suicide Squad. Vol. 3 may not feel as grand as its predecessors for a good chunk of the runtime, but its final act goes big with spaceship action and also delivers meaner violence than you'd expect from a Marvel movie which still avoids hitting the R rating. We can already see how the studio is approaching that line though (and they'll need to cross it with Deadpool 3).
While Henry Braham's cinematography is up to the task once again (albeit with a darker tint to it which fits the movie's tone), the jump from Tyler Bates to John Murphy, who worked with Gunn on The Suicide Squad, is a bit disappointing. The musical themes we know and love do pop up again, but much of the soul is gone, resulting in an original soundtrack which often fades into the background. The third Awesome Mix isn't much more memorable either despite packing bangers such as the Beastie Boys' "No Sleep Till Brooklyn" or Heart's "Crazy On You," but there was an intention here of going for something less cheerful overall, and the opening credits' song choice makes that very clear.
Guardians of the Galaxy Vol. 3 is big because of its smallest moments and 100% feels like a James Gunn movie first and a Marvel movie second. It completely works on its own, avoiding needless links to the larger universe, and that's a tremendous achievement after the last few Marvel productions which have felt like Kevin Feige and co. going through the motions to set up the next few big-screen events coming our way.
Gunn's farewell reminds us of some of the identity that's been lost along the way and that once elevated the entire franchise to new heights; the Marvel camp might never again hire an author with a voice as strong as this one. There's a new path forward opened for this specific saga, but whoever comes in next has awfully big shoes to fill.
At time of writing Guardians of the Galaxy Vol. 3 is only available to watch in cinemas. It will be launching on Disney+ at a later date. The last MCU movie, Ant-Man and the Wasp: Quantumania, launched on Disney+ around 90 days after it's debut in theaters, so that seems like a safe bet here too. Following that pattern, expect to see Vol. 3 hit Disney+ in the first week of July.
Get the Space.com Newsletter
Breaking space news, the latest updates on rocket launches, skywatching events and more!
Fran Ruiz is our resident Star Wars guy. His hunger for movies and TV series is only matched by his love for video games. He got a BA of English Studies, focusing on English Literature, from the University of Malaga, in Spain, as well as a Master's Degree in English Studies, Multilingual and Intercultural Communication. On top of writing features and other longform articles for Space.com since 2021, he is a frequent collaborator of VG247 and other gaming sites. He also serves as associate editor over at Star Wars News Net and its sister site, Movie News Net.