Dogfights in space never looked this gorgeous.
One of the coolest sci-fi diversions to keep on your video game acquisition radar is "Everspace 2" from German gaming studio Rockfish Games, whose original "Everspace" was an 2017 3D space shooter with entertaining roguelike elements. The eagerly-anticipated upcoming sequel to continues the compelling tale of protagonist clone pilot Adam Roslin and his AI companion as they encounter lethal enemy drones, agile fighters, heavy bombers and intimidating gunships.
"Everspace 2" arrives as an open world space simulator, allowing gamers to explore deep space, soaring between exoplanets, battling ruthless space pirates and picking up natural resources and loot. Intrepid players are already enjoying the official launch experience on Windows PC as of April 6, ahead of the larger console marketing push for sale on PlayStation 5 and Xbox Series X|S later this summer.
Related: Best space exploration games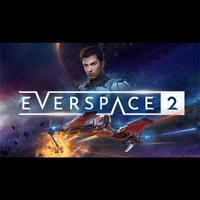 Everspace 2: $49.99 on GOG.com
Everspace 2 offers even more fast-paced single-player space combat than the original, allowing you to explore distant star systems as you gather loot and upgrade your fleet of heavily-armed spacecraft.
Here's the official synopsis:
"EVERSPACE 2" is a fast-paced single-player space shooter with deep exploration, tons of loot, classic RPG elements for PC and consoles. Set in a persistent open world, it is driven by a captivating sci-fi story, picking up shortly after the events of the predecessor. An approximately 20 to 30 hour-long campaign and various side missions will lead you into the endgame. Imagine a Hack & Slash Action-RPG with all the bells and whistles: classes, random loot, skills, talents, and more ... but in space.
"Your ship is the hero in this adventure. Expand your private ship collection from a virtually endless supply of vessels composed of nine unique classes and optimize your build to perfection. Cleverly combine modules, weapons, devices, and perks to fit your individual playstyle and the current objective.
"Only one life to live - You play as one of the surviving clone pilots who defeated Admiral Gorc in the predecessor. Wanted by the authorities for being an illegal and rogue clone pilot, you are trying to stay low and make a living as a space miner under false identity. Of course, fate has bigger plans for you. Soon you will find yourself at the center of a sci-fi story about a former military clone discovering what it means to be human."
"This has been a fantastic launch for Rockfish Games, our biggest yet!," Rockfish Games CEO Michael Schade said on the game's 300,000 units already sold. "The team's done an amazing job, and we're now reaping the fruits of our hard work of the past five years and beyond. We hit our commercial goals in terms of product visibility, game downloads, and net revenue.
Even more rewarding is seeing our amazing community and space fans in the media love what we've built. This paints a bright future for our studio and 'Everspace' as a franchise. We have so much more planned, and I can't wait for us to share what we've been working on for our first free update later this year and the massive expansion coming second half of 2024."
"Everspace 2" and its striking Unreal Engine 4 visuals and bold gameplay lands for PS5 and Xbox Series X|S summer of 2023.