Curiosity rover: 15 awe-inspiring photos of Mars (gallery)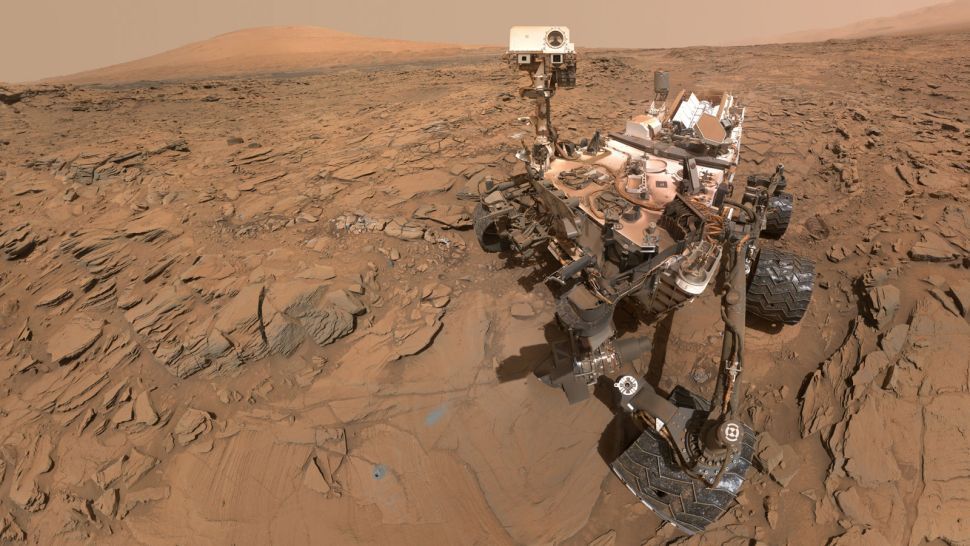 NASA's Curiosity rover launched aboard an Atlas V rocket on Nov. 26, 2011, landing on Mars eight months and 10 days later, on Aug. 5, 2012. Since then, Curiosity has trundled across the Martian landscape searching for signs of life and learning about Mars' unique environment.
Curiosity's trailblazing landing saw the spacecraft descend on a parachute before its landing system fired up its rockets to hover as the rover was lowered down to the surface using the sky crane. This landing technique was a roaring success that NASA repeated in February 2021 when the Perseverance rover arrived on Mars.
For a decade, Curiosity has journeyed across the Red Planet, from Gale Crater to Aeolis Mons. If you want to see where the rover is right now, check out NASA's where is the rover feature. During its travels, Curiosity has unearthed extensive evidence of past water and geological change as well as shifts in climate. For the latest news about the mission, follow Space.com's Curiosity Mars Rover coverage.
Curiosity has faced myriad challenges during its time on Mars, from computer glitches to drill malfunctions, orientation trouble and extensive damage to its wheels, but the robust rover keeps bouncing back and continues to investigate the Martian environment to this day.
Here we celebrate 10 years of Curiosity by taking a look at some of Curiosity's best images of Mars.
Related: A brief history of Mars missions
NASA's Mars rover Curiosity took this self-portrait on May 11, 2016, at the "Okoruso" drilling site on the "Naukluft Plateau" in the foothills of Mount Sharp.
Curiosity captured an image of a so-called "floating spoon" on Mars on Aug. 30, 2015. The strange rock was sculpted over time by Martian winds and even casts its own spoon-shaped shadow on the ground below.
Related: 'Floating Spoon' on Mars is just a weird rock, but still awesome
A view of Curiosity's first meteorite discovery on Mars. These iron meteorites, called Lebanon (larger rock) and Lebanon B (smaller rock in foreground) were discovered by Curiosity on May 25, 2014. The larger Lebanon rock is nearly 7 feet (2 meters) wide. NASA released this photo on July 15, 2014.
Related: Huge meteorite on Mars discovered by NASA's Curiosity rover
NASA's Curiosity Mars rover used the Navigation Camera (Navcam) on its mast for this look back at its tracks after finishing a drive of 328 feet (100 meters) on the 548th Martian day, or sol, of the rover's work on Mars (that was Feb. 19, 2014 on Earth). A geologic feature scientists have dubbed the Jundra striations recede into the distance.
Related: NASA's Curiosity rover looks up at huge Mars mountain
Curiosity captured an image of Earth and the moon about 80 minutes after the Martian sunset on Jan. 31, 2014. The inset shows a zoomed-in view of the pair.
This false-color image shows how Curiosity can reveal the presence of particular minerals in rocks. By combining images taken through three filters capable of detecting the iron-oxide mineral hematite (colored purple in the image), scientists can see where the mineral occurs on the Martian surface.
Curiosity used its Dust Removal Tool, a wire-bristle brush, to scrub dust away from the rock to reveal a large amount of hematite. Curiosity captured this image on Sept. 17, 2017.
On Jan. 15, 2014, NASA's Mars rover Curiosity used its Chemistry and Camera (ChemCam) instrument to examine a rock target called "Harrison" with its Remote Micro-Imaging (RMI) camera and its laser.
This is an RMI image of the rock, which is loose on the surface inside Gale Crater, not part of an outcrop. Harrison contains elongated, light-colored crystals in a darker matrix. The 4.5-millimeter scale bar at the lower right is about one-sixth of an inch long. Some of the crystals are up to about 0.4 inches (1 centimeter) in size.
Curiosity's wheels have been damaged during the rover's 10 years on the planet. This photo captured by the Mars Hand Lens Imager (MAHLI) on Jan. 27, 2022, shows the extent of the damage on one of Curiosity's wheels.
Related: Rugged Mars has taken big bites out of the Curiosity rover's wheels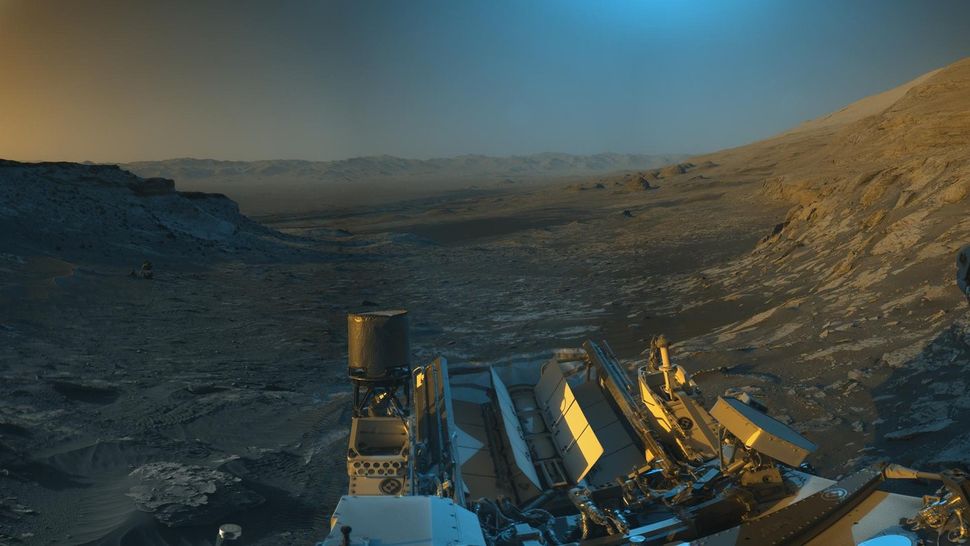 This artistic scene was captured by Curiosity on Nov. 16, 2021. Curiosity took two sets of composite images, one at 8:30 a.m. and the other at 4:10 p.m. local Mars time. The contrasting light images were then combined to bring out the detail of the Martian landscape.
Related: NASA's Curiosity rover shares spectacular views of Mars
This strange formation has been dubbed "Whale Rock" by scientists and reveals a detailed view of a geologic phenomenon called crossbedding, a sign that Curiosity's Gale Crater landing site was once a vast lake.
Related: Giant crater on Mars was once a vast lake, Curiosity rover shows
The infamous "dog door" on Mars was captured by the Curiosity rover on May 7, 2022, during an investigation of the East Cliffs in the Gale Crater. The strange "door" measures just 12 inches (30 centimeters) tall and 16 inches (40 centimeters) wide.
Related: 'Dog door' on Mars found by Curiosity rover is a rocky 'doorway into the ancient past,' NASA says
This panorama, made up of 81 individual images stitched together, was taken by the Mars Hand Lens Imager (MAHLI) on Nov. 20, 2021, which was the 3,303rd Martian day, or sol, of the rover's mission. The rock structure behind the rover is "Greenheugh Pediment" and the hill that is seen on the right is "Rafael Navarro Mountain."
Related: NASA's Mars Curiosity rover shares new panoramic view of Red Planet
Curiosity captured this image of "Ogunquit Beach" in 2017. The large ripples in the dark sand are several feet (meters) apart, while the small ripples are about 10 times closer together according to the NASA statement.
The image has been white-balanced so that its colors appear as they would during the daytime on Earth.
Curiosity captured this image of "Ireson Hill" on Feb 2, 2017, while it explore lower Mount Sharp. Ireson Hill stands about 16 feet (5 meters) tall, rising out of rusty red rocks. The image has been white-balanced so that the colors appear as they would during the daytime on Earth.
Beyond Ireson Hill is part of the rim of Gale Crater, which can be seen as a faint horizon in the image.
On Mar. 18, 2022, while Curiosity was exploring the "Greenheugh Pediment" on the southern side of Mount Sharp, it encountered some precarious rocks that forced the rover onto a different path.
When the rover's team noticed it was heading towards terrain littered with wind-sharpened rocks called ventifacts, mission personnel had no choice but to turn the robotic explorer around. Due to the scale-like appearance of the rocks, scientists have nicknamed ventifacts "gator-back" terrain.
Related: NASA's Curiosity Mars rover turns to avoid dangerous 'gator-back' rocks