Some rivers on ancient Mars flowed for long enough stretches to create bona fide habitable environments on the Red Planet, a new study suggests.
A new technique developed by geologists from the Massachusetts Institute of Technology (MIT) makes use of satellite imagery to investigate alien rivers, their rate of flow and how they move fluid and sediment across the surface of their home worlds. Only two other worlds in the solar system are known to have harbored rivers: Mars, where water flowed billions of years ago, and Saturn's moon Titan, where rivers of methane still run today.
The MIT team applied the technique to calculate how fast and deep rivers were in select regions of Mars in the distant past. They found that rivers possibly flowed for at least 100,000 years at Gale Crater and for at least 1 million years at Jezero Crater , the regions currently being investigated by NASA's Curiosity and Perseverance rovers, respectively. That's potentially long enough to allow for the development and support of life, study team members said.
The team then applied the same process to Titan, making similar estimates despite the thick atmosphere of Saturn's largest moon and its greater distance from Earth.
"What's exciting about Titan is that it's active. With this technique, we have a method to make real predictions for a place where we won't get more data for a long time," team member Taylor Perron, a professor in MIT's Department of Earth, Atmospheric and Planetary Sciences, said in a statement. "And on Mars, it gives us a time machine to take the rivers that are dead now and get a sense of what they were like when they were actively flowing."
Related: Water on Mars: Exploration and evidence
The team was inspired to develop the new technique when they became puzzled about images of Titan's rivers captured by NASA's Cassini spacecraft.
These images demonstrated a curious lack of fan-shaped deltas at the mouths of most of the moon's rivers, as are found at the mouths of many rivers here on Earth. These deltas are built of sediment carried by rivers. Their absence on Titan could have indicated that the hydrocarbon rivers on the Saturn moon don't flow with enough strength to carry sediment, or that sediment is otherwise absent from river flows.
To investigate if this is the case, the team adapted equations that relate physical parameters like river width, depth and slope to flow rate while accounting for variables like the gravity acting on the river and the size and density of the sediment that is being pushed along the riverbed.
"This means that rivers with different gravity and materials should follow similar relationships," Perron explained. "That opened up a possibility to apply this to other planets, too."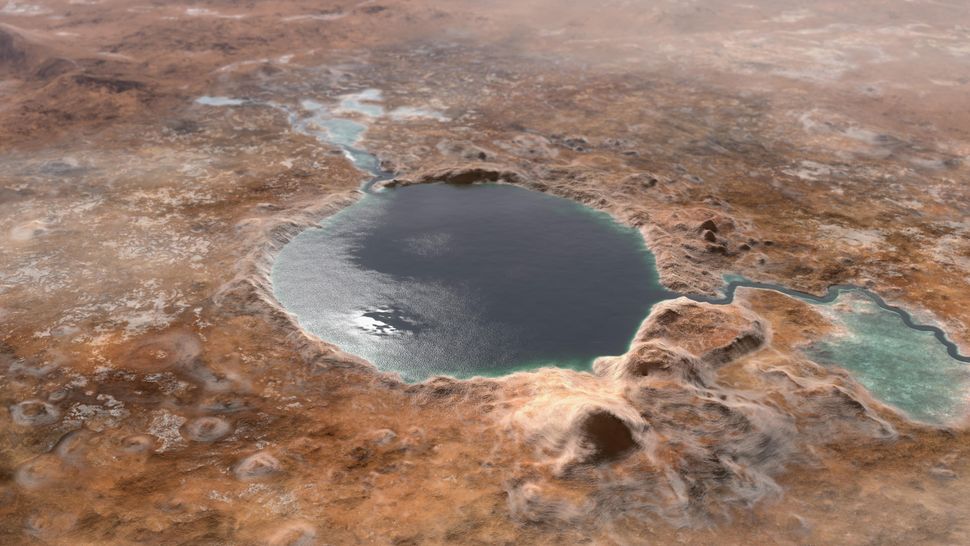 Going with the flow on Mars
When the new technique is used here on Earth, geologists can make measurements of the river characteristics required by these equations to accurately predict a river's flow rate or how much water and sediment it can move downstream.
Of course, this instantly becomes more challenging when studying off-world rivers, with this data limited for both Mars and Titan. Data has been collected from Mars by satellites, including images and elevation estimates, with multiple orbiting missions capturing high-resolution images of the planet, but such observations of Titan are rare.
Team member and MIT postdoc Samuel Birch realized that the equations used to model river flow could be adapted so that just a river's width and slope data, which are available through remote images and topography, could be used to deliver a result.
This modified equation-based method was then tested by Birch with almost 500 rivers on Earth, with the revised method delivering accurate predictions.
The equations were then applied to Mars and the ancient riverbeds found in the Gale and Jezero Craters, both of which are believed to be ancient lake beds that overflowed with water billions of years ago. The predictions were compared to field measurements of sediment grain size collected by Curiosity and Perseverance. This helped verify the accuracy of the technique on rivers away from Earth.
Learning more about Titan's methane rivers
The scientists then applied the new method and its revised equations to two specific sites on Titan where river slopes can be measured. This included a river flowing into a methane lake that is the size of Lake Ontario, which is also the location of one of the only river deltas on Titan, which was found to flow almost as strongly as the Mississippi here on Earth.
The team then compared the flow of methane at this delta-possessing Titan river to one that doesn't sport such a feature. The researchers found that this latter Titan river flowed almost as strongly despite not showing signs of fan-shaped sediment buildup. This indicated that there must be another reason why most rivers on Titan lack deltas.
The team also found that methane-carrying rivers on Titan should be wider and have a gentler slope than rivers carrying the same flow of water on Earth or Mars.
"Titan is the most Earth-like place," Birch concluded. "We've only gotten a glimpse of it. There's so much more that we know is down there, and this remote technique is pushing us a little closer."
The team's research was published online Monday (July 10) in the journal Proceedings of the National Academy of Sciences.