House Approves Bill for Extra Space Shuttle Flight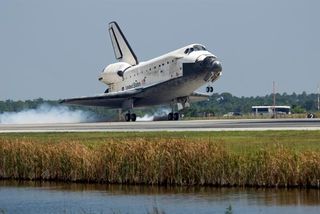 (Image credit: NASA/Mike Gayle)
WASHINGTON —Brushing aside White House objections, the U.S. House of Representativesoverwhelmingly approved a one-year NASA authorization bill that would requirethe space agency to conduct an extra space shuttle mission to deliver the AlphaMagnetic Spectrometer (AMS) to the International Space station.
The WhiteHouse says that requiring NASA to fly the AMS could require the agency tooperate the space shuttle beyond 2010 and further delay the fielding of itssuccessor, the Orion Crew Exploration Vehicle and Ares I rocket.
But theHouse kept the AMS provision intact and relaxed the space shuttle's 2010retirement date when it voted Thursday to approve the NASAAuthorization Act of 2008 (H.R. 6063) by a vote of 409 to 15. A similarprovision was included in a recent draft of a Senate version of the NASAauthorization bill that has yet to be introduced there.
In additionto directing NASA to fly AMS, the bill also endorses the basic outlines of PresidentGeorge W. Bush's 2004 call for the United States to complete the space station,retire the space shuttle and field a new system capable of carryingastronauts to the Moon, Mars and points beyond.
Rep. BartGordon (D-Tenn.), chairman of the House Science and Technology Subcommittee,hailed passage of the bill as a bipartisan endorsement of a robust U.S. spaceprogram.
"Thebipartisan consensus we have reached on H.R. 6063 signals that Congressbelieves a balanced NASA program of science, aeronautics, and human spaceflightand exploration is important and worthy of the nation's support," Gordonsaid in a statement. "Yet, I want to emphasize that H.R. 6063 takes afiscally-responsible approach to providing that support."
Rep. RalphHall (R-Texas), the House Science and Technology Committee's rankingRepublican, said H.R. 6063 is meant to "remove any doubt the nextAdministration may have about Congress' commitment to NASA's programs andpolicies."
H.R. 6063 authorizesa $20.21 billion budget for NASA for 2009 - about $2.5 billion more than theWhite House requested or that congressional appropriators appear inclined toapprove as part of a broader Commerce, Justice, Science (CJS) spending bill.
The CJSspending bills moving through the House and Senate both provide only $17.8billion for NASA for 2009.
The SenateAppropriations Committee is due to vote on its version of the CJS spending billJune 19.
The HouseAppropriations Committee had been scheduled to vote on its CJS bill at the sametime, but announced Thursday the markup had been postponed. No new date wasannounced.
Get the Space.com Newsletter
Breaking space news, the latest updates on rocket launches, skywatching events and more!
Editor-in-Chief, SpaceNews
Brian Berger is the Editor-in-Chief of SpaceNews, a bi-weekly space industry news magazine, and SpaceNews.com. He joined SpaceNews covering NASA in 1998 and was named Senior Staff Writer in 2004 before becoming Deputy Editor in 2008. Brian's reporting on NASA's 2003 Columbia space shuttle accident and received the Communications Award from the National Space Club Huntsville Chapter in 2019. Brian received a bachelor's degree in magazine production and editing from Ohio University's E.W. Scripps School of Journalism.