Expedition 9 Crew Safely Reaches Earth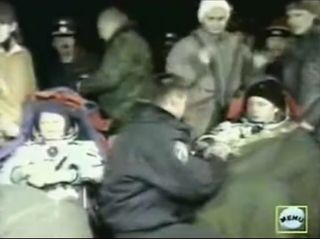 (Image credit: NASA TV.)
The ninthcrew to the International Space Station (ISS) and one visiting cosmonaut aresafely back on Earth tonight, their Soyuz spacecraft dropping them right ontarget on the chilly steppes of Kazakhstan.
After sixmonths aboard the space station, Expedition 9 commander Gennady Padalka and flight engineer Michael Finckewere greeted by freezing temperatures and blowing wind when their Soyuz TMA-4spacecraft touchdown on time at 8:36 p.m. EDT (0036 GMT). Russian Space Forcescosmonaut Yuri Shargin, an ISS visitor, also rode theSoyuz down to Earth.
"It isfreezing and it is windy," said NASA spokesman Rob Naviasfrom recovery helicopter staging grounds in Arkalyk, Kazakhstan, of the weatherconditions near Expedition 9's landing site.
Recoverycrews found Expedition 9's Soyuz spacecraft lying on its side instead of upright, apparently pushed over due to strong winds, NASAcommentators said. It was 6:36 a.m. local time, about 90 minutes beforesunrise, at the landing site.
Padalkaand Fincke return home after an eventful 188-day tourin space that began on April 18. They made some unexpected repairs and conductedfour spacewalks, including one of the shorteston record and anotherthat marked the first use of Russian spacesuits for a U.S. segment operation.
"This was a grand adventure," Fincketold flight controllers in the U.S.and Russiaduring the descent. "We were successful only because we were working together andwe want to thank you from the bottom of our hearts for your help in thismission."
The landing marked the end of the first spaceflight for bothFincke and Shargin.Expedition 9 was Padalka's second long-duration spacemission.
Coming home
TheExpedition 9 crew and Shargin began their descent inthe early afternoon, when they stepped inside their Soyuz spacecraft and lockedthe hatch connecting it to the station.
Hatchclosure occurred at 2:13 p.m. EDT (1813 GMT), at which time the space station'snew tenants - Expedition 10 commander Leroy Chiao andflight engineer Salizhan Sharipov- officially took over ISS operations. Aboutthree hours of leak checks and undocking preparations followed.
"I'm happyto be in Soyuz, it's a very good vehicle," said Shargin,who arrivedat ISS with the Expedition 10 crew on Oct. 16 and spent almost all of his timeengrossed in science experiments.
With theISS drifting freely about 230 miles (180 kilometers) above Kazakhstan, the Expedition9 crew and Shargin undocked their spacecraft from thestation's Zarya control module at 5:08 p.m. EDT (2108GMT). After springing away from the station, the Soyuz executed an eight-secondburn to start its homeward flight.
"Leroy, Ileft some food paste in the oven and Gennady won't let me come back and get it,"Fincke joked with Chiao as theSoyuz backed away.
"That'sokay, Gennady left his nametag here too," Chiaoanswered. "Guys, good luck to you and safe return."
Fincke'shomecoming is especially sweet. In addition to once again experiencing gravity,breathing air in the outdoors and seeing his wife Renita,Fincke will finally be able to meet his new daughter Tarali, who was born on June 18 while the astronaut orbitedthe Earth.
A busy mission
From thestart, Padalka and Finckeknew they had a busy mission on their hands.
Less than aday after docking with the ISS, a circuit breaker regulating power to one ofthe station's attitude-controlling gyroscopes failed,prompting an ad hoc spacewalk that proved more complicated than planned.
Two of theU.S.-built spacesuits the Expedition 9 crew hoped to use for that spacewalk hadcooling system problems, leading Padalka and Fincke to use Russian-built Orlanspacesuits to replace the U.S.-built circuit breaker. While the spacefarerswere able to make the repair,it took two attempts after the first spacewalk was scrubbed after just 14minutes when Fincke's spacesuit began losingoxygen pressure unexpectedly.
Twoadditional spacewalks were aimed primarily at preparing the ISS to receive theAutomated Transfer Vehicle (ATV) Jules Verne, a cargo ship built by theEuropean Space Agency.
TheExpedition 9 crew also repaired a finicky Elektron oxygen-generating device, with Fincke performing an intricate U.S. spacesuit repairtypically reserved for engineers on the ground.
Meanwhile,NASA ISS flight controllers credited Fincke'sdedication to scientific research. As NASA's ISS Science Officer for Expedition9, he spent much of his free Saturdays performing science experiments andworking with ground-based researchers.
Back on Earth
Although theirspace mission has officially ended, Padalka and Fincke still have plenty to do in upcoming weeks.
Once they reachStar City, Russia, the Expedition 9 crew will undergoweeks of physical training and therapy to rebuild the muscle and bone strength theylost during their spaceflight. Fincke will still bein Russia during theupcoming U.S.presidential election on Nov. 2, but plans to vote via mail, he said on Oct. 20news conference.
Although spacebound, Chiao will also votein the election, casting his ballot via secure e-mail connection.
"I'vealways been a fan of the space program and now I've been to space," Fincke said after landing. "And I can say now it's worththe money and it's worth the time for us to reach for the stars, Americans andRussians working together."
ISS Expedition 9: Complete Mission Coverage
Get the Space.com Newsletter
Breaking space news, the latest updates on rocket launches, skywatching events and more!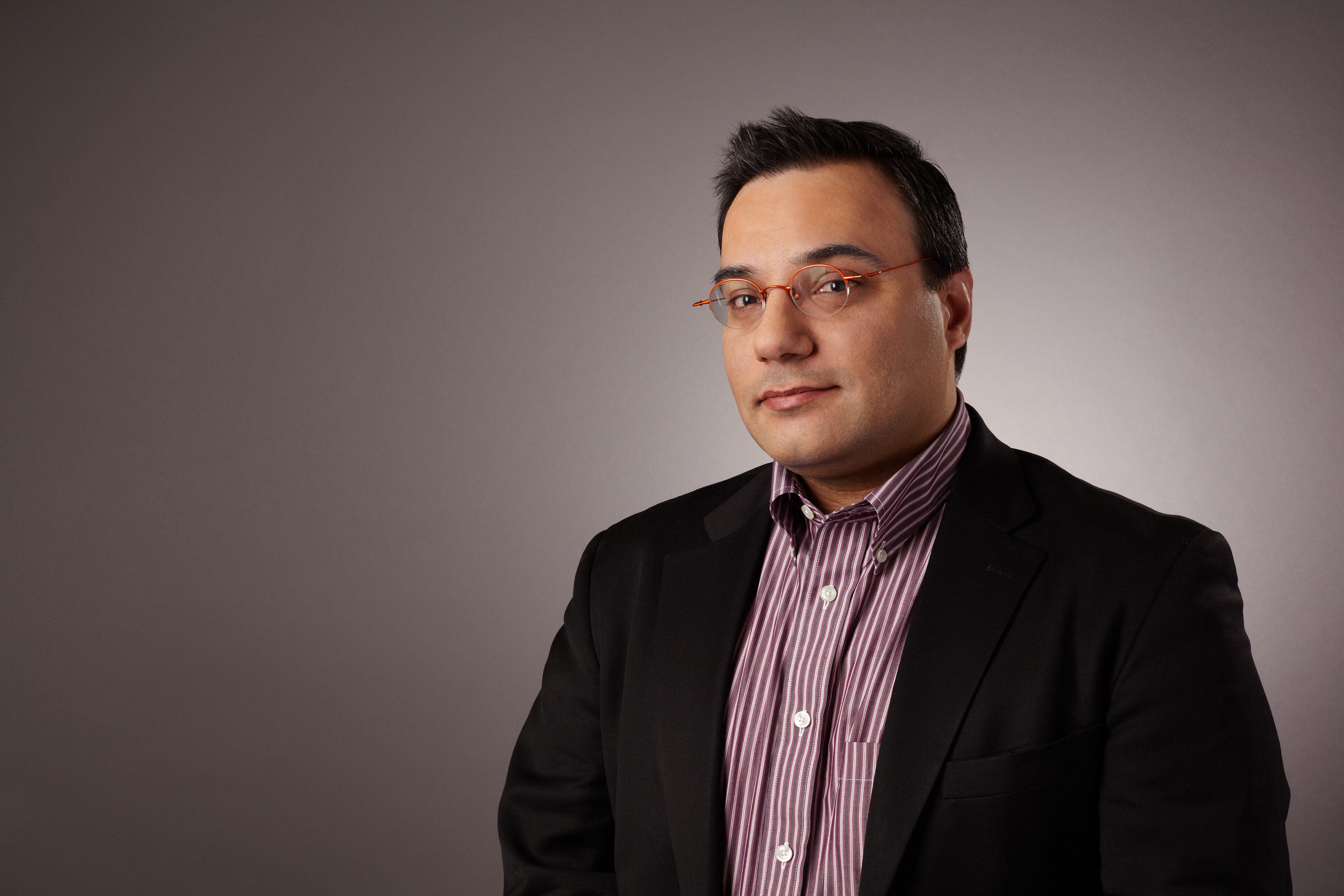 Tariq is the Editor-in-Chief of Space.com and joined the team in 2001, first as an intern and staff writer, and later as an editor. He covers human spaceflight, exploration and space science, as well as skywatching and entertainment. He became Space.com's Managing Editor in 2009 and Editor-in-Chief in 2019. Before joining Space.com, Tariq was a staff reporter for The Los Angeles Times covering education and city beats in La Habra, Fullerton and Huntington Beach. In October 2022, Tariq received the Harry Kolcum Award for excellence in space reporting from the National Space Club Florida Committee. He is also an Eagle Scout (yes, he has the Space Exploration merit badge) and went to Space Camp four times as a kid and a fifth time as an adult. He has journalism degrees from the University of Southern California and New York University. You can find Tariq at Space.com and as the co-host to the This Week In Space podcast with space historian Rod Pyle on the TWiT network. To see his latest project, you can follow Tariq on Twitter @tariqjmalik.