Orbital Repair: Spacewalkers Replace Broken Space Station Gyroscope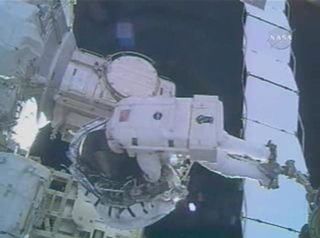 (Image credit: NASA TV.)
HOUSTON --Two spacewalkers replaced a broken gyroscope outside the International SpaceStation (ISS) Monday as engineers on Earth discussed whether Endeavour shuttle astronautswill have perform a risky heat shield repair later this week.
SpacewalkersRick Mastracchio and Dave Williams replaced thebroken gyroscope, one of four used to stabilize the ISS properly withoutusing Russian rocket thrusters, with a pristine replacement during a six-hour,28-minute spacewalk. The new gyroscope was powering up by the excursion's end.
"That?sgreat news," Mastracchio said.
Meanwhile,NASA image analysts and engineers conducted a detailedthermal analysis of a 3 1/2-inch (nine centimeter) long gouge in heat-resistanttiles on Endeavour's underbelly. A baseball-sized piece of fuel tank debrisscuffed several tiles and carveda gouge through a 1.12-inch (2.8 -centimeter) thick tile during Endeavour'sAug. 8 launch.
JohnShannon, chair of NASA's STS-118 mission management team, said Sunday that hewould not send a spacewalker out under Endeavour's belly to repair the fragiletiles unless absolutely necessary. Such a repair could place a spacewalker atthe tip of Endeavour's 100-foot (30-meter) robotic arm and inspection boom, andruns the risk of causing more tile damage.
"Ifit's required, we'll do it. If it's not required, we won't do it," Shannonsaid in a Sunday briefing. "As to which way we'll go, well see through theanalysis over the next 24 to 48 hours."
Monday'sspacewalk began at 11:32 a.m. EDT (1532 GMT) as the ISS and the docked shuttleEndeavour passed 214 miles (344 kilometers) over China. Teacher-turned-astronautBarbara Morgan, who served as NASA's backup for Teacher in Space ChristaMcAuliffe before the 1986 Challenger accident, positioned cameras to view thespacewalk and oversaw cargo transfer between Endeavour and the ISS.
Gyroscopeshell game
The solespacewalking task for Mastracchio and Williams was the replacement of a broken 600-pound (272-kilogram)gyroscope in the space station's U.S. attitude control system.
Known asControl Moment Gyroscope-3 (CMG-3), the gyroscope contains a large, flatstainless-steel flywheel that spins about 6,600 times per minute to helpprovide the angular momentum required to move the massive space station.
CMG-3 failed onOct. 10, 2006 when it began vibrating excessively enough to prompt flightcontrollers to shut it down. The space station only requires two functioninggyroscopes to orient itself without the aid of fuel-consuming Russian thrusters,but flight controllers would like all four operational to maintain redundancy.
"It isnice to have four," ISS flight director Heather Rarick said of the gyroscopereplacement early Monday. "We're looking forward to getting this one back."
Replacingthe failed gyroscope required spacewalkers to play an orbital shell game ofsorts to first removed the broken unit, retrieve its replacement fromEndeavour's payload bay, then stow the older one on an ISS spare parts platformfor return to Earth on a later space shuttle mission. Mastracchio and Williamsdid encounter some stubborn bolts, requiring a bit of elbow grease and a manualratchet, to loosen the new gyroscope for installation.
STS-118mission specialist Tracy Caldwell choreographed Monday's spacewalk from insideEndeavour, while shuttle pilot Charlie Hobaugh and ISS flight engineer ClaytonAnderson wielded the station's robotic arm to move spacewalkers and thegyroscopes into position.
"I'dsay this is the most amazing ride I've ever had," Williams said from thetip of the Canadian-built robotic arm.
Whilespacewalkers worked outside the ISS, the station's Expedition 15 commanderFyodor Yurchikhin and Oleg Kotov completed the installation of a new commandprocessor, known as a BOK-3, as part of planned five-day repair of Russiancommand and navigation computer systems. The two cosmonauts completed therepair two days earlier than planned, with only cleanup work remaining.
The BOK-3installation followed work by Yurchikhin and Kotov earlier this week to replacecorroded cables that Russian engineers identified as the culprit behind amassive computer crash aboard the ISS in June.
Monday's markedthe 90th spacewalk dedicated to ISS assembly or maintenance and the 13th stagedfrom the orbital laboratory this year. It was the second career spacewalk forboth Mastracchio and Williams.
NASA planstwo more spacewalks, on Wednesday and Friday, for Endeavour's 14-dayconstruction mission to the ISS.
NASA isbroadcasting Endeavour's STS-118 mission live on NASA TV. Click here for mission updates andSPACE.com's NASA TV feed.
VIDEO: STS-118 Mission Profile: Second Spacewalk
VIDEO: Teaching the Future: Teacher-Astronaut Barbara Morgan
Complete Space Shuttle Mission Coverage
Get the Space.com Newsletter
Breaking space news, the latest updates on rocket launches, skywatching events and more!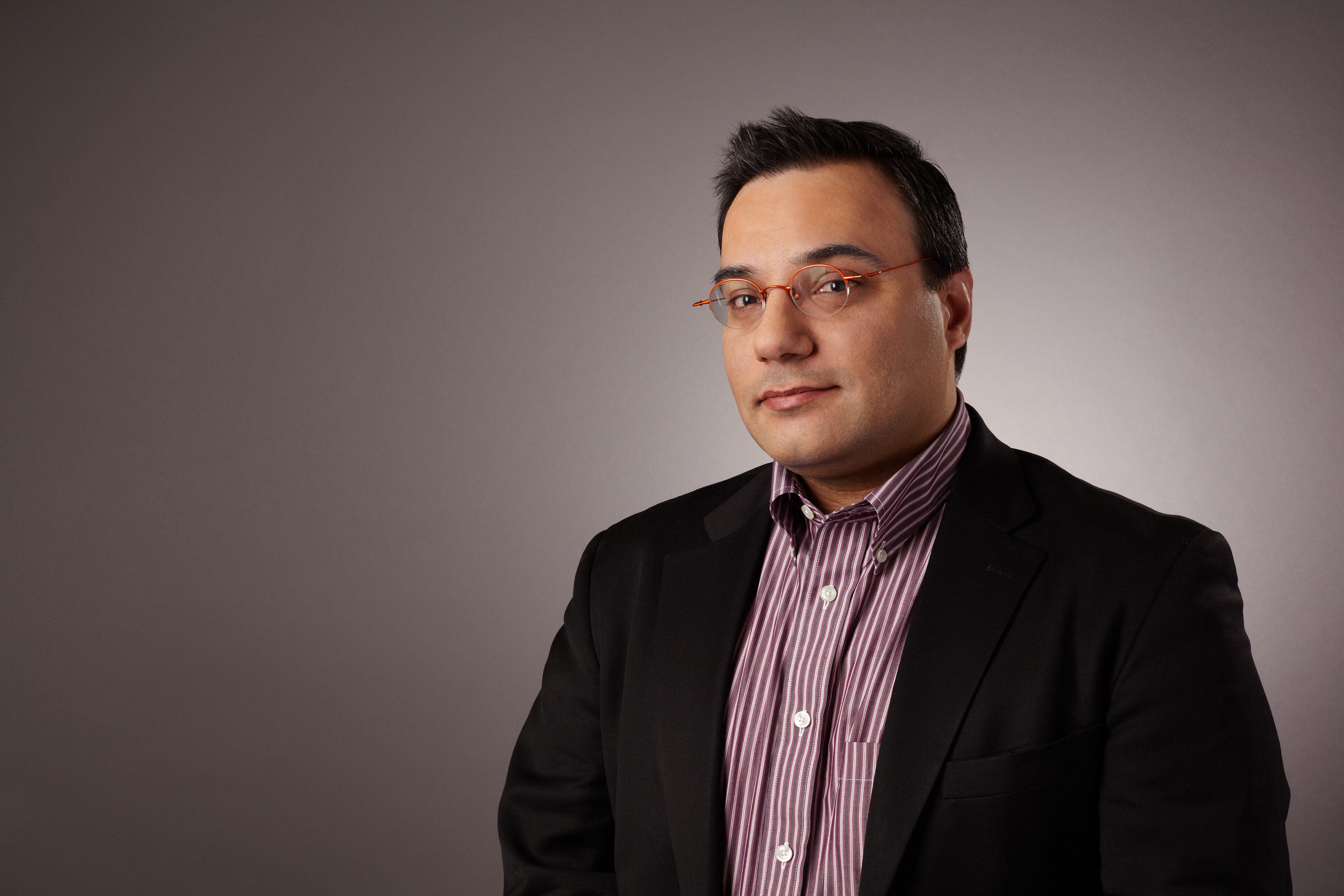 Tariq is the Editor-in-Chief of Space.com and joined the team in 2001, first as an intern and staff writer, and later as an editor. He covers human spaceflight, exploration and space science, as well as skywatching and entertainment. He became Space.com's Managing Editor in 2009 and Editor-in-Chief in 2019. Before joining Space.com, Tariq was a staff reporter for The Los Angeles Times covering education and city beats in La Habra, Fullerton and Huntington Beach. In October 2022, Tariq received the Harry Kolcum Award for excellence in space reporting from the National Space Club Florida Committee. He is also an Eagle Scout (yes, he has the Space Exploration merit badge) and went to Space Camp four times as a kid and a fifth time as an adult. He has journalism degrees from the University of Southern California and New York University. You can find Tariq at Space.com and as the co-host to the This Week In Space podcast with space historian Rod Pyle on the TWiT network. To see his latest project, you can follow Tariq on Twitter @tariqjmalik.