Scientists study the "tiger stripes" on Saturn's moon Enceladus, a new robot could "hug" space junk out of low-Earth orbit and a SpaceX Starlink satellite is getting a new coating to reduce brightness. These are just some of the top stories this week from Space. com.
New robot could clear up space junk with death dive.
The European Space Agency (ESA) will launch an experimental, four-armed robot on a mission known as ClearSpace-1. It is tasked with grasping a defunct satellite in its clutches and destroying it as they both death dive through Earth's atmosphere. There are thousands of defunct satellites and millions of smaller pieces of debris in low Earth orbit today.
Full Story: Europe Is Launching a Suicide Robot to 'Hug' Space Trash Out of Orbit
New Shepard launches into space.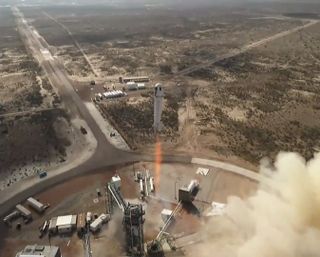 Blue Origin's reusable New Shepard spacecraft launched into the sky this week to deliver NASA experiments, student art projects and postcards from children up to the International Space Station. Wednesday's launch marked the sixth spaceflight for this vehicle, making it Blue Origin's most-flown booster and space capsule.
Full Story: Blue Origin's New Shepard Makes Record 6th Launch to Fly NASA Science, Student Art to Space
50th launch for Indian rocket.
India achieved the 50th launch of its Polar Satellite Launch Vehicle (PSLV) rocket on Wednesday (Dec. 11), when the space vehicle took off from Satish Dhawan Space Centre on India's east coast, near the Bay of Bengal. It's main payload is a spy satellite that is expected to operate for five years.
Full Story: Indian Rocket Marks Historic 50th Launch with Spy Satellite
See Also: Two Chinese Kuaizhou-1A Rockets Launch Back-to-Back Flights Just Hours Apart
U.S. atomic bomb destruction in Bikini Atoll mapped for the first time.
On Dec. 9, scientists presented detailed maps of the Bikini Atoll seabed in the central Pacific Ocean. This region was ground zero for powerful atomic bombs detonated by the U.S. army more than 70 years ago, and the new maps of the seafloor around this chain of coral reef islands reveals two massive craters.
Full Story: Enormous Craters Blasted in Seafloor by Nuclear Bombs Mapped for the First Time
NASA Chief shows off moon megarocket's core stage.
During a Dec. 9 news conference, NASA Administrator Jim Bridenstine showed off the completed core stage of the space agency's first-ever Space Launch System (SLS) megarocket. SLS is designed for NASA's Artemis program, and its flight will be the first step to returning humans to the moon in the next decade. The SLS core stage is 212 feet tall (65 meters) and includes four engines and two liquid-propellant tanks.
Full Story: NASA Chief Shows Off 1st Core Stage of New Space Launch System Megarocket
Scientists study Enceladus' surface stripes.
Saturn's moon Enceladus has "tiger stripes" on its surface. These features as unique in the solar system and scientists recently studied why these stripes are evenly spaced and only on the south pole of Enceladus. Icy material beneath the surface of this moon spews out from these fissures and was seen by NASA's Cassini spacecraft.
Full Story: Weird Physics of 'Tiger Stripes' on Icy Saturn Moon Enceladus Finally Explained
LB-1 black hole is not so monstrous, new papers say.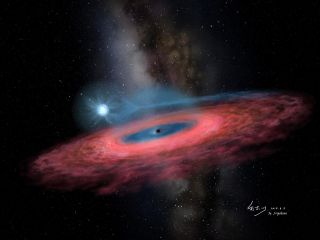 The "monster black hole" purported to be a whopping 70 times the mass of the sun is an incorrect finding, argues three new studies published this week. It seems like the black hole within the binary system LB-1 isn't actually all that massive.
Full Story: 'Monster Black Hole' Discovery Found to be Incorrect — But That's How Science Progresses
SpaceX Starlink satellite to be treated with a different coating.
Shortly after SpaceX's first Starlink internet satellites launched in May, astronomers noticed that the little satellites are quite reflective and bright. They remain concerned that the growing Starlink constellation will wash out the night sky. A representative from SpaceX recently shared that a yet-to-be-launched Starlink satellite will be treated with a special coating to address the problem.
Full Story: SpaceX to Make Starlink Satellites Dimmer to Lessen Impact on Astronomy: Report
OSIRIS-REx to target 'Nightingale.'
On Thursday (Dec. 12), team members from NASA's asteroid-snagging OSIRIS-REx mission announced that they've selected the "Nightingale" landing-site candidate on asteroid Bennu as the spot where the spacecraft will collect its sample. The $800 million OSIRIS-REx mission is investigating the early days of the solar system and the role that carbon-rich asteroids like Bennu may have played in bringing life's building blocks to Earth.
Full Story: It's No Lark: NASA Asteroid Mission Picks 'Nightingale' As Sampling Site
NASA explodes a megarocket fuel tank for science.
NASA intentionally exploded the test version of a rocket propellant tank in a video published by the space agency on Monday (Dec. 9). The real tank is part of NASA's Space Launch System megarocket. Engineers purposely took this tank to its extreme limits and broke it because new information about how to build a better rocket can be gleaned by pushing systems, like this tank, to the point of failure.
Full Story: Kablam! Watch NASA Crush a SLS Megarocket Fuel Tank Until It Explodes (Video)