A vintage satellite from the 1980s burned up in Earth's atmosphere, a black hole made strange shapes with a star and the Pentagon's UFO report is finally out. These are some of this week's top stories.
Russian cosmonauts and NASA astronaut will return to Earth in new Soyuz
Russia will launch an empty Soyuz crew capsule to the International Space Station next month, where it will replace the damaged Soyuz that sprung a dramatic coolant leak in December 2022. Officials from NASA and Russian space agency Roscosmos think the leak was created by a micrometeoroid strike.
Full story: Russia to launch new Soyuz capsule to replace leaky spacecraft on space station
"Start Me Up" Virgin Orbit mission suffers anomaly
Virgin Orbit's "Start Me Up" mission began on Monday (Jan. 9), when the company's Cosmic Girl plane departed Spaceport Cornwall in England with the LauncherOne rocket carried underneath. The rocket suffered an anomaly, failed to reach orbit, and lost nine small satellites. If it had succeeded, it would have been the first mission ever to reach orbit from the United Kingdom.
Full story: LauncherOne rocket from failed Virgin Orbit launch spotted crashing to Earth (video)
See more: Virgin Orbit rocket suffers anomaly during 1st launch from UK
This alien star system has two Earth-sized planets in the habitable zone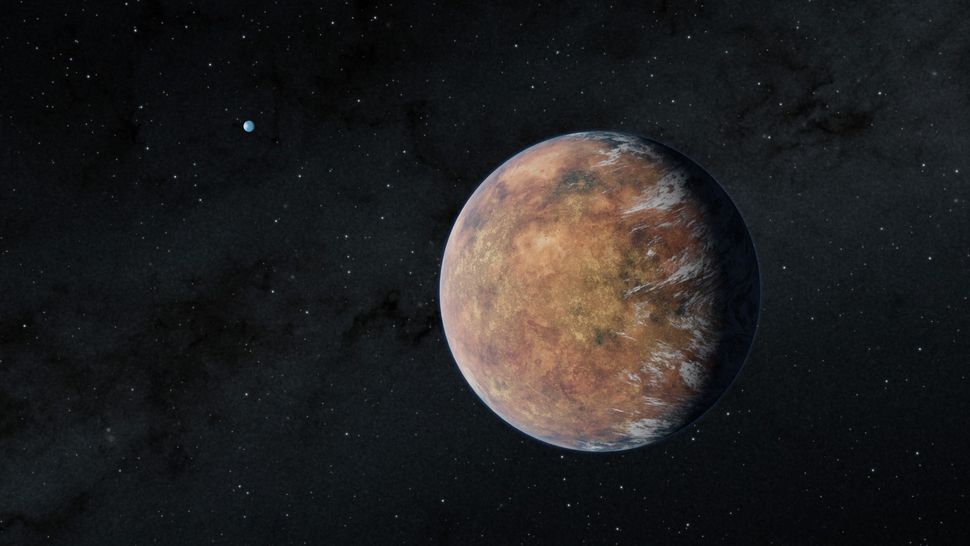 Astronomers found an exoplanet that matches Earth's size, thanks to data from NASA's Transiting Exoplanet Survey Satellite (TESS). What's more, the newly-found world may be able to retain liquid water, and exists in the same neighborhood of another Earth-sized exoplanet, in the habitable zone around their parent star.
Full story: Astronomers find 2nd Earth-size planet in intriguing alien solar system
Data from 2022 reveals a frightening trajectory of global warming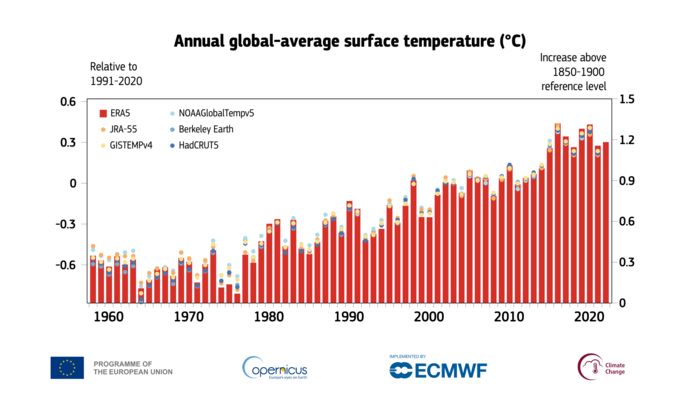 2022 was another sobering year for our planet. Climate change caused by human activity is rapidly warming the planet, and turned 2022 into the 5th-hottest year on record. Greenhouse gasses, which hasten the heating, reached new levels last year, too.
Full story: 2022 was 5th-hottest year on record despite cooling La Nina conditions
A black hole feasted on a star and then made strange shapes with it
In the heart of a galaxy 300 million light-years away, a monstrous black hole siphoned material from a star that got too close. Once the black hole pulled away material from the star, the subsequent disk took on a stretched shape that astronomers estimate is as wide as the solar system.
Full story: Hungry black hole is transforming star into a stellar taffy and a cosmic donut
Vintage 1980s satellite burns up in Earth's atmosphere
The Earth Radiation Budget Satellite (ERBS) launched in the 1980s to observe our world, but has since turned into space junk. And on Sunday (Jan. 8), ERBS fell back to Earth and burned up in the atmosphere. The satellite reentered over the Bering Sea, and some parts of the 5,400-pound satellite may have survived.
Full story: A dead NASA satellite from the 1980s just fell to Earth to meet its fiery demise
Most of the thrusters on a Moon ice mission aren't working properly
NASA's tiny Lunar Flashlight is a probe designed to find water ice on the moon. But there may be a problem. On Thursday (Jan. 12), NASA announced that three of the spacecraft's four thrusters are "underperforming."
Full story: NASA's tiny Lunar Flashlight moon probe may be in trouble in deep space
Pentagon's UFO report is finally out
After a months-long delay, the Pentagon has finally published its highly-anticipated UFO report. The U.S. government defines military sightings of puzzling displays as UAP, short for unidentified aerial phenomena. The report covers some 510 cataloged UAP reports gathered from several agencies.
Full story: Pentagon releases its long-awaited 2022 UFO report
NASA's Juno spacecraft has recovered from a memory glitch
NASA's Juno mission to Jupiter has recovered from a glitch. The issue impacted Juno's memory, but thankfully, most of the images from the gas giant and its many moons have been successfully recovered. The memory became inaccessible last month.
Full story: NASA's Juno Jupiter probe bounces back from memory glitch
SpaceX CRS-26 Dragon cargo capsule splashes down near Florida
A SpaceX Dragon cargo capsule has successfully returned from space, after flying on a six-week mission to the International Space Station. The spacecraft, called CRS-26, splashed down off the coast of Tampa, Florida on Wednesday (Jan.11). It launched in November 2022 to deliver about 7,700 pounds (3,500 kilograms) to the orbiting laboratory.
Full story: SpaceX Dragon cargo capsule returns to Earth after 6-week stay at space station
Follow us on Twitter @Spacedotcom and on Facebook.