Saturn Moon Enceladus' Varied Landscape Dazzles in New Photo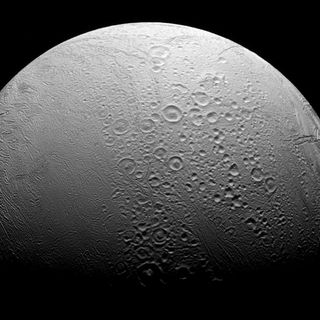 (Image credit: NASA/JPL-Caltech/Space Science Institute)
A spectacular new photo shows the dual nature of Enceladus, Saturn's icy, geyser-spewing moon.
In the image, which was captured by NASA's Saturn-orbiting Cassini spacecraft, Enceladus' northern reaches are heavily cratered, whereas the south is much smoother.
This stark division does not suggest the south gets slammed by fewer impactors. Rather, "the geologic activity in the south, including the famous plume above the moon's south pole, can erase craters and leave a younger, smoother-looking surface," NASA officials wrote in a description of the photo, which was released Tuesday (March 7). [Photos of Enceladus, Saturn's Geyser Moon]
Cassini took the photo on Nov. 27, 2016, when the probe was about 41,000 miles (66,000 kilometers) from Enceladus. Each pixel in the image measures 1,310 feet (398 meters) across, NASA officials said. North is up, and rotated 4 degrees to the right, they added.
The 313-mile-wide (504 km) Enceladus hosts an ocean of liquid water beneath its icy shell. Scientists think this ocean is in contact with the moon's rocky mantle, making possible all sorts of interesting chemical reactions. For this reason, astrobiologists regard Enceladus as one of the solar system's best bets to host life beyond Earth. (Another top candidate is the Jupiter moon Europa, which also hosts a subsurface ocean.)
Enceladus' geysers further add to the moon's appeal as a target in the alien-life hunt. The geysers blast material from the underground ocean far into space, meaning a robotic probe could sample this potentially habitable environment without even having to touch down.
The $3.2 billion Cassini-Huygens mission, a joint effort involving NASA, the European Space Agency and the Italian Space Agency, launched in October 1997 and arrived at Saturn in July 2004. The Cassini mothership delivered a lander called Huygens to the surface of Saturn's largest moon, Titan, in January 2005, then kept studying the ringed planet and its many moons.
Cassini's long mission in nearly over, however. Next month, Cassini will enter its "Grand Finale" phase, completing the first of 22 orbits that will take the probe between Saturn's atmosphere and its innermost ring.
Finally, on Sept. 15, Cassini will perform an intentional death dive into Saturn's cloud tops, to ensure that the spacecraft doesn't contaminate the potentially habitable Enceladus or Titan with microbes from Earth.
Follow Mike Wall on Twitter @michaeldwall and Google+. Follow us @Spacedotcom, Facebook or Google+. Originally published on Space.com.
Get the Space.com Newsletter
Breaking space news, the latest updates on rocket launches, skywatching events and more!

Michael Wall is a Senior Space Writer with Space.com and joined the team in 2010. He primarily covers exoplanets, spaceflight and military space, but has been known to dabble in the space art beat. His book about the search for alien life, "Out There," was published on Nov. 13, 2018. Before becoming a science writer, Michael worked as a herpetologist and wildlife biologist. He has a Ph.D. in evolutionary biology from the University of Sydney, Australia, a bachelor's degree from the University of Arizona, and a graduate certificate in science writing from the University of California, Santa Cruz. To find out what his latest project is, you can follow Michael on Twitter.