Obama to Talk About Astronaut's Year in Space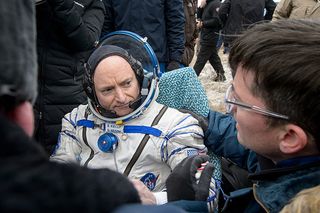 (Image credit: NASA/Bill Ingalls)
President Barack Obama tweeted out a welcome to Scott Kelly shortly after the US astronaut returned from spending almost a year in space.
"Welcome back to Earth, @StationCDRKelly!" the President tweeted. "Your year in space is vital to the future of American space travel. Hope gravity isn't a drag!"
NASA and its space station partners flew Kelly and Mikhail Korneinko 340 days in orbit as a pilot program intended to pave the way for missions to Mars lasting more than two years.
Both men supplied countless blood and urine samples and other medical stats before, during and after their flight so that medical researchers can pinpoint just how living in microgravity alters the body.
Kelly offers even more data since he has an identical twin brother — Mark Kelly — who didn't subject himself to the rigors of a long-term space stay. Doctors will be sequencing the genes of both Kelly brothers, and then looking for different markers.
Photos: Astronaut Gets Stunning View of East Coast Blizzard
"Onboard the space station, it just looks like blood sampling but what you do when you get those samples home is brand new. We've never had data like that before," said station chief scientist Julie Robinson.
One thing they'll be looking for is whether Scott Kelly's genes were altered.
"Everybody is pretty much born with a set of genes that they don't have on the day they die. Your genes mutate for a number of different reasons, also because of the environment," Scott Kelly's twin, Mark Kelly, told Discovery News last January.
Scott Kelly Reflects On His Incredible Year In Space
Understanding how Kelly's long stay in microgravity affected his body is crucial for preparing future crews travel to deep space, including to Mars. A round-trip mission to the Red Planet is expected to take at least two to three years, according to NASA. Before embarking on such long journeys, NASA needs to know what kinds of biological changes the astronauts can expect.
Upon Kelly's return on March 2, a few changes were apparent right away.
Kelly said his muscles were sore, his joints ached, he was fatigued and his skin was super-sensitive. He was also temporarily 2 inches taller than his brother since the lack of gravity pushing on his body allowed Scott Kelly's body to stretch more than it would on Earth. He lost those extra 2 inches after less than two days.
"I'm kind of surprised how I do feel different physically than the last time, with regards to muscle soreness and joint pain," Scott Kelly, 52, said during his first press conference since returning to Earth.
Astronauts returning from a two- to three-year space journey could face these health factors at even higher extremes.
In the meantime, NASA has plenty of data to crunch through to learn exactly how the body reacts to life in space — and think on ways to counteract it. Kelly may be back on Earth, but many of his samples are actually still in space — they're to be ferried back to Earth on board the robotic SpaceX Dragon capsule when it returns in May from its errand run to the International Space Station.
Watch President talk about Kelly's contributions on the Science Channel at 9pm ET/PT tonight. The president will discuss other topics Tuesday through Friday on Science Channel (also available online).
- DNews' Irene Klotz contributed to this report.
Originally published on Discovery News.
Get the Space.com Newsletter
Breaking space news, the latest updates on rocket launches, skywatching events and more!