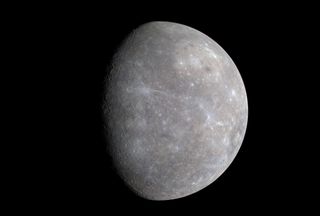 (Image credit: NASA/JHUAPL/CIW)
More Information on the Planet Mercury
The innermost planet is rarely seen because of the Sun's glare. With less than half Earth's gravity, Mercury retains only a wisp of an atmosphere (presumed to be helium). The lack of a significant atmosphere allows temperatures to fluctuate from 750 degrees Fahrenheit during the day to minus 320 Fahrenheit at night.
Like the other terrestrial planets — Venus, Earth and Mars — Mercury is made mostly of rock and metal. This small world is scarred by craters and looks somewhat like our Moon.
Mercury data (averages):
Diameter: 3,031 miles
Time to rotate: 58.6 days
Orbit: 88 Earth days
Compared to Earth:
Mass: 5.5% of Earth's
Diameter: 38% of Earth's
Distance from Sun: 47% as far
MERCURIUS: ROMAN WINGED MESSENGER OF THE GODS
Historical notes
Mercury has been known since ancient times. Its elusiveness generated the name Hermes, given by the Greeks, later translated to Mercurius by the Romans.
Get the Space.com Newsletter
Breaking space news, the latest updates on rocket launches, skywatching events and more!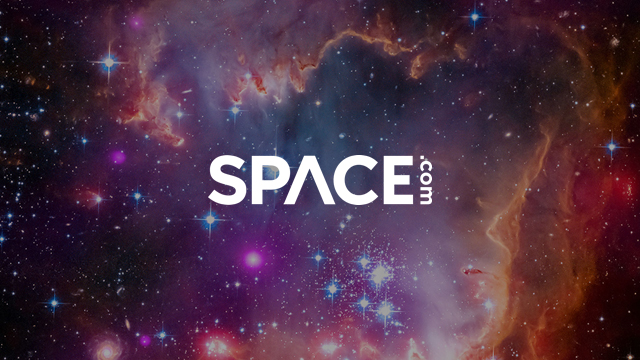 Space.com is the premier source of space exploration, innovation and astronomy news, chronicling (and celebrating) humanity's ongoing expansion across the final frontier. Originally founded in 1999, Space.com is, and always has been, the passion of writers and editors who are space fans and also trained journalists. Our current news team consists of Editor-in-Chief Tariq Malik; Editor Hanneke Weitering, Senior Space Writer Mike Wall; Senior Writer Meghan Bartels; Senior Writer Chelsea Gohd, Senior Writer Tereza Pultarova and Staff Writer Alexander Cox, focusing on e-commerce. Senior Producer Steve Spaleta oversees our space videos, with Diana Whitcroft as our Social Media Editor.