The U.S. Air Force will test an innovative spacecraft thruster this month when it launches the latest mystery mission of its robotic X-37B space plane.
A Hall thruster will be one of the payloads riding on the X-37B space plane when it launches on May 20, Air Force officials revealed this week. The mission, called AFSPC-5, will lift off from Florida's Cape Canaveral Air Force Station using an Atlas V rocket provided by launch provider United Launch Alliance. The exact mission details of the Air Force's X-37B space planes, also known as Orbital Test Vehicles, have to date been shrouded in secrecy.
The details about the Hall thruster experiment aboard the upcoming X-37B mission, which will be the fourth of its kind, were outlined by the Air Force Research Laboratory (AFRL), Space and Missile Systems Center, and Rapid Capabilities Office. [USAF's Mystery X-37B Space Plane in Photos]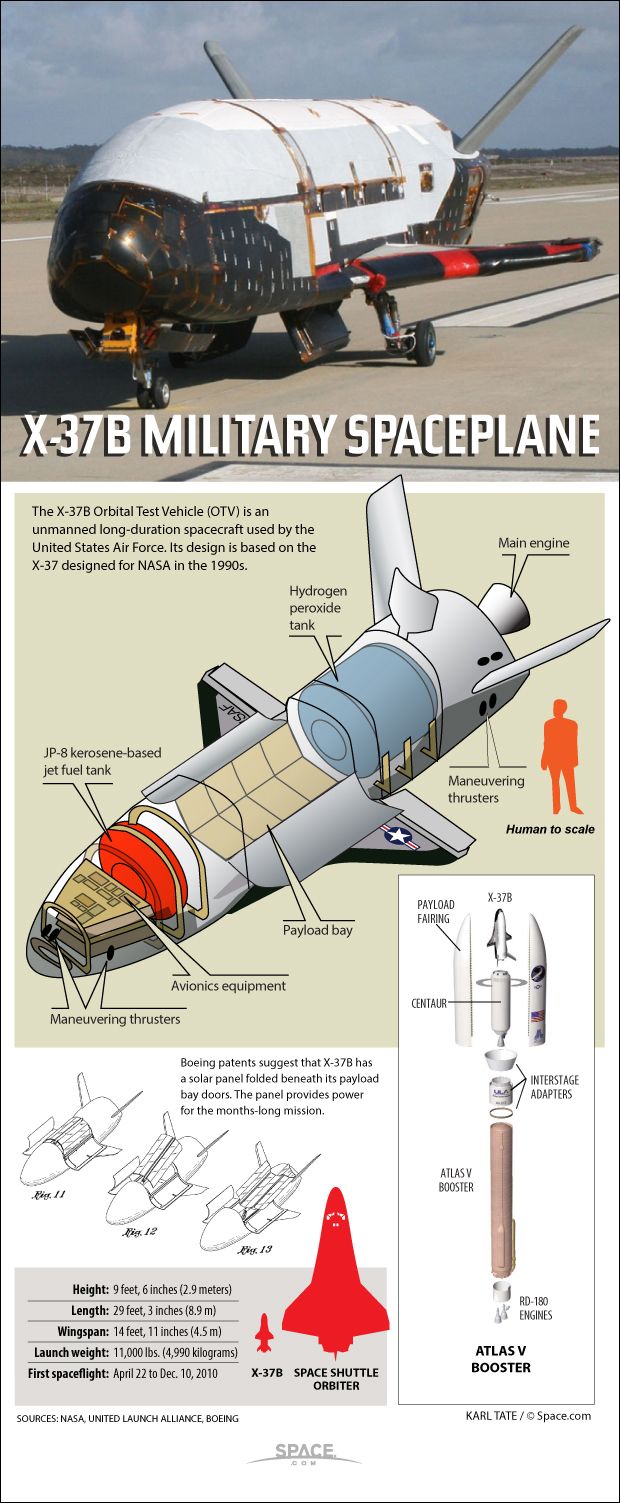 The Hall thruster is a modified version of thrusters used on the Space and Missile Systems Center's three Advanced Extremely High Frequency military communications satellites. It is a type of electric propulsion device that ionizing and accelerating a noble gas, typically xenon, to produce thrust. While Hall thrusters generate relatively low thrust when compared to that of conventionally fueled rocket engines, they make up for it in fuel economy with a much greater specific impulse.
While producing comparatively low thrust relative to conventional rocket engines, Hall thrusters provide significantly greater specific impulse, or fuel economy.
This results in increased payload carrying capacity and a greater number of on-orbit maneuvers for a spacecraft using Hall thrusters rather than traditional rocket engines, according to an update from the Wright-Patterson Air Force Base.
Once in orbit, the X-37B toted experiment will include collection of telemetry from the Hall thruster operating in the space environment as well as measurement of the thrust imparted on the vehicle.
The resulting data will be used to validate and improve Hall thruster and environmental modeling capabilities. The in-space test will provide data to contrast ground test results to actual on-orbit performance, Air Force officials said.
"A more efficient on-orbit thruster capability is huge," AFRL commander Maj. Gen. Tom Masiello said in the Air Force statement. "Less fuel burn lowers the cost to get up there, plus it enhances spacecraft operational flexibility, survivability and longevity."
The on-orbit test plans are being developed by AFRL and administered by the Rapid Capabilities Office.
The X-37B mission launching later this month will mark the Air Force's fourth mission for its robotic space planes since 2010. The Air Force has two reusable X-37B spacecraft, both built by Boeing's Phantom Works division, each of which is about 29 feet (8.8 meters) long and 9.5 feet (2.9 m) tall.
Each X-37B space plane weighs about 11,000 lbs. (4,990 kilograms) and has a wingspan just less than 15 feet (4.6 m). It has a small payload bay that is about the size of a pickup truck bed, and carry a solar panel for power that allows long-duration missions.
The most recent X-37B mission, called Orbital Test Vehicle 3 or OTV-3, launched in December 2012 and returned to Earth on Oct. 17, 2014, racking up about 675 days in space. That mission also marked the first time an X-37B was reused on a space flight.
The Air Force's X-37B space planes have spent a total of 1,367 days in orbit during their three missions.
Leonard David has been reporting on the space industry for more than five decades. He is former director of research for the National Commission on Space and is co-author of Buzz Aldrin's 2013 book "Mission to Mars – My Vision for Space Exploration," published by National Geographic, with a new updated paperback version to be released in May. Follow us @Spacedotcom, Facebook and Google+. Originally published on Space.com.