Jupiter's Family Portrait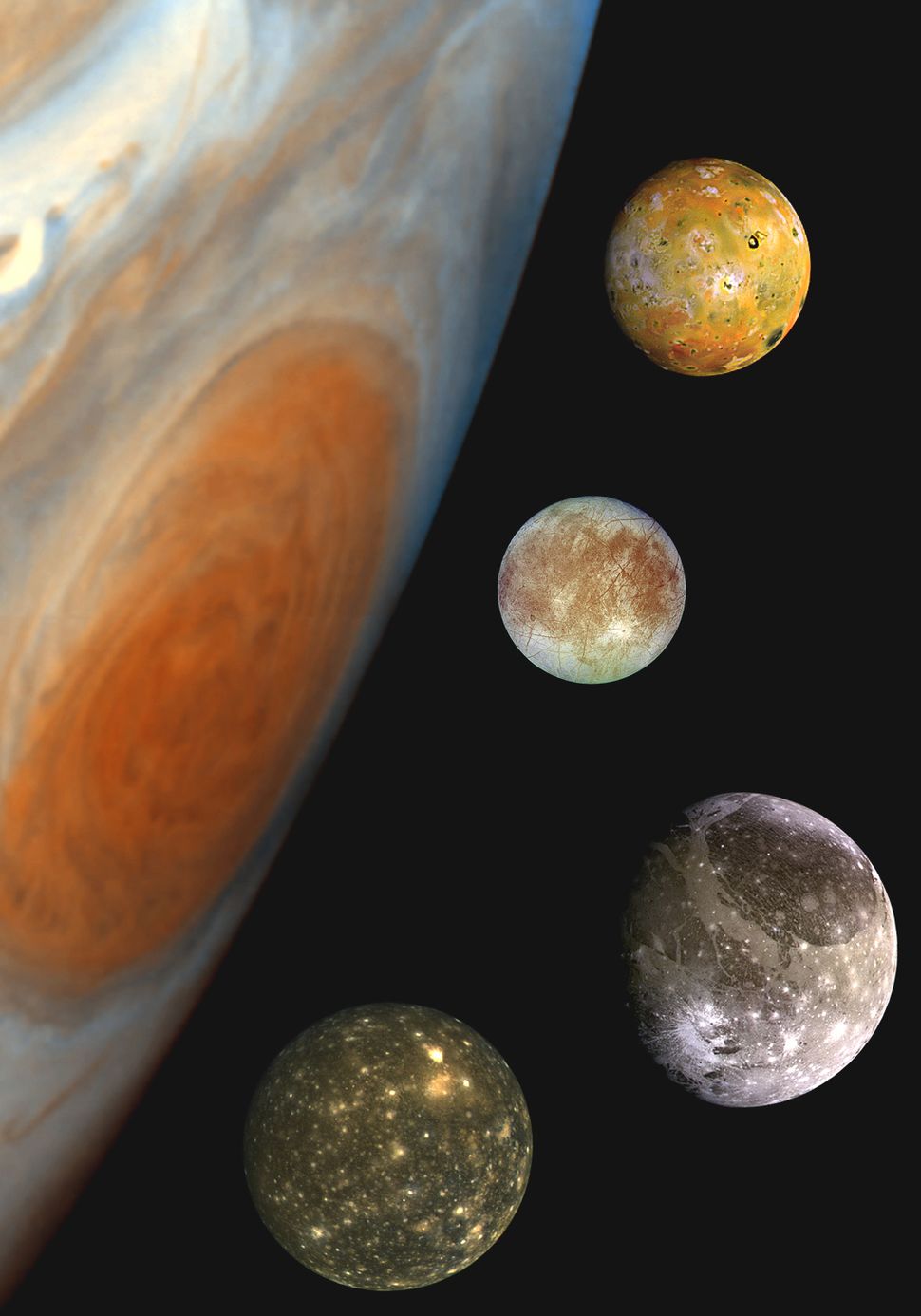 This "family portrait," a composite of the Jovian system, includes the edge of Jupiter with its Great Red Spot, and Jupiter's four largest moons, known as the Galilean satellites. From top to bottom, the moons shown are Io, Europa, Ganymede and Callisto.
Smacks in the Face Explain Unique Looks of Two Moons
Jupiter (right) and the Galilean satellites (right to left) Io, Europa, Ganymede, and Callisto. Cutaways show the interior states of Ganymede and Callisto after many impacts by icy planetesimals during the late heavy bombardment.
Skywatcher's Brightness Map of Jupiter Moon Ganymede
The original observations (top) and interpretations (bottom) of the first ever amateur albedo map of Ganymede.
Amateur Astronomer Photographs Jupiter and Ganymede
Amateur photographs of Jupiter and Ganymede, accompanied with a professionally obtained labeled map (bottom right).
New Map Reveals Geology of Jupiter's Moon Ganymede
A global image mosaic of Jupiter's moon, Ganymede created with images from the Voyager and Galileo missions.
Jupiter's Moons in 1979: Ganymede by Voyager 2
This image shows Jupiter moon Ganymede taken by Voyager 2 in 1979. Voyager probes 1 and 2 visited the Jovian system in 1979, before taking different paths through the outer reaches of the Solar System, studying the giant planet as well as making numerous images of its moons. The relatively narrow field of view, combined with the Voyager probes' close flybys meant that the photos had to be stitched together, which in the days before powerful computer graphics software meant printing them out and sticking them together by hand, like a giant jigsaw puzzle, interspersed with hand-written notes and computer printouts of technical information relating to the photographs.
Amateur Map of Ganymede and Known Surface Features
Albedo maps of Ganymede (left) and how they relate to known surface features (right).
SP_120928_ganymedeYourUniverse.jpg
Ganymede: Jupiter's Largest Moon