Dueling Drawing Boards: Sizing up the CEV Designs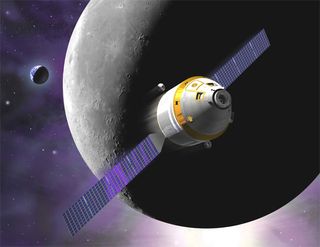 (Image credit: Northrop Grumman/Boeing)
Leading aerospace contractors are eagerly awaiting NASA's multi-billion dollar decision on who'll build the space agency's follow-on to the space shuttle now set for retirement in 2010.
Flying NASA's Crew Exploration Vehicle (CEV) by 2014 is vital to what's dubbed the Constellation Systems--the spaceship, boosters and interrelated hardware needed to tend the International Space Station, return to the Moon by 2020, and plant footprints on Mars in future years.
Will it be Lockheed Martin or the team of Northrop Grumman/Boeing--each group partnered with a cast of all-star subcontractors--that will work with NASA to field the space agency's first new human transportation system since the space shuttle?
Companies are tight-lipped about their respective, now-submitted-to-NASA proposals. Final revisions are due late July. Handling acquisition of the CEV is NASA's Johnson Space Center in Houston, Texas.
"We are currently evaluating proposals and plan to down select and award the Phase 2 contract in the August/September time frame," said Michael Braukus, a NASA Headquarters spokesman. "All other information is competition sensitive and will not be provided at this time," he told SPACE.com.
More runway ahead
NASA's chief, Mike Griffin, has dubbed the CEV effort as "Apollo on steroids"--and there's every indication that industrial-strength ways to recapture human adventuring beyond low Earth orbit are in the offing.
The Northrop Grumman/Boeing CEV team is holding their cards tight. "We're clearly in a competition. I don't feel it's the right time to be coming out with a lot of details about how we plan to tackle the job," said Doug Young, Vice President and CEV Program Manager at Northrop Grumman.
Young said NASA requirements are evolving given the space agency's own internal studies, with their team providing data to the customer. That process has been smooth, Young told SPACE.com. The various technological approaches they have taken, he said, have been weighed in terms of development risk and cost risk.
"One does that very carefully ... and that's really what is embodied in our proposal," Young added. Until the process is completed, he is reticent to discuss details as "there's still more runway ahead."
Workforce challenges
Workforce issues are a concern, says Boeing's John Elbon, Vice President and Program Manager, Constellation/Space Exploration. "A big challenge NASA has ahead of them is transitioning the shuttle and space station workforce of today to work on CEV and other programs ... and do it in such a way that we safely fly the shuttle and finish the station," he said.
Elbon said by combining the shuttle and station workforce under one leader, that will jump start the transitioning of experienced people to take on the upswing in CEV work.
"NASA is not pushing a lot of technology around the exploration program ... at least I don't see it," said Art Stephenson, Sector Vice President, Space Exploration Systems, Northrop Grumman Integrated Systems. "They are more interested in getting the job done. To do that you need to reduce risk and that means using existing technology," he told SPACE.com.
For the long-term, Stephenson said, NASA will be embracing new technology, such as liquid oxygen/methane engines. "But when budgets are tight, it's hard to bring in new technology. That adds risk and cost to the program," he said, with any good program manager trying to reduce new technology in order to maintain schedule and cost.
Apollo technology was significantly less than what is available, ready to be pulled off the shelf now, Stephenson said. By implementing CEV with today's upgraded technology, "it's a matter of just going and doing it," he said.
"We think we are offering NASA a really good team," Stephenson said. "Our proposal is focused on what's the best answer for the taxpayer and for NASA."
Image 1 of 2
Not your daddy's Oldsmobile
While the CEV/Constellation project debatably mirrors Apollo of the 1960s, there are a number of 21st century nuances being teased out.
John Karas, Vice President of Space Exploration for Lockheed Martin Space Systems Company, points to his firm's past and on-going capsule and thermal protection system work. The company's Genesis and Stardust return capsules to Earth hit right on target, and the technology has been honed at Mars too.
Indeed, Lockheed Martin just got the go-ahead to fabricate the heatshield for the Mars Science Laboratory--the largest ever built at about 15 feet (4.5 meters) in diameter. In contrast, the heatshields of the Mars Exploration Rovers measured 8.5 feet (2.6 meters).
Lockheed Martin is drawing upon that savvy, Karas said, in its bid for NASA's CEV that will utilize a capsule design 16.5 feet (5 meters) in diameter. By the way, Apollo capsule heatshields were smaller than CEV, measuring 12.8 feet (3.9 meters).
"Everything except the shape [of CEV] is brand new," Karas told SPACE.com. "It's not your daddy's Oldsmobile."
Karas said that even the Apollo-like CEV capsule profile can offer new ways to do skip trajectories as it plows back into Earth's atmosphere. "We're getting more out of a capsule shape than anybody has done before," he explained.
Integrated marvel
Lockheed Martin's CEV design is "an integrated marvel" that is stuffed with the latest in avionics--fault tolerant systems that offer autonomy, high-reliability and redundancy, Karas said. Better yet, software and avionics upgrades can be plugged in without a lot of system and hardware changes.
Getting the six-person CEV space-worthy before 2014 is doable, Karas said, noting that in NASA's request for proposals the space agency had set the date as 2012. "We think we can do it in 2012 and even better ... we can beat 2012 credibly for cost and schedule and not sacrifice the performance of the vehicle," he said.
"We're ready to move forward," said Cleon Lacefield, Vice President and Program Manager for the CEV at Lockheed Martin Space Systems Company. Lacefield said the CEV program maximizes astronaut safety, with abort coverage provided at all aspects of flight. Still needed, however, is more understanding of how the CEV's solid rocket booster ride is progressing ... to better tie data into the abort modes of the vehicle, he said.
"It's a design goal for both the CEV and the Crew Launch Vehicle to look at how we can streamline the system to one that's affordable ... so that we can afford to invest in the other elements of exploration," Lacefield said. "Our team is ready to go."
Decisive discriminators
As NASA mulls over volumes of technical data supplied by CEV program contractors, decisive discriminators come into play, Jerry Grey, Director, Science and Technology Policy for the American Institute of Aeronautics and Astronautics (AIAA) said.
"Of course, price and how well the designs meet NASA's formal requirements will be obvious discriminators, but there is not likely to be much difference between the bids on these," Grey told SPACE.com.
Schedule--and especially its credibility--will be another critical discriminator, in view of the pressure NASA is under to replace the shuttle as soon as possible after its retirement in 2010, Grey explained. But the integration issues are likely to create the most diversity between the contractors' bids, he added.
Grey said how the CEV interfaces with its spiffed up, shuttle-spawned solid rocket booster launcher, along with the rocket stage needed to kick the CEV beyond low Earth orbit, as well as between the CEV and the Lunar Surface Access Module (LSAM)--these are items to watch.
Despite the simplicity of the basic capsule concept, Grey added, the mission profile requires a good deal of sophistication in melding the Crew Launch Vehicle and the CEV--with its escape tower--and then docking with and integrating the Earth Departure Stage and the LSAM in orbit.
"The bidder who can best demonstrate an understanding of the issues involved here, and can convince NASA that their solutions to these issues are safe, reliable, cost-effective, and likely to impose the fewest schedule-busting 'unknown unknowns,' would get high marks in the proposal review," Grey concluded.
Get the Space.com Newsletter
Breaking space news, the latest updates on rocket launches, skywatching events and more!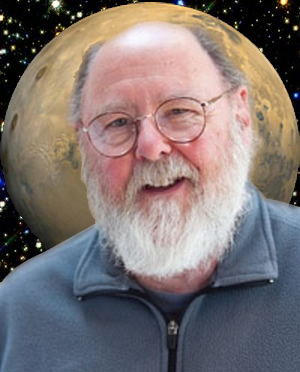 Leonard David is an award-winning space journalist who has been reporting on space activities for more than 50 years. Currently writing as Space.com's Space Insider Columnist among his other projects, Leonard has authored numerous books on space exploration, Mars missions and more, with his latest being "Moon Rush: The New Space Race" published in 2019 by National Geographic. He also wrote "Mars: Our Future on the Red Planet" released in 2016 by National Geographic. Leonard has served as a correspondent for SpaceNews, Scientific American and Aerospace America for the AIAA. He was received many awards, including the first Ordway Award for Sustained Excellence in Spaceflight History in 2015 at the AAS Wernher von Braun Memorial Symposium. You can find out Leonard's latest project at his website and on Twitter.