'Star Trek's' James Doohan to Be Sent to His Final Frontier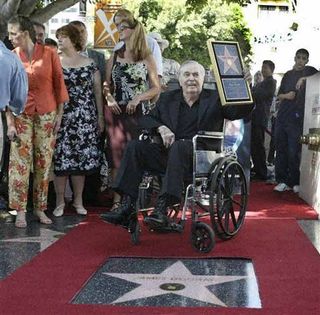 UPDATE: Story first posted 1:17 p.m. EDT, July 20, 2005
LOSANGELES (AP) -- He made his name in Hollywoodbeaming his colleagues back to the safety of the Enterprise on ''Star Trek.'' Now, actor JamesDoohan's family is hoping to beam him up to the''final frontier'' that Doohan's character ''Scotty''loved so dearly.
Theactor, who died Wednesday at age 85, had told relatives he wanted his ashesblasted into outer space, as was done for "Star Trek" creator GeneRoddenberry.
"He'llbe there with his buddy, which is wonderful,"said Doohan's agent and longtime friend, SteveStevens.
Doohan died at hishome in Redmond, Wash., with his wife of 31 years, Wende, at his side. He had retired from public events lastyear, not long after announcing he had Alzheimer's disease.
Houston-basedSpace Services Inc., which specializes in space memorials, plans to send a fewgrams of Doohan's ashes aboard a rocket later thisyear. The remains, which will be sealed in an aluminum capsule, will eventuallyburn up when they re-enter Earth's atmosphere.
Itshould be a fitting finale for an actor who, as the Starship Enterprise'sfrazzled chief engineer saved the Enterprisealmost every week from blowing up, burning up or being overrun by renegadealiens when the warp drive, the phasers, the shields,the power cells or some other futuristic collection of doohickiesfailed.
Asthe man who commanded the Enterprise'sparticle beam transporter, Doohan's character alsoinspired the phrase, ''Beam me up, Scotty.'' Capt. Kirk and other members ofthe Enterprisecrew never really issued the order quite that way, however, until the fourth''Star Trek'' film when Kirk said, "Scotty, beam me up."
Amaster of dialects from his early years in radio, the Canadian-born Doohan experimented with seven different accents for thehard-pressed engineer.
"Theproducers asked me which one I preferred," Doohanrecalled 30 years later. "I believed the Scot voice was the mostcommanding. So I told them, 'If this character is going to be an engineer,you'd better make him a Scotsman.'"
Doohan was bornMarch 3, 1920, in Vancouver, British Columbia, the youngest offour children of William Doohan, a pharmacist,veterinarian and dentist, and his wife, Sarah. He wrote in his autobiography,''Beam Me Up, Scotty,'' that his father was a drunk who made life miserable forhis wife and children.
At19, he escaped the turmoil at home by joining the Canadian army, where hebecame a lieutenant in the artillery and was among the Canadian forces thatlanded on Juno Beach on D-Day.
Afterthe war, Doohan enrolled in a drama class in Toronto on a whim. Heshowed promise and won a two-year scholarship to New York's famed Neighborhood Playhouse,where fellow students included Leslie Nielsen, Tony Randall and Richard Boone.
Hiscommanding presence and booming voice brought him steady work as a characteractor in films and television in Canadaand the United States.Then came ''Star Trek'' and fans forever screaming "Beam me up,Scotty."
"Goodgracious, it's been said to me for just about 31 years," he said in an 1998 interview. "It's been said to me at 70 miles anhour across four lanes on the freeway. I hear it from just about everybody.It's been fun."
Marriedthree times, Doohan was the father of nine children.
"Along and storied career is over," William Shatner,who played Kirk, said Wednesday.
Get the Space.com Newsletter
Breaking space news, the latest updates on rocket launches, skywatching events and more!