Atlas 5 Carries Juno Spacecraft to Orbit
An Atlas 5 rocket streaks across the sky carrying NASA's Jupiter-bound Juno spacecraft Aug. 5, 2011.
Juno Jupiter Probe Launch
An Atlas 5 rocket blasts off, carrying NASA's Jupiter-bound Juno spacecraft.
Juno Flying Diagonally
Juno spacecraft aboard an Atlas 5 launch vehicle appears to fly diagonally through the frame a few moments after launch on August 5, 2011 from Kennedy Space Center, Florida.
LEGO Figurines to Fly on Juno Spacecraft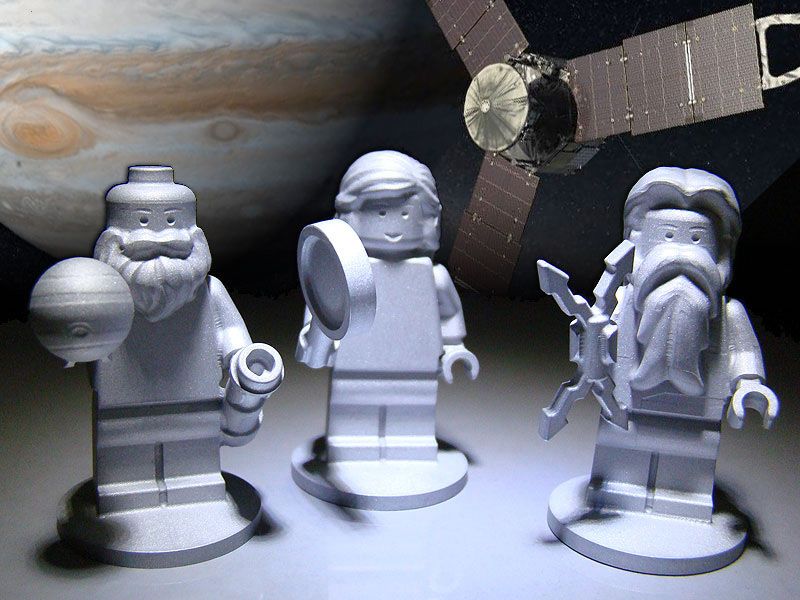 Three LEGO figurines representing the Roman god Jupiter (right), his wife Juno (middle) and Galileo Galilei (left) as shown here will fly to Jupiter on NASA's Juno spacecraft.
Let Me See What Spring Is Like on Jupiter ...
Friday, August 5, 2011: NASA's Juno spacecraft will carry a plaque dedicated to astronomer Galileo Galilei to Jupiter, with a scheduled launch date of August 5, 2011. The plaque, provided by the Italian Space Agency, measures 2.8 by 2 inches (71 by 51 millimeters), is made of flight-grade aluminum and weighs six grams (0.2 ounces). The plaque contains a self-portrait of Galileo and a passage he wrote in 1610 of observations of Jupiter. Galileo's text reads: "On the 11th it was in this formation – and the star closest to Jupiter was half the size than the other and very close to the other so that during the previous nights all of the three observed stars looked of the same dimension and among them equally afar; so that it is evident that around Jupiter there are three moving stars invisible till this time to everyone."

— Tom Chao
Juno Spacecraft at Jupiter
The Juno spacecraft passes in front of Jupiter in this artist's depiction.
Juno Rocket Launch
NASA's Juno spacecraft lifts off atop an Atlas 5 rocket Aug. 5, 2011.
Juno Spacecraft Folded Up
The Juno spacecraft, folded up and awaiting encapsulation in the rocket fairing. The 13-foot-long magnetometer boom, wrapped in bright thermal blankets, is in the foreground atop a stack of folded solar arrays. One of the twin magnetometers is mounted in the middle of the boom, and the other is mounted at the outermost end. Next to each magnetometer sensor is a pair of rectangular hoods, or light baffles, peeking out from under the thermal blankets; these define the fields of view for the two star cameras, which determine the orientation of each magnetometer sensor with great accuracy.
Juno Spacecraft Awaits Launch
NASA's Juno spacecraft awaits launch from inside the payload fairing atop a United Launch Alliance Atlas V-551 launch vehicle. Juno and its rocket are at Space Launch Complex 41 on Cape Canaveral Air Force Station in Florida.
Atlas 5 Carrying Juno Spacecraft with Launch Complex 41 in Background
In preparation for launch of NASA's Juno mission, a United Launch Alliance Atlas V rocket is rolled to the pad at Space Launch Complex 41 at Cape Canaveral.