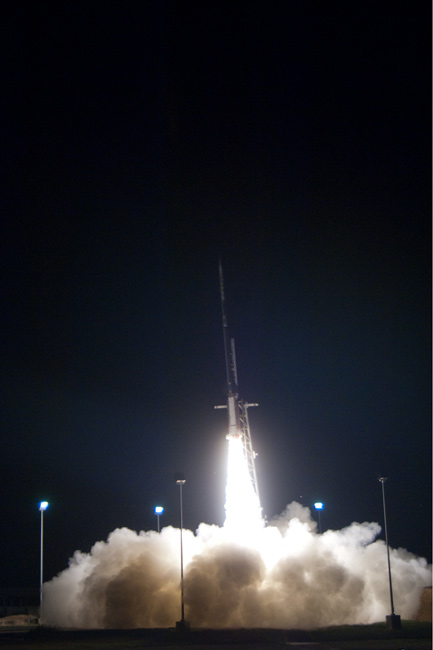 A suborbital NASA rocket lit up the predawn sky above Virginia early Wednesday during a demonstration flight to test one of its main motor.
The three-stage Black Brant X rocket blasted off at 5:15 a.m. EDT (0915 GMT) from NASA?s launch range at the Wallops Flight Facility at Wallops Island, Va. [Photo: Rocket's predawn launch.]
The launch was aimed at testing new Nihka motor and a variety of other tools including video and ignitions systems.
Sounding rockets are research rockets used to test equipment or processes for their appropriateness in a spaceflight environment. They can also be used to launch experiments to study the atmosphere or space environment.
In this case, the main component under test is a third stage Nihka motor, a solid rocket motor which hasn't been updated for about 10 years, said Wallops Flight Facility press officer Keith Koehler.
NASA has plenty of the Nikha motors in storage, but recently ordered a new batch and wanted to make sure they worked properly, Koehler said.
The production and management of Wednesday's launch was conducted by Northrop Grumman, which is in the waning months of a 10-year contract to provide the launches for NASA.
Come late September, a new contract with Orbital Sciences, Corp., will take over operations of NASA's overall sounding rocket program, Koehler said.
NASA awarded the contract, which is worth $310 million over five years, to the Orbital's Technical Services Division in Greenbelt, Md. The majority of the contract's work will be performed at the Wallops Flight Facility, NASA officials said.
Gallery ? Liftoff! SpaceX's Falcon 9 Rocket First Launch
Photos ? Last Flight of Space Shuttle Atlantis