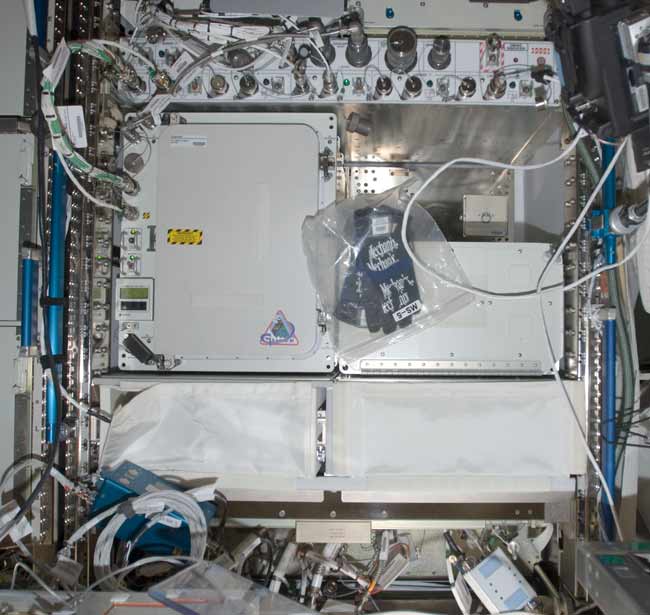 Astronauts no longer need to find fridge space for both drinks and experiments, after a sample-filled freezer on the International Space Station made its return trip to Earth on the shuttle Discovery last week.
The cryogenic freezer can typically maintain a temperature of -160 degrees C (-256 degrees F) and support up to 22 pounds of research samples. And for the first time, it provides serious cooling for such samples during trips to and from the space station.
"It has achieved -160 [degrees C] during performance testing pre flight," said David Ray, a project manager for the General Laboratory Active Cryogenic ISS Experiment Refrigerator (GLACIER) at the University of Alabama at Birmingham.
Ray added that GLACIER only needed to maintain -95 degrees C (-139 degrees F) for the samples that returned with Discovery, well within the unit's capabilities.
Discovery landed Saturday after a 13-day mission that delivered new solar wings to the space station. Packed inside its GLACIER freezer were about 75 vials of blood samples and cell cultures representing some five months of experiments by astronauts aboard the space station.
Cold science
The first GLACIER freezers launched on space shuttle Endeavour last November, with one ending up installed on the space station and one carrying back biological samples on the shuttle. Astronauts took advantage of their new hardware by repurposing a smaller, older fridge to cool their drinks for the first time in eight years on the orbiting lab.
Discovery's crew members carried a third GLACIER to the space station to replace the first freezer, which has now made the trip home.
GLACIER joined several other cold storage units, including the Minus Eighty-degree Laboratory Freezer (MELFI) on the space station and the Microgravity Experiment Research Locker/Incubator (MERLIN).
However, GLACIER came with new features for both the space shuttle and International Space Station (ISS), particularly the ability to carry frozen samples back to Earth. The older MELFI refrigerator cannot provide powered cooling on the shuttle's middeck, whereas GLACIER can operate within the middeck size constraints. And the MERLIN fridge can only achieve 4 degrees C (39 degrees F) on the shuttle middeck.
"It was difficult to design a payload that would meet the sample requirements for temperature, volume and weight while remaining within dimensional envelope of a double middeck locker equivalent," Ray noted.
GLACIER is less than two feet long on all sides, while MELFI stands at a height closer to that of household refrigerators. MERLIN sits at roughly half the size of GLACIER, but with lesser cooling capacity.
GLACIER's design incorporates two insulated door layers to keep its contents cold, with its inner door divided into four insulated compartments that provide easy access for astronauts. It can also operate in either fridge or freezer modes, with a range of 4 degrees C (39 degrees F) all the way down to -185 degrees C (-301 degrees F).
Priceless samples
Astronauts check GLACIER twice daily when it is riding on a space shuttle, but otherwise Mission Control can keep an eye on how things are running by watching telemetry beamed down to Earth.
"While aboard the ISS, GLACIER health and status telemetry is monitored continuously at the [NASA] Huntsville Operations Support Center," Ray said. He added that control centers at NASA's Johnson Space Center in Houston and the University of Alabama at Birmingham also keep watch.
Such careful monitoring reflects the "priceless" nature of frozen samples from microgravity experiments that now have a way to return to Earth, said Julie Robinson, NASA's station program scientist.
"Pretty much now every flight we're bringing home a large number of samples," Robinson told SPACE.com. "We often have bins of frozen storage that are coming home and they may have two or three experiments in one freezer."
New Video - President Obama Talks With Shuttle, ISS Crews

New Video - See the Space Station from Earth

New Show - Inside the International Space Station