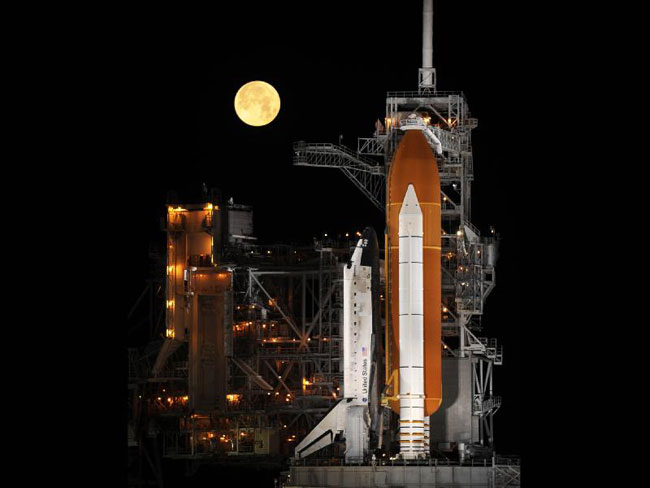 CAPE CANAVERAL, Fla. - The space shuttle Discovery is set to ferry up the last big American-made piece of the International Space Station after a decade of construction when it launches Wednesday night.
Discovery is poised to lift off at 9:20 p.m. EDT (0120 March 12 GMT) from a seaside launch pad here at NASA's Kennedy Space Center carrying seven astronauts and the last segment of the station's backbone-like main truss, along with a final set of power-generating solar arrays. The elements are the last major U.S.-built contribution to the now 10-year-old space station, which will be 81 percent complete by the end of Discovery?s STS-119 mission.
The new truss, massive girder called Starboard-6 (S6), weighs about 30,000 pounds (13,607 kg), and will push the station's total weight to nearly 1 million pounds (453,592 kg).
When complete, the space station?s complete 11-segment main truss will span a distance of 310 feet (94 meters), longer than a U.S. football field. The station can already be seen by the naked eye from Earth as a bright, rapidly moving object.
The $298 million S6 segment was assembled for NASA by Boeing. It is 45 feet (13.7 meters) long with two wing-like solar arrays that will have a wingspan of nearly 240 feet (73 meters) when fully unfurled. The new solar wings are the station?s fourth set of U.S. solar arrays and will complete its American-built power grid.
"This is a very special moment to see our last Boeing-designed-and-built truss go into orbit," said Chuck Hardison, Boeing CAPPS mission management and operations director. "The space station now is a massive orbiting item, and something the United States and its international partners should be very proud of."
NASA plans to launch Discovery?s STS-119 flight and at least eight more shuttle missions before retiring its three-orbiter fleet in 2010. Eight of those nine missions are space station construction flights. While there are other NASA components of space station still yet to fly - most notably the European-built Node 3 module and its Cupola window - none are as large as the S6 segment.
Discovery astronauts will install the S6 truss segment on the starboard, or right-most, side of the space station during the four spacewalks planned for their mission.
The new additions to the station represent a significant step toward outfitting the outpost to host crews of six people, doubled from its current capacity of three. The new solar panels are expected to boost the station's power-generating capability by 25 percent, to a total of about 120 kilowatts of generating capacity, or enough to power about 55 average American houses, Hardison said.
"One of the primary purposes for the power that S6 will be providing is for going from three- to six-person crews," said Discovery's payload manager Robby Ashley. "All of the crew systems that are required for that sized crew, takes a lot of power draw."
SPACE.com is providing continuous coverage of STS-119 with reporter Clara Moskowitz at Cape Canaveral and senior editor Tariq Malik in New York. Click here for mission updates and SPACE.com's live NASA TV video feed. Live launch coverage begins at 4:00 p.m. EDT (2000 GMT).
New Video - Meet Discovery's STS-119 Shuttle Astronauts

New Video - Discovery's Mission: Space Station Power Up!

New Show - NewSpace: The Orbital Industrial Revolution