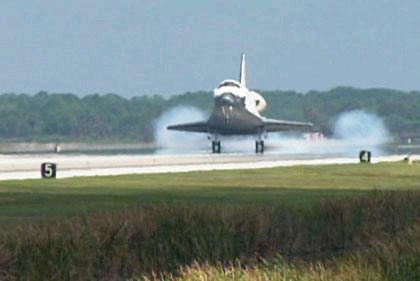 This story was updated at 2:23 p.m. EDT.
CAPE CANAVERAL, Fla. — The space shuttle Discovery landed safely back on Earth Saturday to wrap up a two-week mission that delivered a new Japanese laboratory to the International Space Station (ISS).
The shuttle touched down on a NASA runway here at the Kennedy Space Center at 11:15 a.m. EDT (1515 GMT), loosing twin sonic booms as it swooped down out of the midday Florida sky with commander Mark Kelly at the helm.
"Beautiful landing, Mark," astronaut Terry Virts radioed the crew from Mission Control in Houston. "Congratulations on a great mission."
"It's great to be back," Kelly replied. "And it's great for all of us to be part of a team that made the space station a little bit bigger and a little bit more capable."
Kelly and his six-man, one-woman crew delivered a new crewmember, spare Russian space toilet parts and the massive $1 billion Kibo research module for the Japan Aerospace Exploration Agency (JAXA) while docked at the orbiting laboratory.
The astronauts launched May 31 and completed 217 trips around Earth during their 5.7 million-mile (9.1 million-km) construction flight.
Returning to Earth with Kelly were shuttle pilot Kenneth Ham, mission specialists Karen Nyberg, Ronald Garan, Michael Fossum, Japanese astronaut Akihiko Hoshide and returning space station crewmember Garrett Reisman.
Together they performed three spacewalks to maintain the station, test out ways to clean a damaged solar array gear and outfit the new Kibo lab. They also attached Kibo's rooftop storage module, which a previous crew delivered in to a temporary berth last March.
"I think is just a start, just a beginning," said Hoshide before landing. "We learned a lot from this mission, so we'll just continue to learn more."
Space station's new "Hope"
Weighing in at some 32,000 pounds (14,514 kg), Japan's Kibo (which means "hope" in Japanese) is 37 feet (11 meters) long, about the size of a large tour bus and the largest room ever launched to the space station. It has two small windows, a 33-foot (10-meter) main robotic arm and a small airlock for passing experiments out to a porch-like external platform slated to launch next year.
Nyberg said the views out the Kibo lab's side-looking windows were tremendous and offered a new perspective of Earth from the space station.
"It's a great view looking in a direction that we can't see in other parts of the U.S. segment," she said. "Watching the sunset was my absolute favorite, and I think we got a lot of pictures of that."
With Kibo's installation, the space station is about 71 percent complete, weighs about 612,000 pounds (277,598 kg) and has a living area about the size of the interior of a 747 jumbo jet, according to NASA and station crew. When complete, the station is slated to have about as much room as a five bedroom home and rival a U.S. football field in length, NASA has said.
For Reisman, Discovery's landing marked his first taste of Earth's gravity after 95 days living in space, and he returned to Earth in a special reclined seat to ease the burden. He arrived at the space station in March and was replaced last week by NASA astronaut Gregory Chamitoff, who launched aboard Discovery.
"I am cautiously optimistic," he said of how his body will respond to its return to gravity, adding that there is some anecdotal evidence than his short stature may help since his sensory organs are closer to his center of gravity. "I've been waiting my whole life and I finally think being short is going to come in handy."
It apparently did. After landing, Reisman was all smiles in NASA video as he walked on the tarmac with his crewmates to inspect Discovery and pose for photos.
"He told us, frankly, that he enjoyed feeling the sunshine again," said William Gerstenmaier, NASA's chief of space operations. "I think he had a great time onboard space station."
Reisman has said he's looking forward to seeing his wife Simone and cat Fuzzy again, and digging into a juicy steak after landing.
Chamitoff, meanwhile, is beginning a six-month mission and watched a live broadcast of Discovery's landing from orbit.
"What a beautiful landing!" Chamitoff told Mission Control. "It was a spectacular mission from end to end…we have this new 'hope' in the Kibo module here on the space station and it's a great success."
Successful flight
Today's landing marked the end of NASA's 123rd space shuttle mission and the 26th construction flight to the space station. Discovery made its 35th trip to space during the mission, the third shuttle flight this year to deliver a new orbital room to the high-flying station.
"We are very pleased with the mission's accomplishments," said NASA's deputy shuttle program manager LeRoy Cain. "We're very proud of the whole team."
NASA plans to fly 10 more shuttle flights to complete the space station and overhaul the Hubble Space Telescope before retiring its aging three-orbiter fleet in 2010. The Hubble mission - the final servicing flight to the orbital observatory - is currently slated to liftoff on Oct. 8 pending the repair of its Pad 39A launch site here, which was damaged during Discovery's launch.
The successful STS-124 spaceflight marked NASA's third of up to five shuttle flights this year, with the Hubble serving mission and a fourth flight to the space station remaining. It was the 10th mission since the 2003 Columbia tragedy.
"The whole experience turned out to be more emotional than I'd expect," said shuttle pilot Ken Ham. "Seeing space station out the window and realizing that it's all very real and we're part of it, it's a great time to be part of this country. It's a pretty incredible feeling."
NASA is broadcasting the Discovery's STS-124 mission live on NASA TV. Click here for SPACE.com's shuttle mission updates and NASA TV feed.