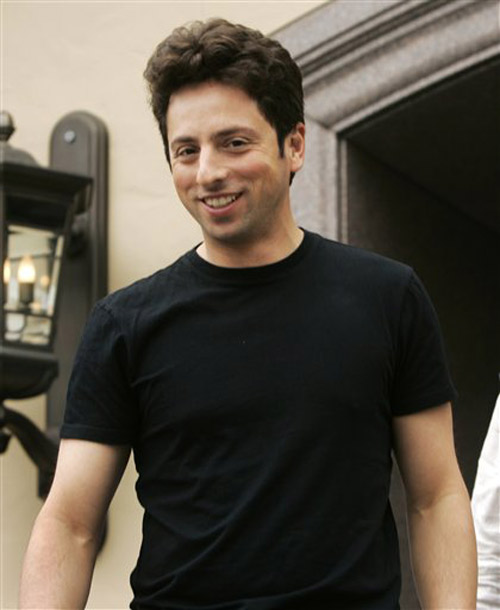 This story was updated at 1:23 p.m.
NEW YORK ? Space tourism took a leap forward as Virginia-based Space Adventures announced it had bought the first private Soyuz flight to the International Space Station in 2011, unlike its usual arrangement of wealthy individuals riding along with astronauts on Russian spacecraft.
Google Cofounder Sergey Brin will also take a personal step into space as one of two space tourists on the 2011 flight. Brin has already put down a $5 million down payment towards his future flight as the first member of the newly established "Founding Explorer" group.
"I am a big believer in the exploration and commercial development of the space frontier, and am looking forward to the possibility of going into space," Brin said in a press statement.
Additional members also have to pay a $5 million deposit to reserve one of the five remaining group slots, but will receive preferential treatment in choosing their eventual space missions.
Space Adventures unveiled its plans at a news conference this morning at the Explorers Club in New York.
"We're no longer exclusively a space tourism company," said Eric Anderson, Space Adventures president and CEO, at the event. "We're a space mission company."
Previous flights involved Space Adventures booking a spare seat for its "guest cosmonauts" on Soyuz missions scheduled to head to the space station anyway. The new private Soyuz flights will allot two out of three seats to Space Adventures customers, allowing a Russian commander to take the third seat. Such flights will take place in between official astronaut missions to the space station.
Space Adventures has flown five space tourists so far who paid between $20 million and $25 million, including Dennis Tito, Mark Shuttleworth, Greg Olsen, Anousheh Ansari and Charles Simonyi.
American computer game developer Richard Garriott is the next to fly in October to the space station. The first U.S. second-generation astronaut has launched a "Space Challenge!" for UK students to design an experiment for him to perform during his spaceflight. Garriott also plans to conduct educational outreach such as podcasts and interactive webcasts while in orbit, and has commercial contracts worth hundreds of thousands of dollars to perform protein crystal growth experiments for pharmaceutical companies.
Garriott is paying $30 million for his trip, and had considered forking over an additional $15 million to add a spacewalk to his orbital flight. However, he said in response to a question from SPACE.com that his chance would have to wait until perhaps a second spaceflight — a trip that he also hopes to partially or fully subsidize with commercial activities performed on the space station.
"I'm a big believer that humans should be in space because it's valuable to be in space," Garriott said at the event.
Some questions had been raised regarding the safety of the Soyuz spacecraft, after a bumpy ballistic descent for a three-person crew that included South Korea's first astronaut.
But Garriott expressed confidence in the Soyuz and said it was "statistically the safest possible way to get into orbit that exists today," adding that the spacecraft were originally designed for ballistic reentry.
Space Adventures has additional plans to expand to suborbital flights, possibly with one of the companies that participated in the 2004 Ansari X Prize. Even Space Adventures competitor Virgin Galactic received kind words.
"I'm a huge fan of Virgin Galactic and all companies working to develop suborbital spaceflight," Anderson said.
Space Adventures also acquired Zero Gravity Corporation (ZERO-G) at the start of this year. ZERO-G and Space Adventures Cofounder Diamandis stayed on as CEO of ZERO-G, but has also become Managing Director of Space Adventures. The acquired company has provided a weightless flight experience using modified Boeing 727s to more than 5,000 customers since 2004.
Anderson and Diamandis hope to fly 10,000 ZERO-G customers in 2010, and push the number up to 100,000 over the next decade. ZERO-G's international expansion would pave the way for future spaceports to launch suborbital and orbital flights.
Future of Flight: Space Tourism, Investment and Technology