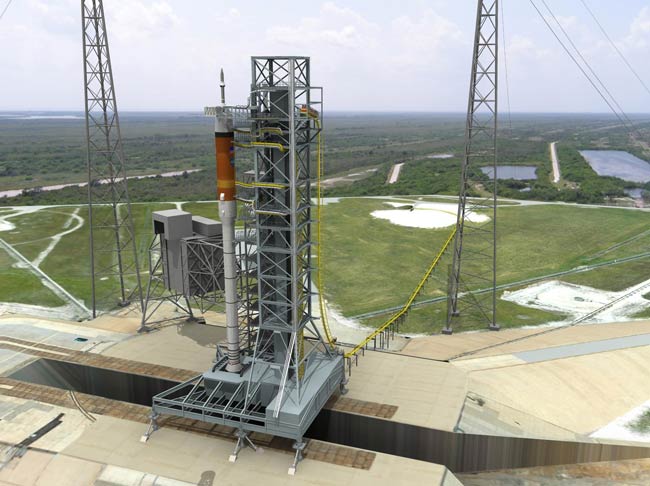 NASA is expecting delays for the first tests of the rocket that will replace its aging space shuttles after they retire in 2010, agency officials said Thursday.
Anticipated delays for NASA?s fall shuttle mission to the Hubble Space Telescope may push back the first test of the agency?s new Ares I rocket next year by up to a month since both flights use the same launch pad and other material, said Jeff Hanley, the agency?s Constellation program manager.
NASA initially planned to launch a test version of its two-stage Ares I rocket around April 15, 2009, but the vital flight may now slip to late May of that year in a ripple of delays related to the Hubble servicing mission.
?We?ll be using one of the shuttle launch platforms, and the handover of that is modulated by how soon the shuttle program can get the Hubble mission successfully launched,? Hanley told reporters. NASA is still on target, however, to begin the first manned flights of Orion spacecraft atop their Ares I boosters by no later than March 2015, he added.
The fall Hubble mission and the 2009 Ares I-X test will use the same seaside launch pad at NASA?s Kennedy Space Center in Cape Canaveral, Fla. The space shuttle Atlantis is expected to launch toward Hubble in late September or early October of this year from Pad 39A, but a second shuttle will also be prepared at Pad 39B ? the launch site for Ares I-X ? to serve as a rescue vehicle in an emergency.
NASA initially hoped to launch the Hubble mission in late August, but fuel tank delivery delays forced the agency to shuffle its 2008 shuttle flight schedule. Earlier this month, shuttle program manager John Shannon said the readjustment would delay the Hubble flight to early October at the latest.
?We?re looking at what can be done to absorb any scheduled slip in the handover of shuttle assets, specifically the mobile launcher, to keep that from impacting our launch date next year,? Hanley said.
Meanwhile, NASA is also facing delays with the first test of the launch abort escape system designed to rip an Orion crew capsule free of its Ares I booster in the event of an emergency during liftoff.
The first test, Pad Abort-1, was initially targeted for Sept. 23 of this year at the White Sands Space Harbor in White Sands, N.M. But hardware delivery delays prompted NASA to reschedule the test for Dec. 11.
Other challenges also remain for NASA?s Orion spacecraft, including the ongoing effort to trim down the vehicle?s weight, said Orion project manager Mark Geyer.
?We?ll continue to be vigilant and looking at ways to scrub mass,? Geyer said.
The debate on whether to plan for Orion landings on firm ground or in the water is leaning toward a nominal water return, with engineers preserving the option for a land landing if required, Hanley added.
NASA?s Orion spacecraft and their Ares I boosters are designed to ferry astronauts to the International Space Station (ISS) once the agency?s three remaining shuttles retire in 2010. While the agency is targeting March 2015 for its first operational manned launch, Ares and Orion engineers hope to ready their vehicles in time to begin crewed operations by September 2013.
A heavy-lift Ares V rocket is also under development to support NASA?s plan to send manned Orion spacecraft and their Altair lunar landers to the moon by 2020.
Images: NASA's Next Spaceship

Video: Hubble Repair Missions