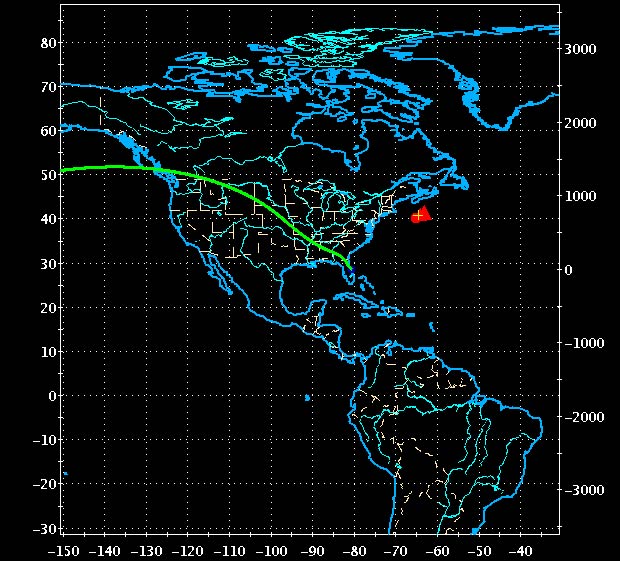 CAPE CANAVERAL, Fla. - Clear skies and a slight breeze await space shuttle Discovery and its seven-astronaut crew as they maneuver toward a landing at Kennedy Space Center (KSC) this afternoon.
If the weather holds, Discovery will make a one-hour descent across the heartland of America in broad daylight for a 1:01 p.m. EST (1801 GMT) touch down. The 15-day mission delivered a bus-sized room to the International Space Station (ISS), made an emergency repair of a torn solar wing and dropped off a new member of the orbital laboratory's crew.
So far, weather forecasts call for a picture-perfect day here at KSC, and mission managers said that only slight northerly winds concern them.
Pamela Melroy, the STS-120 mission's commander and a retired U.S. Air Force colonel on her third spaceflight, said today's landing promises to be a highlight of her piloting career.
"I'm actually the one who gets the land the shuttle," said Melroy, who is NASA's second female shuttle commander, earlier in the spaceflight. "That is going to be a very thrilling moment for me."
NASA originally scheduled the orbiter to land before dawn but Melroy opted for a daylight landing. Mission managers called the sleeping schedule adjustments to make the landing attempt a "college sleep shift."
"Just like driving ? making a landing is easier in the daylight," Melroy said from space Tuesday afternoon. "But the real reason we asked for the switch is because the sleep shift involved shifting later instead of earlier, and so that's a little easier to do."
Coming home
Before undocking from the space station on Monday morning, five-month spaceflyer Clay Anderson climbed aboard Discovery and swapped places with astronaut Dan Tani. A tearful goodbye ceremony preceded the changeover, but Anderson said yesterday that he's prepared for his return to Earth.
"Physically and mentally I'm really ready to be home," Anderson told SPACE.com from the mid deck of Discovery on Tuesday. He said that he's looking forward to juicy steaks, ice cold drinks and the sights and sounds of Earth. "You just can't get that on the International Space Station."
Anderson rides back today in a special recumbent seat, which will lay him down during the sonic-boom breaking entry into the planet's atmosphere. The Nebraska native mentioned he's optimistic about beating out the effects of readjusting to being earthbound--but perhaps overly so, he said.
"I've worked very hard on my physical exercise since I arrived with [STS-117] back in June," he said.
But teasing commander Melroy, Anderson explained he's not sure how his internal equilibrium will react. "I've been off the planet with minimal gravity for five months," he said, "and I'll come thumping back to the ground--I'm sorry, Pam--I'll smoothly come back to the ground."
Speaking on behalf of both rookie and veteran spaceflyers on board Discovery, Melroy said the time in space has been a dream.
"We're thrilled and excited and ready to come," she said yesterday.
Construction in space
During their 11 docked days with the space station, the crew of Discovery installed the 31,500-pound (14,288-kilogram) Harmony module to the space station. They also relocated the massive Port 6 solar array truss segment from the top of the ISS to its port-most end, then looked on as two twin sets of solar array wings deployed.
One of those snagged and tore during its unfurling, however, sending NASA into a scramble to have spacewalkers Scott Parazynski and Doug Wheelock repair the wing with handcrafted "cuff links."
With Discovery now homeward bound, space station astronauts have some major housekeeping to pull off in November. The three-person Expedition 16 crew will need to relocate the module with an attached mating adapter, configure the stack and finally hook up coolant, power and avionics lines to it.
Once configured, Harmony will serve as a gateway for future modules like the Columbus laboratory, set for departure aboard space shuttle Atlantis on an ambitious launch date of Dec. 6.
Pilot and rookie astronaut George Zamka will assist Melroy with landing from Discovery's cockpit while mission specialists Stephanie Wilson and Wheelock sit behind them. In the mid deck below the control-packed cockpit, astronauts Anderson, Parazynski and Italian spaceflyer Paolo Nespoli will return to Earth.
If the first attempt at landing goes as planned, Discovery will pass over 12 U.S. states before its scheduled landing precisely at 1:01:50 p.m. EST (1801:50 GMT). Should foul weather show up, flight controllers will instruct the crew to wait until they can use another opportunity to land at 2:36 p.m. EST (1936 GMT).
If that chance is ruined, the space shuttle will try again Thursday at 11:33 a.m. EST (1633 GMT) and may also aim for landing sites at California's Edward's Air Force Base or New Mexico's White Sands Space Harbor later in the day. NASA has not activated the two backup landing sites for tomorrow's landing because of the unusually fair forecast.
Staff writer Tariq Malik contributed to this report from New York City.
NASA is broadcasting Discovery's STS-120 mission live on NASA TV. Click here for mission updates and NASA TV from SPACE.com.
VIDEO: Discovery's STS-120 Astronaut Crew Speak Out

NEW IMAGES: Launch Day for Shuttle Discovery

SPACE.com VIDEO Interplayer: STS-120 Mission Brings 'Harmony' to ISS