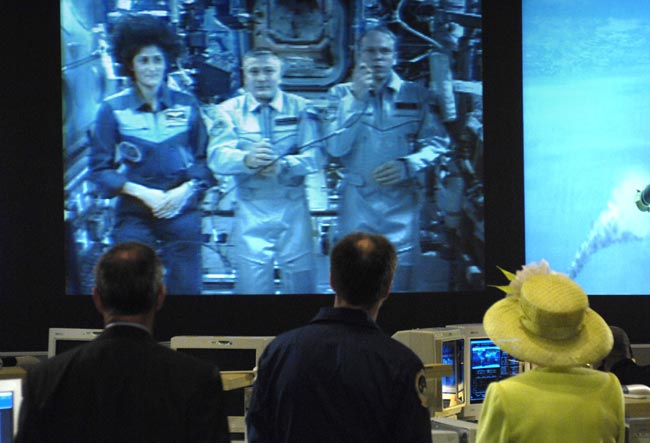 Queen Elizabeth II heard from astronauts aboard the International Space Station (ISS) Tuesday during a visit to NASA's Goddard Space Flight Center in Maryland.
ISS Expedition 15 commander Fyodor Yurchikhin and flight engineers Oleg Kotov and Sunita Williams stressed that the fundamental cooperation among nations that has made the space station a reality will prove vital for future exploration during their session with the queen.
"The International Space Station is a great example of how different countries and different cultures can work together," Kotov said. "It's a great role model for companies and even governments. It shows that we can work through our differences."
Veteran spaceflyer Michael Foale, who hails from Cambridge, England and has logged more days in space (just over 374) than any other NASA astronaut, hosted the ISS discussion with the queen. He described life aboard the station and his six spaceflights with the British monarch.
"Fascinating," she told Foale at the space station's Network Integration Center at Goddard in Greenbelt, Maryland as he spoke of his time as the outpost's Expedition 8 commander.
Williams told the queen that the space station is a stepping stone for human exploration as astronauts prepare to return to the Moon and push outward to Mars.
"We're doing a myriad of experiments that will help us understand how to live in space for an extended period of time so that we can build spacecraft to go back to the Moon and on to Mars," Williams said of the space station. "It's a wonderful place to live."
The queen and husband Prince Philip are conducting a six-day U.S. visit to commemorate the 400th anniversary of the English settlement of Jamestown in Virginia. In addition to hearing from the Expedition 15 crew, the British Royal Family met with schoolchildren, NASA and government dignitaries, and participated in a tree planting ceremony in the Goddard center's Rocket Park.
British-born NASA astronauts Piers Sellers and Nick Patrick were also onhand for the activities.
"Your Majesty, thank you very much for this great day for us," Yurchikhin told the queen. "It's very great to see that you are interested in this program."
The British Royal Family's NASA visit follows an April 19 letter of intent between the U.S. space agency and British National Space Centre to study potential areas for future collaboration on lunar science and exploration.
"We hope to work closely with the United Kingdom on new endeavors involving the Moon," NASA chief Michael Griffin said during the queen's visit.
VIDEO: Meet the Space Station Crew of Expedition 15
Complete Space Station Mission Coverage