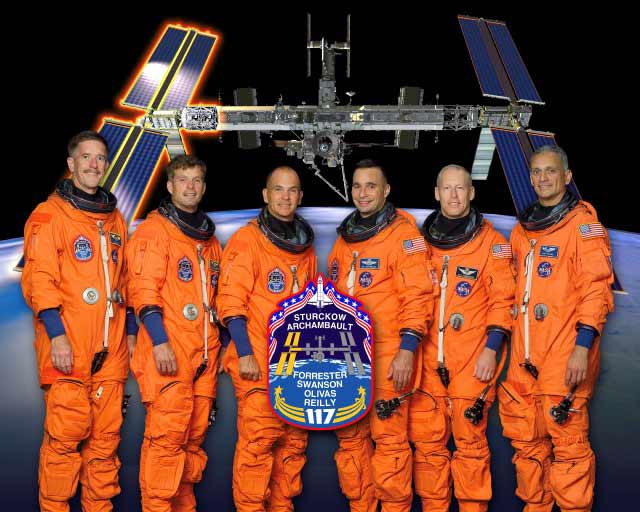 WASHINGTON -- NASA's next shuttle astronauts to fly, a blend of veteran spaceflyers and rookies, are in the final month of training for a March construction flight to the International Space Station (ISS).
Veteran shuttle flyer Rick Sturckow and his fellow STS-117 crew [image] of the shuttle Atlantis lauded their spacecraft's launch pad arrival on Thursday as they prepare to haul two massive trusses and a pair of new solar wings [image] to the ISS on March 15.
"I think the realization is really kind of starting to sink in, and you kind of come to grips with the fact that this is very soon becoming a reality," STS-117 mission specialist Danny Olivas told reporters during a preflight briefing. "To see the bird actually make its way to the pad is an actual awesome sight."
Sturckow, Olivas and their four STS-117 crewmates are due to launch aboard Atlantis at 6:43 a.m. EDT (1043 GMT) on March 15 to deliver the new Starboard 3/Starboard 4 truss segments and their solar arrays to the ISS.
The mission marks the first spaceflight for Olivas, STS-117 pilot Lee Archambault and mission specialist Steven Swanson. Two-time shuttle flyer Sturckow and STS-117 mission specialists Patrick Forrester and James Reilly round out Atlantis' veteran astronaut crew.
"We've been really focused on [training] for about nine months now, pretty much everyday," Sturckow said.
During their planned 11-day mission, the STS-117 astronauts will stage three spacewalks to install the new starboard trusses, unfurl its two solar arrays, and help retract an older solar wing reaching to starboard from the space station's mast-like Port 6 truss.
Spacewalkers helped tuck away a stubborn port-reaching Port 6 solar wing during December's STS-116 shuttle flight to the ISS, a mission the current Atlantis astronauts watched closely.
"We're going with the things that did work really well for them," said Reilly, who serves as the lead STS-117 spacewalker, of the STS-116 crew.
NASA engineers have devised new tools to help Reilly and his fellow spacewalkers -- Olivas, Forrester and Swanson -- to ease difficulties like stuck bolts and stubborn launch restraints such as those encountered during NASA's STS-115 mission in September 2006, which delivered a portside set of solar arrays in a near mirror image of the upcoming March spaceflight.
"Kind of the theme running through here is that we get to learn from the challenges that other crews have faced," Forrester said.
Two extra flight days and a spare spacewalk could be added to the STS-117 mission should the astronauts run into any unforeseen challenges, mission managers said Thursday.
As an added bonus, Forrester and Sturckow -- who flew together during NASA's STS-105 mission to the ISS in 2001 -- are once again teaming up for an orbital spaceflight.
"For me personally, it was just a pleasure to be reassigned to fly with him again," Forrester said. "What it allowed me to do is know where he was coming from really from day one in our training."
During the STS-105 mission, Forrester and Sturckow also flew to the ISS with Russian cosmonaut Mikhail Tyurin, who was then a member of the orbital laboratory's Expedition 3 crew. Now, almost six years later, Tyurin is again in Earth orbit serving as a flight engineer with the space station's Expedition 14 crew, which will host the STS-117 astronauts next month.
"We're looking forward to seeing him again when we get on orbit," Sturckow said of Tyurin.
STS-117 Power Play: Atlantis Shuttle Crew to Deliver ISS Solar Wings
The Great Space Quiz: Space Shuttle Countdown
Complete Shuttle Mission Coverage
All About the Space Shuttle