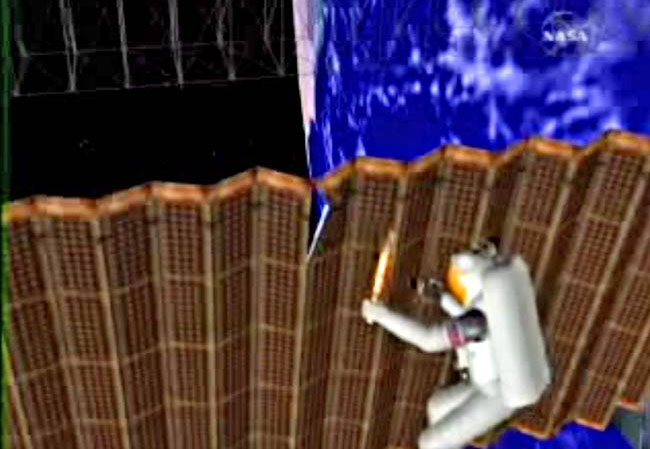 This story was updated at 4:55 p.m. ET
HOUSTON - With NASA's go-ahead today, astronauts have geared up for a tricky solar wing repair at a far end of the International Space Station (ISS) tomorrow morning.
Crewmembers scrounged around the orbital laboratory yesterday for supplies, gathering tools and crafting "cuff links" that will button up two rips in the maimed solar array wing. NASA hopes the efforts will enable the damaged array to fully and safely deploy--a crucial step to complete the orbital laboratory by September 2010, when NASA retires its aging space shuttle fleet.
But damaged solar blankets are not the only problem facing the power-generating abilities of the space station. "At this point we have problems on both ends of the truss, unfortunately," said Derek Hassmann, ISS lead flight director for the STS-120 mission.
In addition to damage to the solar wing, which generates electricity but is structurally unstable, spacewalker Dan Tani discovered unusual metallic grit in solar-array-orienting gears on Oct. 28. Since the Port 6 (P6) solar wing tore during its deployment on Oct. 30, however, mission managers shifted their focus to repairing the solar power tower.
"We need to address one of these two problems before we proceed," Hassmann said. "The P6 solar array is the ? priority problem that we can go fix now."
Scramble for instructions
ISS flight director Heather Rarick said hammering out detailed spacewalking plans in little more than two days was no easy task.
'"We've had at least three or four extra teams running throughout the shifts," Rarick said of the last-minute efforts to finish the spacewalk instructions. "It's just been a fantastic effort." She added that under normal circumstances, such a procedure would take weeks or months to produce.
Astronauts took the changes in stride as well, offering up their sparse free time to outfit the space station's newest room as well as create the solar wing-saving cuff links. Today, crewmembers prepared Parazynski's ride--a 90-foot (27.4-meter), extended robotic arm--to the damaged solar wing.
"We know and understand how hard you guys are working down there," spacewalker Doug Wheelock told mission controllers last night. "We're ready to execute."
Wheelock will accompany Parazynski during the fourth and now final spacewalk of the mission. A fifth spacewalk was planned for Sunday, but mission managers cancelled the operation to focus on hashing out plans to repair the 4B solar wing, which is attached to the Port 6 truss section of the space station.
Risky repair?
The entire solar wing can generate about 110 volts of electricity at 90 amperes in full sunlight, but mission managers said Parazynski's risk of being electrocuted will be more than acceptable.
"A spacewalking astronaut could put his hand on that solar array and there would be no risk of any shock of any kind," Hassmann said, referring to a pristine solar array and glove. Although the 4B array is damaged, Hassmann said engineers saw no live wires exposed at the site where Parazynski will conduct repairs.
"A number of different things have to happen all at once for there even to be a small risk," he said. "We have a number of risk mitigations in place that are going to protect Scott from any kind of electrical hazard."
The bigger concern, mission managers noted, is how far Parazynski will be from the safety of the airlock--about 30 minutes or so in an emergency, said lead STS-120 spacewalk officer Dina Contella.
But David Wolf said yesterday that the somewhat risky spacewalk is necessary to ensure the future completion of the space station.
"There comes a time when the station needs repaired, one-time events where we--with good mitigation and knowledge--accept high risk," Wolf said. "And that's one of them. Our job is to think of all those possible ways where a bad outcome could occur and be sure that every hazard is mitigated and handled."
Looking forward
Hassmann said the astronauts are excited about the coming spacewalk.
"They're in great spirits," he said, noting that the astronauts studied the procedures since they received them Friday morning. "They have a lot of confidence that they're ready to go do what we've asked them to do."
The space shuttle Discovery and its seven-astronaut crew are slated to leave the orbital laboratory on Nov. 5 and land at Kennedy Space Center on Nov. 7, weather permitting. NASA officials said that the crew has enough supplies to stay docked for the ISS for two more days beyond Monday, should the need arise.
And it might. Mission managers said that if Saturday's spacewalk effort fails to repair the solar wing, mission managers said they will resurrect the fifth spacewalk for a second try on Sunday or Monday.
SPACE.com's live coverage of the spacewalk begins Saturday morning at 5:30 a.m. EDT (0900 GMT).
SPACE.com Video Interplayer: Delivering 'Harmony' with NASA's STS-120 Mission

Complete Space Shuttle Mission Coverage