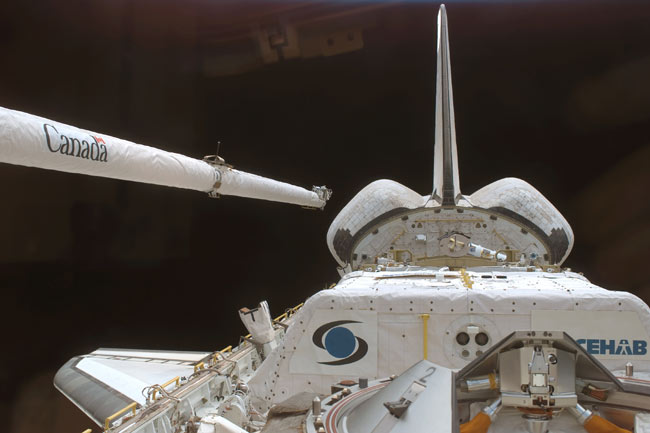 HOUSTON -- Astronauts aboard NASA's space shuttle Discovery will take a second look and their vehicle's heat shield today and deploy a pair of tiny satellites while preparing for their return to Earth this week.
"We'll be specifically looking at again the entire area of the wing leading edges and the nose cap for any micrometeoroid damage or debris damage that may have occurred," Tony Ceccacci, NASA's lead shuttle flight director for Discovery's STS-116 mission, said in a Tuesday mission status briefing.
The inspection is scheduled to begin at about 10:52 a.m. EST (1552 GMT).
Mission managers have already given Discovery's heat shield a clean bill of health following the shuttle's Dec. 9 launch, though today's inspection is strictly targeted at identifying any new concerns spurred by impacts from tiny space rocks or orbital debris.
"That risk is 1 in 300 every time we fly," Wayne Hale, NASA's shuttle program manager, has said of micrometeorites, adding that they are always a concern for spacecraft, satellites and any other vehicle in low Earth orbit.
NASA has called on its shuttle astronauts to perform late in section on the last two orbiter flights, honing the activity in the process to mirror the Flight Day 2 surveys. Altogether, Ceccacci said, the inspection should take about five hours.
Meanwhile, imagery analysts are standing ready to pore through the images returned today, and expect to deliver a prognosis no later than 24 hours after the last bit of data reaches Earth, Ceccacci added.
"They really have the hard job, in a way," STS-116 mission specialist Nicholas Patrick, the prime robotic arm operator aboard Discovery, said before launch of heat shield imagery analysts. "They're job's sort of open ended, but ours is very well-defined. It will take most of the day, and then we hand the data down and say, 'Tell us what we saw.'"
Discovery's STS-116 crew is nearing the end of a 13-day mission to the International Space Station that successfully rewired the orbital laboratory's power system, added a new piece to its main truss and ferried a new crewmember for its Expedition 14 mission [image]. The mission is set to end with a Dec. 22 landing at NASA's Kennedy Space Center at 3:56 p.m. EST (1856 GMT).
Springy satellites
Following today's heat shield survey, STS-116 mission specialists Joan Higginbotham and Christer Fuglesang are due to help deploy a pair of spring-loaded microsatellites attached to a canister in the aft of Discovery's payload bay.
Known as MEPSI and RAFT, the small satellites are part of Discovery's Space Test Program-H2 and are due to be deployed tonight.
MEPSI, which carries the bulky name of Microelectromechanical System-Based (MEMS) PICOSAT Inspector, is a coffee-cup sized machine designed to demonstrate the capability of a low-power spacecraft for inspecting larger vehicles.
Discovery's crew is due to deploy MEPSI at 7:06 p.m. EST (0006 Dec. 21 GMT), with RAFT -- or Radar Fence Transponder -- to follow at 8:37 p.m. EST (0137 Dec. 21 GMT). The RAFT satellite is an experimental payload built by students at the U.S. Naval Academy aimed at testing space surveillance and communications protocols.
A third microsatellite mission, known as ANDE, is due to be deployed on Thursday. All three of the vehicles are stowed on Discovery's Integrated Cargo Carrier and sponsored by the U.S. Department of Defense [image].
"Of course late inspection is our number one priority," Ceccacci said. "So if that runs long, everything else gets taken off the plate."
VIDEO: STS-116 Mission Profile: Heat Shield Inspection
VIDEO: STS-116 Mission Profile: Undocking
Images: The Spacewalks of NASA's STS-116
Images: Discovery's STS-116 Launch Day Gallery
Mission Discovery: The ISS Rewiring Job of NASA's STS-116
Complete Space Shuttle Mission Coverage
The Great Space Quiz: Space Shuttle Countdown
All About the Space Shuttle