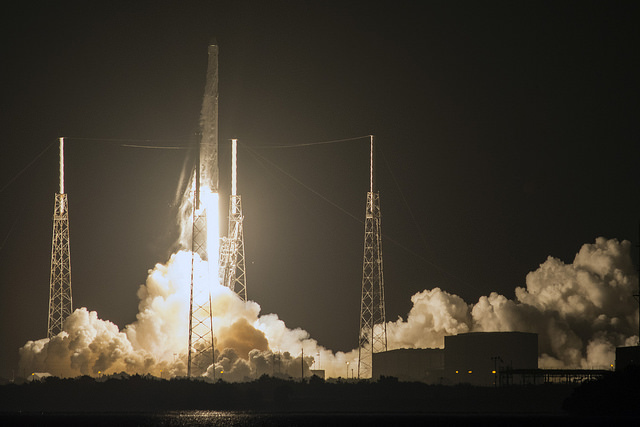 SpaceX landed another rocket, NASA marked the 40th anniversary of the Viking mission's first landing on Mars and astronomers spotted more potentially habitable exoplanets. Here are the most amazing things that happened in the universe this week.
SpaceX does it again
SpaceX pulled off its fifth rocket landing in the last seven months early Monday morning (July 18), this time bringing a booster back during a successful cargo launch toward the International Space Station. [Full Story: No. 5! SpaceX Lands Another Rocket During Space Station Cargo Launch]
The Viking Mars mission's science legacy
NASA's Viking 1 lander touched down on Mars 40 years ago today (July 20), marking the start of the up-close investigation of the Red Planet. [Full Story: Viking at 40: How NASA Mission Brought Mars Into the Light]
What Viking could've been
NASA's life-hunting Viking mission to Mars was the most complex robotic exploration effort of its day, but the space agency initially wanted it to be even more ambitious. [Full Story: When Viking Was Voyager: The Surprising History Behind NASA's Epic Mars Landing]
Blue Origin's latest landing a success
The crew capsule built by Jeff Bezos' private spaceflight company Blue Origin survived its latest test landing in good shape even though one of its parachutes was intentionally disabled, Bezos said this week. [Full Story: Blue Origin's Crew Capsule Aced Parachute-Failure Test, Jeff Bezos Says]
Kepler spots two more potentially habitable alien worlds
NASA's Kepler space telescope has spotted four possibly rocky alien planets orbiting the same star, and two of these newfound worlds might be capable of supporting life. [Full Story: 2 Newfound Alien Planets May Be Capable of Supporting Life]
No shortage of potential abodes for alien life
Two Earth-size planets orbiting a nearby star are now confirmed to be rocky, strengthening the case that they might be habitable, a new study finds. [Full Story: 2 'Nearby' Exoplanets Confirmed to Be Rocky — and May Be Habitable]
Minor meteor showers to watch this summer
One of the best meteor displays of the year will be visible soon — the Perseid shower. But a number of minor meteor showers will also be peaking in the next couple of weeks. Here's what to expect. [Full Story: Perseid Sideshows: Smaller Meteor Showers Shine This Summer]
Moon's mysterious grooves explained?
A baby planet at least as large as New Jersey that smashed into the moon billions of years ago might have created the mysterious grooves that score the lunar surface, a new study finds. [Full Story: Long-Ago Giant Impact May Have Created Moon's Mysterious Grooves]
Dark matter remains elusive
The incredibly sensitive LUX dark matter detector, buried under a mile of rock, has not detected a dark matter signal during its 20-month search. [Full Story: Dark Matter Still a Mystery: Most Sensitive Search Yet Comes Up Empty]
Earth-observation satellite gets whacked by space junk
The U.S. Air Force said one of DigitalGlobe's high-resolution imagery satellites was part of what they described as a debris-causing event on July 19, but the company said that the satellite remains operational. [Full Story: DigitalGlobe Says WorldView-2 Satellite Operational After 'Debris Causing Event']
Would we miss the moon if it disappeared?
If the moon disappeared in a blink of an eye tomorrow (and let's assume it does so nonviolently), would we even notice? Would we even care? Well, it depends. [Full Story: What If the Moon Disappeared Tomorrow?]
'Star Trek Beyond' reviewed
"Star Trek Beyond," which premieres today (July 22), opens with a very confusing scenario for Trekkies: A captain of a Federation starship is actually sick of space — enough to want to take a desk job. [Full Story: 'Star Trek Beyond' Features Clever War Games, Too Many Questions (Film Review)]
Follow us @Spacedotcom, Facebook or Google+. Originally published on Space.com.‪