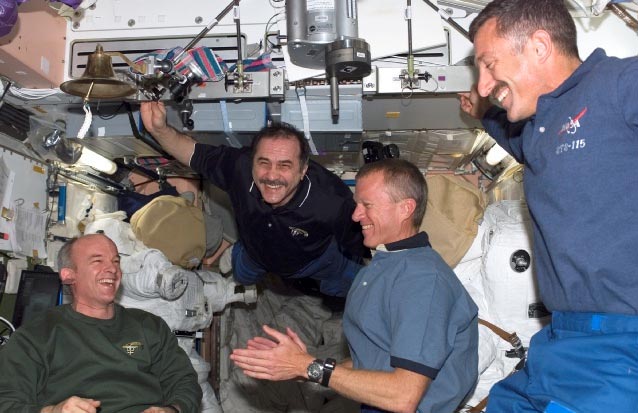 This story was updated at 12:01 p.m. EDT.
HOUSTON - For three astronauts aboard the International Space Station (ISS), the busy season does not end with the successful departure of six astronauts aboard NASA's shuttle Atlantis today.
Just hours after Atlantis undocked from the ISS at 8:50 a.m. EDT (1250 GMT) today, Expedition 13 commander Pavel Vinogradov and flight engineers Jeffrey Williams and Thomas Reiter are already looking forward to the arrival of their next human visitors and the departure of a faithful robotic cargo ship over the next four days.
"This is a unique situation," NASA's deputy ISS program manager Kirk Shireman said of the confluence of spacecraft visiting the Expedition 13 crew. "They are going to be working extremely hard until the time they come home...it's going to be busy."
A Russian-built Soyuz TMA-9 spacecraft is slated to launch the next ISS crew - Expedition 14 commander Michael Lopez-Alegria and flight engineer Mihkail Tyurin - at 12:09 a.m. EDT (0409 GMT) Monday with U.S. entrepreneur Anousheh Ansari, a paying ISS visitor, aboard.
"It's a tricky choreography," said Daria Lopez-Alegria, wife of Expedition 14 commander Michael Lopez-Alegria, in a NASA interview at Baikonur Cosmodrome in the Central Asian steppes of Kazakhstan, where her husband is set to launch. "It's unbelievable that we can manage the schedule like that."
About eight hours later, the Expedition 13 crew will jettison the unmanned Russian cargo ship Progress 21 from its berth at the end of the space station's Zvezda service module so the incoming Soyuz will have a docking port when it arrives on Sept. 20 - the same day Atlantis is slated to land at NASA's Kennedy Space Center in Florida.
Paul Dye, NASA's lead shuttle flight director for Atlantis' STS-115 mission, said the shuttle and ISS crews got a small break when image analysts determined that a second look at the orbiter's heat shield - known as a focused inspection - would not be necessary. The decision allowed the orbiter to undock Sunday, rather than Monday.
"If we had stayed an extra day, we had a traffic management plan that would have taken a spirograph to show you," Dye said Saturday.
The Atlantis STS-115 crew, commanded by veteran shuttle astronaut Brent Jett, spent about six days of their planned 11-day mission docked at the ISS to deliver a $372 million pair of 17.5-ton trusses and new power-generating solar wings to the orbital laboratory.
"This is probably as busy as it's ever been aboard the International Space Station," NASA astronaut Michael Fincke, who served a six-month tour aboard the ISS during 2004's Expedition 9, told SPACE.com.
Altogether three spacecraft will be flying either to or away from the ISS within four days of one another.
"Pavel and I will be busy until we're resting on the steppes of Kazakhstan, I guess," Williams said just after Atlantis launched toward the ISS on Sept. 9.
Vinogradov and Williams will return to Earth on Sept. 28 with Ansari after an eight-day crew change with the Expedition 14 crew. Reiter, who joined Expedition 13 during a July shuttle visit by NASA's STS-121 astronauts aboard the Discovery orbiter, will stay on as an Expedition 14 flight engineer until his relief arrives in December.
"We haven't had to do anything unreasonable," NASA's ISS program manager Michael Sufferdini said of the scheduling for Vinogradov and Williams, who unlike Reiter must pack their bags to return to Earth on top of all their other duties. "You have to remember, when [Atlantis's crew] leaves, immediately the Soyuz is coming up, and that represents a ride home for those guys."
Williams has spent about an extra hour working each day, shuttle officials said.
Shireman said the last shuttle flight to the ISS that overlapped with an arriving Soyuz occurred during NASA's STS-100 mission in 2001, but some top NASA officials believe handling multiple spacecraft like Soyuz, Progress, shuttle and the ISS will become more common in the future.
"I think it is pretty indicative of what we are going to have in the future here," William Gerstenmaier, NASA's associate administrator for space operations, said last week. "So, at some time, we will have the Progress free-flying, we will have the Shuttle free-flying, and we will have the Soyuz free-flying, as well as the station. So there is going to be a lot of spacecraft in orbit around there to keep track of."
Gaining experience in such spacecraft traffic control, Gerstenmaier said, will be vital for future exploration.
"When we are going to go pick up the lunar activity and then eventually some of the Mars stuff, these kind of skills of learning to operate multiple vehicles, again, in space and do rendezvous and [proximity operations], they are going to be critical for those activities," he added.
New Gallery: STS-115 Spacewalks
Gallery: STS-115: Atlantis's Launch Day
Complete Space Shuttle Mission Coverage
NASA's STS-115: Shuttle Atlantis to Jump Start ISS Construction
The Great Space Quiz: Space Shuttle Countdown
Complete Coverage: ISS Expedition 13