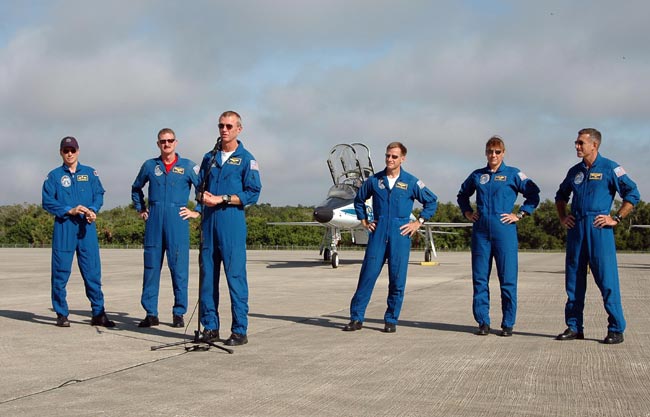 CAPE CANAVERAL, Fla. - NASA mission managers today cleared the space shuttle Atlantis for its planned Wednesday liftoff and agreed to make three consecutive launch attempts before this week is out.
"Everybody's go," shuttle launch integration manager LeRoy Cain, who is leading Atlantis' preflight Mission Management Team, told SPACE.com after a press briefing here at NASA's Kennedy Space Center (KSC) spaceport.
Atlantis is primed to launch its six-astronaut crew toward the International Space Station (ISS) at about 12:29 p.m. EDT (1629 GMT) on Sept. 6, with current weather forecasts predicting an 80 percent chance of favorable conditions. NASA's window to launch the shuttle's STS-115 mission in daylight conditions, while avoiding conflicts with an upcoming Russian Soyuz spacecraft's launch to the ISS, closes on Sept. 8.
Mission managers agreed to make three launch attempts in as many days - something tried only once before in NASA's 25-year shuttle history - to boost Atlantis and its cargo of new solar arrays and a pair of 17.5-ton trusses to the ISS. The mission marks the first major addition to the station since the STS-113 mission aboard Endeavour in late 2002.
NASA launch director Michael Leinbach said mission managers typically plan for four shuttle attempts in five days, a process that allows up to a 95 percent chance of a successful space shot.
"So three in a row is probably in the low 90s," Leinbach said. "To a man, to a woman, there were no disagreements at all about trying three in a row. We want to get this vehicle into orbit."
Three consecutive attempts to launch NASA's STS-101 mission in April 2000 were prevented by poor weather, which is not anticipated for Atlantis' STS-115 mission. Clouds within 10 nautical miles of the launch site, and isolated showers within 20 nautical miles of KSC's Shuttle Landing Facility are currently the only threats to a Sept. 6 launch, shuttle weather officials said.
NASA hopes to launch Atlantis under optimum daylight conditions to evaluate how modifications to the shuttle's external tank affect a series of ice frost ramps that are covered in foam insulation. Tank engineers are drawing up new ice frost ramp modifications to curtail their amount of foam insulation - a potential source of hazardous debris during launch - and are expected to hit a final design near the end of this month.
Wayne Hale, NASA's shuttle program manager, said that studies are underway to decide whether the lighted restrictions for Atlantis' launch could be lifted if the shuttle fails to lift off this week.
Atlantis' STS-115 mission was originally set to be the first spaceflight to launch without such restrictions since the 2003 Columbia accident, and could launch in late September or early October if shuttle officials agree to set aside the imposed daylight rules, Hale added.
The next daylight opportunity to launch Atlantis is Oct. 26, NASA officials have said.
Any substantial delay of Atlantis' ISS construction mission would add pressure to additional missions downstream to complete the orbital laboratory, Hale said, adding that it is imperative to resume station assembly.
"I'm extremely excited to be here because this is the purpose for which we fly," Hale said.
Atlantis' flight preparations have been plagued by seasonal thunderstorms, a launch pad lightning strike and a tropical depression - formerly Tropical Storm Ernesto - which prevented the shuttle from rocketing spaceward last week. Shuttle engineers and mission managers have since worked around the clock to prepare Atlantis for launch before its lighted September window closed, though Leinbach assured that nothing has been left to chance during that effort.
"We did not cut any corners," Leinbach said. "We did not take any chance at all that, in this turnaround process, we've missed anything."
Gallery: Prepping Atlantis
Complete Space Shuttle Mission Coverage
NASA's STS-115: Shuttle Atlantis to Jump Start ISS Construction
The Great Space Quiz: Space Shuttle Countdown