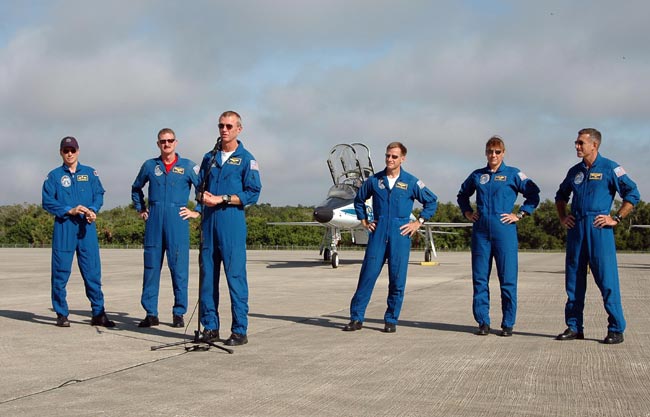 Six shuttle astronauts are back at NASA's Kennedy Space Center (KSC) and preparing for launch less than a week after leaving the Florida spaceport as a tropical storm headed their way.
Led by shuttle flight veteran Brent Jett, the STS-115 astronaut crew arrived at KSC's Shuttle Landing Facility early Saturday in NASA T-38 jets as they prepare to rocket spaceward aboard the Atlantis orbiter on Wednesday at 12:29 p.m. EDT (1629 GMT).
"Last Tuesday, as the center here was preparing for Tropical Storm Ernesto, we were flying back to Houston," Jett told reporters, adding that they flew over Atlantis as it was hauled off its launch pad and were ready for an extended delay. "I think all of us are really happy that just four days later we're back here and have a shot at this launch window."
NASA will start the countdown for Atlantis' STS-115 mission, which will deliver new solar arrays and massive trusses to the International Space Station (ISS), at 8:00 a.m. EDT (1200 GMT) on Sunday. The mission's launch window closes on Sept. 8.
"These guys never cease to amaze me," Jett said of the workers, engineers and mission managers preparing their spacecraft for launch. "They're dedicated, they work hard and they're good at what they do."
Atlantis' flight has been delayed several times in the last week from its initial Aug. 27 liftoff. A powerful lightning strike to the orbiter's Pad 39B launch site delayed the space shot as engineers checked Atlantis' launch systems for signs of damage to verify to spacecraft's health.
Ernesto passed over KSC late Wednesday as a tropical depression, but forced NASA to close the launch facility during the storm and conduct a series of inspections to check for damage.
Launch officials even hauled Atlantis off Pad 39B to shelter the spacecraft in KSC's cavernous, 52-story Vehicle Assembly Building (VAB) during the storm, though Ernesto weakened enough to allow the shuttle to return to its launch site on Tuesday.
"I also promised a very good story, and the story starts with the lightning bolt that hit the shuttle [pad], followed by Ernesto that teased us into a...dancing shuttle two-step," said STS-115 mission specialist Steven MacLean, a Canadian Space Agency astronaut, adding that the best bits - such as deploying the space station's new solar wings - are yet to come. "I expect that you'll be on the edge of your seats."
Gallery: Prepping Atlantis
Complete Space Shuttle Mission Coverage
NASA's STS-115: Shuttle Atlantis to Jump Start ISS Construction
The Great Space Quiz: Space Shuttle Countdown