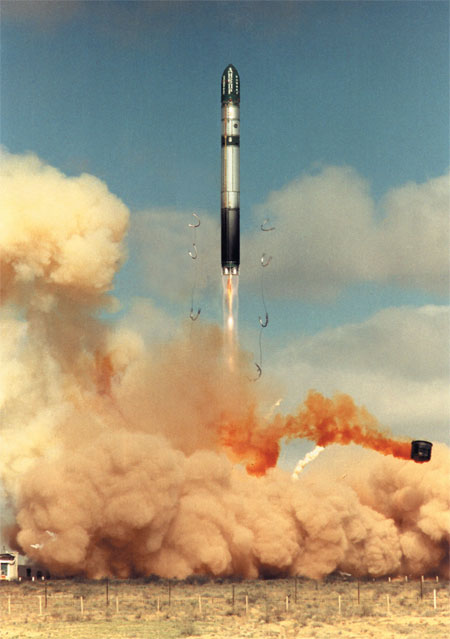 Future launches of a converted ballistic missile now used to loft satellites spaceward are on hold as investigators hunt for clues to learn why the Dnepr rocket crashed on the steppes of Kazakhstan last week, according to Russian wire reports.
"Roscosmos [the Federal Space Agency] has suspended launches of Dnepr carrier rockets until the commission investigating the crash causes completes its work," Igor Panarin, a Federal Space Agency spokesperson, told Russia's Interfax News Agency. "Roscosmos head Anatoly Perminov bound the commission to submit its conclusions by August 28."
An ISC Kosmotras Dnepr rocket carrying 18 small satellites crashed about 15 miles (24 kilometers) south of Baikonur Cosmodrome less than two minutes after launch according to initial reports, though Interfax reports stated Tuesday that the rocket's crash radius extended some 93 miles (150 kilometers) from its launch pad. A malfunction with one of the booster's three stages was initially cited as a potential cause of the crash.
The failure came two weeks after a successful Dnepr launch of a U.S.-built inflatable module designed to serve as a prototype for future manned vehicles in orbit. Two days after the Dnepr crash, another converted missile - a Rockot booster - successfully launched a South Korean satellite into orbit from Russia's Plesetsk Cosmodrome after suffering its own failure in 2005.
The Dnepr's crash spewed to 1,000 times the acceptable amount of toxic heptyl rocket fuel around an uninhabited area of Kazakhstan's Kyzylorda region, according to Interfax and Associated Press reports.
Alexei Yablokov, an environmentalist and member of the Russian Academy of Sciences, told Interfax that cleaning up the contaminated region will be a hefty job.
"The cost of the problem is some $10 million, in my estimate," Yablokov told Interfax, adding that removing and burying the contaminated soil is among the few options to clean up crews. "No clearly developed or effective method for dealing with disasters of this kind is known today."
Russia's Federal Space Agency has pledged to compensate Kazakhstan for the environmental damage caused by the heptyl contamination, but local officials took heart that no one appears to have been injured in the Dnepr crash.
"A medical examination of residents in the villages of Zhanakala and Kuandariya revealed no health disorders as of July 31, 2006," Azamat Abdymomunov, who serves as Kazakhstan's deputy education and science minister in charge of a government commission handling the Dnepr failure, told Russian reporters Tuesday.
According to wire reports, the largest concentrations of heptyl contamination were found within 492 feet (150 meters) of the Dnepr booster's crash site.
"The nearest village is 35 kilometers from the site of the crash," said Igor Panarin, a Federal Space Agency spokesperson, in an Interfax interview. "Water samples tested yesterday indicate that there are no fuel components in the water. This inspires optimism."
Despite the hold on Dnepr launches, Russian space officials said the accident will not force an abandonment of future Dnepr or Proton rocket space shots fueled by heptyl propellant. The current investigation, however, must be complete before a Dnepr booster launches again, they added.
Crash investigators said that a 1999 agreement between Russian space officials and Kazakhstan, home to the Baikonur Cosmodrome spaceport, clearly states that the RS-20 rockets used to develop Dnepr boosters should be tabled until an accident investigation is complete.
"It says that 'pending efforts to establish the cause of the disaster, the use of RS-20 rockets [at Baikonur] must be suspended," Abdymomunov told Interfax.
Also known as SS-18 rockets in the U.S., the Dnepr booster is a 111-foot (34-meter) tall launch vehicle with a 10-foot (three-meter) diameter and draws on three stages to reach orbit.
The announcement their flight suspension comes a few days before the planned Aug. 4 launch of a Russian Proton M rocket to orbit the Hot Bird 8 telecommunications satellite for the Paris-based Eutelsat, but that flight is not expected to be affected.
The McLean, Virginia-based firm International Launch Services - not the joint Ukraine-Russia effort of ISC Kosmotras - is managing the Proton M's mission, which is set to liftoff Friday at 5:48 p.m. EDT (2148 GMT). It will be 3:48 a.m. on Aug. 5 at the Proton M's Baikonur launch pad.
"We're still on track," ILS spokesperson Fran Slimmer told SPACE.com. "They rolled out to the pad today."
This report is a combination of multiple Aug. 1 Interfax, Associated Press and SPACE.com reports.