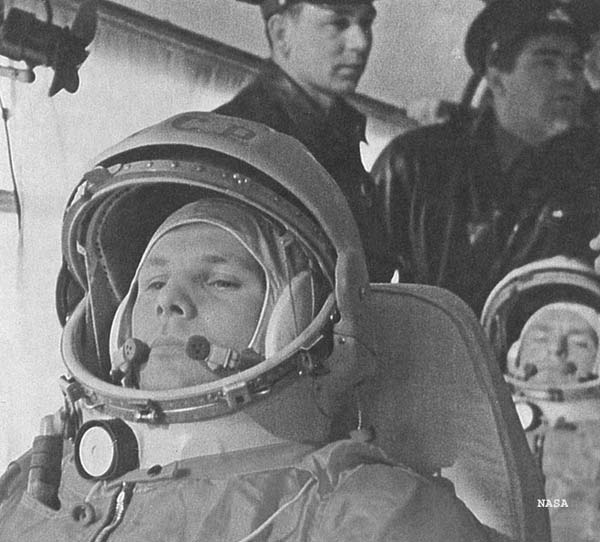 As NASA celebrates the silver anniversary of its first shuttle launch, the overall effort of human spaceflight hits its own landmark today.
Forty-five years ago in 1961, a young cosmonaut became first human ever to slip the bonds of Earth when his Vostok 1 spacecraft roared skyward to usher in the age of human spaceflight.
Then 27-year-old cosmonaut Yuri Gagarin circled the Earth for 108 minutes on a computer-controlled flight that placed the mantle of First Man in Space firmly in the hands of the then-Soviet Union, which had already made in history in 1957 with its launch of Sputnik.
Alan Shepard, the first U.S. astronaut to reach space, launched 23 days later in a race that culminated with NASA's Apollo Moon landings. Since then, NASA shuttles, Russian Soyuz and China's Shenzhou vehicles - not to mention a series of ever-larger space stations - have maintained a human presence in space.
"It's amazing to me that we've been in the space business for nearly half a century," said NASA associate administrator Rex Geveden recently after watching a Russian-built Soyuz rocket launch three astronauts toward the International Space Station (ISS) from the very same pad that saw Gagarin's historic 1961 liftoff at Baikonur Cosmodrome in what is now Kazakhstan. "Your sense of history...it's a remarkable feeling."
Gagarin's flight ended not with him riding his spacecraft down to Earth, but with a parachute landing after he ejected from his descent capsule.
Twenty years later, in 1981, NASA launched its first space shuttle Columbia into orbit on April 12 with STS-1 commander John Young and pilot Robert Crippen aboard.
"It was purely coincidence," Crippen told SPACE.com of the spaceflight link. "We actually tried to launch on the 10th but ran into some computer problems...Two days later we went out to try it again and it happened to be Gagarin's anniversary."
For Gagarin, cosmonaut success turned into world fame after his orbital trek and space aficionados hold an annual Yuri's Night in his honor. The cosmonaut was later killed in a plane crash while training in a UTI-MiG-15 aircraft on March 27, 1968.
"There're lots of things that go through my mind," said NASA astronaut Jeffrey Williams, who serves as space station flight engineer for the Expedition 13 mission, of Gagarin's anniversary during a recent space-to-ground link. "It's a great day to remember all the work that's gone before us."
Williams, Expedition 13 commander Pavel Vinogradov and Brazil's first astronaut Marcos Pontes launched toward the ISS from Gagarin's former launch pad on March 29 EST. Pontes returned to Earth on April 8 with the Expedition 12 crew, leaving Vinogradov and Williams aboard the ISS for a six-month mission.
"It reminds us now that we're in the middle of the current chapter of space exploration, which doesn't end here," Williams said of the joint flight anniversaries of Gagarin and NASA's Columbia orbiter. "This is only a stepping stone to the future, back to the Moon and on to Mars."
Complete Coverage: ISS Expedition 13
Baikonur Cosmodrome Turns 50
Touring the Yuri Gagarin Cosmonaut Training Center Museum
Greatest Space Events of the 20th Century: The 60s