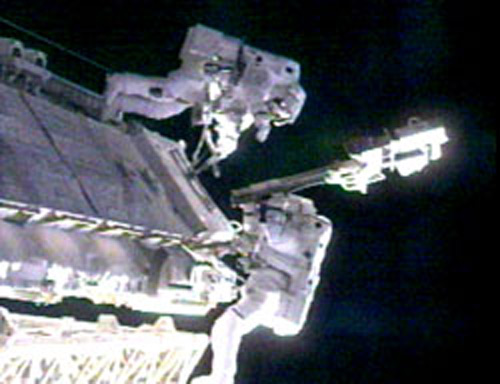 Astronauts aboard the International Space Station (ISS) are once more able to stage spacewalks from their orbital laboratory after U.S. flight controllers cleared a problematic handrail issue Thursday, NASA officials said.
NASA spokesperson Kylie Clem said station managers lifted a month-long spacewalk ban aboard the station, with a few conditions, after a pair of ISS flight and management meetings today at the agency's Johnson Space Center (JSC) in Houston.
Defects found in the station's aluminum handrails on the ground prompted ISS flight controllers to hold all spacewalks in NASA's Extravehicular Mobility Unit (EMU) suits, Kirk Shireman, the agency's deputy ISS program manager, said Wednesday.
"The handrails can be used with a slight variation," Clem told SPACE.com, adding that should a spacewalk be needed, astronauts would use a metal hook to latch onto the stanchions that connect the rails to the station hull, rather than the bar itself. "The analysis will continue to return to normal procedures through mid-April."
No spacewalks are currently scheduled for the space station's present crew, Expedition 12 commander Bill McArthur and flight engineer Valery Tokarev, but NASA flight controllers wanted to resolve the issue should one be required in the event of an emergency, NASA officials said.
Corrosion on the aluminum handrail bars, which engineers traced back to improper heating during their manufacture, led ISS officials to question the health of handrails already installed on the space station's hull. Astronauts use the rails to secure science experiments and themselves to the outpost's exterior, as well as pull themselves between work stations.
"Our suspicion is that it's very limited," Shireman said of the problem. "It was difficult to say which of the handrails that are currently on orbit had this material problem and which didn't."
Additional tests to verify the long-term use of the U.S.-built handrails to hold material exposure experiments are also scheduled for the future, he added.
Meanwhile, four misplaced air scrubbers for the station crew's Russian-built Orlan spacesuits have also impaired the astronaut's spacewalk capabilities, NASA said.
Additional Orlan scrubbers - lithium hydroxide canisters that scrub carbon dioxide from the spacesuit's atmosphere - have since been added to an unmanned Russian Progress supply ship to launch spaceward in April. McArthur and Tokarev, who are nearing the end of their six-month mission, will continue to search for the missing Orlan canisters.
"We are continuing to look for them and we believe we will locate them," Shireman said.
The two astronauts have been packing their Soyuz TMA-7 spacecraft for their April 8 return to Earth and will hand space station control over to their replacements, Expedition 13 commander Pavel Vinogradov and flight engineer Jeffrey Williams.
The Expedition 13 crew and Brazilian astronaut Marcos Pontes, an eight-day ISS visitor, will launch toward the station atop a Russian-built Soyuz rocket from Baikonur Cosmodrome in Kazakhstan on March 29 at 9:30 p.m. EST (0230 March 30 GMT).
The next scheduled spacewalks outside the ISS are set during NASA's STS-121 shuttle mission, which is slated to launch on earlier than July 1. The first dedicated Expedition 13 spacecraft is expected sometime after that spaceflight, NASA officials said.
Space Station Crew Takes Short Soyuz Trip
Complete Coverage: ISS Expedition 12
Complete Coverage: ISS Expedition 13