Alliant Techsystems, or ATK, is a Utah-based company working on a private space taxi. The spaceship will ride aboard ATK's Liberty rocket, which is designed to head to the International Space Station and other destinations in Earth orbit.
The future of the program is unclear, however, because it has so far not received any funding from NASA. ATK was passed over in the second and third rounds of funding for the agency's Commercial Crew Development program; at least one of those times, it was due to technical concerns from NASA.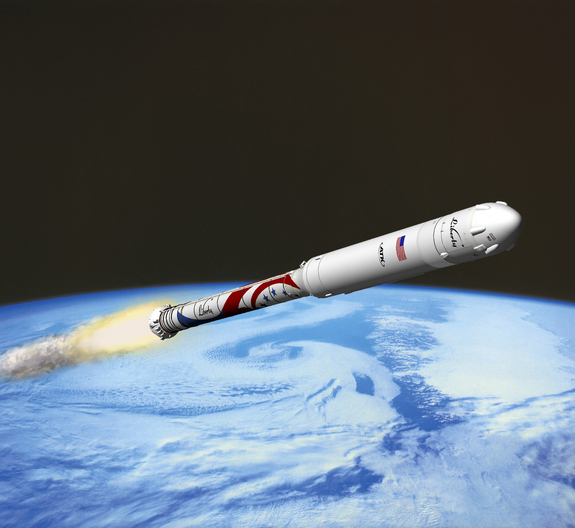 In 2012, ATK was pursuing development of the spacecraft under an unfunded Space Act Agreement with NASA. That deal concluded in July. The company has said it requires more external funding to complete development.
Space shuttle heritage
ATK is perhaps best known in space circles for constructing the solid rocket boosters that were used for NASA's space shuttle. Most of the boosters safely delivered the shuttles to orbit, although one that catastrophically failed in 1986 led to the death of seven astronautson board space shuttle Challenger. ATK made design changes to the boosters in the wake of the disaster.
These days, the company has several technology lines in the space business, ranging from rocket boosters to components such as antennas. ATK also made an attempt to buy MacDonald, Dettwiler and Associates – the maintainer of the robotic Canadarm – in 2008. That deal fell through when Canadian authorities blocked the sale out of concern of technology falling into foreign hands.
In more recent years, ATK was one of the contractors working on NASA's Constellation program, which aimed to bring astronauts to the moon and beyond. ATK constructed the first stage of the Ares 1 rocket that would bring the astronauts aloft.
The program, which was conceived under President George W. Bush, was cancelled shortly after President Barack Obama took office. NASA is now working towards a "flexible destination" program that could include destinations such as asteroids.
However, the company is taking that work and using it again to help with developing Liberty, a private rocket. Along with European aerospace company Astrium, ATK has made a few attempts to receive NASA funding for the proposal under NASA's Commercial Crew Development program.
Although the rocket did not garner money, ATK chose to continue working with NASA using an unfunded Space Act Agreement. This allowed the company to receive NASA's guidance in constructing and testing the rocket, although no money did change hands.
In 2011, ATK announced it would work with the agency to examine the feasibility of running private space taxis.
"This agreement will provide the opportunity to look at the Liberty system to understand its design solution and risks, its capabilities and how it could be used to fly our NASA crew," said Ed Mango, NASA's commercial crew program manager, in a 2011 statement.
Initial aims to launch in 2015
More details for the crew capsule were revealed in May 2012. When discussed at the Spacecraft Technology Expo, officials said they planned for the first crewed flight to take place in as little as three years.
"The goal is to provide a new launch capability for the nation," said Kent Rominger, vice president and program manager for Liberty, in a 2012 SPACE.com interview.
"The vehicle is designed to be very, very simple, and inherently more safe and reliable. We really believe the whole system is designed for success."
According to ATK, the spacecraft can hold up to seven passengers. More cargo can be put on board in place of people, if the customer chooses.
The spacecraft looks similar to the Orion spacecraft currently being developed for NASA's flexible destination program. It can be used up to 10 times and will land on water, ATK said.
While NASA would be a reference customer for the company, ATK plans to pursue other clients to broaden its business. Some of the possible customers include the U.S. government satellite market, space tourists and Bigelow Aerospace, a company that is building inflatable space modules.
"We're also looking at other nations that aren't partners on the space station that would like to have stand-alone missions," Rominger said in 2012.
Money woes
Funding, however, will be a major challenge for ATK in the coming months. The company submitted another proposal to the third round of NASA's commercial crew program, called commercial crew integrated capability (CCiCap). However, it once again did not receive money.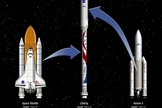 "I had some significant concerns about the lack of detail in some areas of ATK's technical approach," stated William Gerstenmaier, associate administrator for NASA's Human Exploration and Operations Mission Directorate, in a document concerning the work.
"Basically, the proposal lacked enough detail to determine if a safe crew transportation system could be developed in a timely and cost effective manner out of the heritage components ATK selected for this concept."
The Space Act Agreement with NASA saw its last milestone completed in July 2012. Rominger told FlightGlobal in September of that year that the company is seeking another way to raise the money.
"[There is] no way on internal funding we can finish the Liberty module, interfaces, design. We probably need on the order of $300 million to get the launcher to [critical design review]. And we're not investing that kind of money," he was reported as saying.
It's not clear how this situation affects ATK's timeline for reaching space with crews, but it is possible the program could be pushed back until the company secures the money required for development.
The company's last update, in July 2012, stated that ATK still was aiming for test flights in 2014 and 2015 and the first crewed flight in late 2015. NASA's commercial runs would begin in 2016 under this timeline.
"The feedback we received from the NASA Liberty team has helped further the development of the entire system," Rominger stated in the company update.
"We believe [it] ensures the program is on target for Liberty to provide a capable and safe commercial transportation to the International Space Station by mid-decade."
— Elizabeth Howell, SPACE.com Contributor