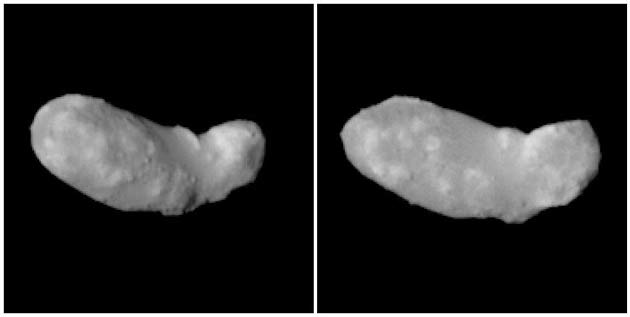 PARIS -- Japan's Hayabusa asteroid sample-return satellite is scheduled to make the first of two landings on its target asteroid Nov. 12 following ground controllers' conclusion that it has enough fuel to finish its job despite the loss of two of its three reaction wheels, the Japanese space agency, JAXA, announced Oct. 31.
Under current planning, a second touchdown would occur Nov. 25 before Hayabusa, whose name was Muses-C before its May 2003 launch, begins a return flight to Earth. Since Sept. 12, the satellite has been stationed several kilometers from the Itokawa asteroid, which is some 300 million kilometers from Earth.
Hayabusa lost the use of its first reaction wheel in July. The second failed Oct. 3, forcing increased reliance on the chemical-propellant thrusters to maintain satellite attitude control.
JAXA said Hayabusa project engineers have made "a strenuous" effort to devise a fuel-conservation plan to maintain Hayabusa stably in position and at the same time provide for the two "touch-and-go" maneuvers during which the satellite will scoop up asteroid samples.
JAXA will test Hayabusa touchdown maneuvers Nov. 4 with what the agency calls a "rehearsal descent." Several candidate landing sites are still being evaluated, JAXA said.
Stardust: NASA's Comet Sample Return Mission
NEAR Mission: Landing on an Asteroid